PRESS
The Evening Standard's
City Hall editor
Ross Lydall
is joining
The Scotsman
as political editor. His replacement is yet to be announced.
Esther Shaw
, deputy personal finance editor on
The Independent
and
The Independent on Sunday
, has left to go freelance.
The Daily Telegraph
political correspondent,
Brendan Carlin
, is leaving to join
The Mail on Sunday
and will be replaced by
Rosa Prince
.
The Sunday Times
assistant money editor
Clare Francis
has been made editor of
moneysupermarket.com
.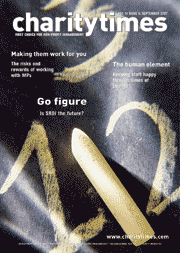 Charity Times
deputy editor
Hannah Fearn
is leaving to join
The Times
Higher Education Supplement as features writer.
The
FT
has brought in
Rachel Morarjee
to cover European equity capital markets as part of the markets team. She was previously working for the
FT
in Kabul.
Jon Boone
, the
FT's
former education correspondent, is now Kabul correspondent.
Gary Werner
is to be contributing editor at William Reed's
Wine and Spirit.
He has been acting
in the role covering for
Catharine Lowe
, who was on maternity leave. Lowe has decided not to return.
Chris Mercer
becomes online editor.
Future Publishing has launched a craft project magazine called
You Can Craft
. The monthly magazine comes in a bag filled with craft items to make the projects detailed in the title.
BROADCAST

Presenter Dermot Murnaghan is to leave the BBC at the end of December to join Sky News. He presents BBC Breakfast with Sian Williams. He has also presented Six O'Clock News, Ten O'Clock News and Breakfast.

Geoff Hill has been appointed editor-in-chief of the soon to be launched Setanta Sports News channel, setting the daily sports news agenda at the 24-hour news channel. Hill is currently a senior programme editor at ITN, responsible for producing the ITV News at 10.30pm.

Colin Hancock, the editor of Radio 4's The World at One and The World This Weekend, has left the BBC after he took voluntary redundancy. Hancock's former role is to be merged with the editor of Radio 4 shows PM and Broadcasting House.
Twenty-four-hour business news channel Fox Business Network, Rupert Murdoch's rival to CNBC, has now launched.


DIGITAL

George Jones, former political editor of The Daily Telegraph, joins The Press Association on 31 October to create a range of political multimedia projects for the group.

IPC has bought tech product review site www.trustedreviews.com. The eight-strong editorial team will work under general manager Niall Clarkson. Editor-in-chief is Riyad Emeran.

Melanie Phillips, Daily Mail columnist, has joined The Spectator website as a blogger. Phillips has transferred her blog, MelaniePhillips.com, to the magazine's site Spectator.co.uk.

James Flint, previously arts and features editor, digital, at the Telegraph Media Group, has been promoted to head of digital development.

Send contributions to clare.o'connor@haymarket.com

Sponsored by PR Newswire