Blokes love lists, a quirk dissected hilariously by author Nick Hornby in his bestseller High Fidelity. Top 20 this… top five that… top insight around which to build a men's magazine.
That magazine is ShortList, a free weekly men's title that made its debut last month. It joined a growing pool of free titles such as Metro, thelondonpaper and City AM, together with another title aimed squarely at a male readership, Sport, which this week celebrates its 50th issue in the UK.
The team behind ShortList has undeniably impressive men's magazine credentials. Chief executive Mike Soutar is the former group editorial director of IPC, where he worked with editorial director Phil Hilton on the successful launch of lads' weekly Nuts in 2004 – for which Hilton landed the coveted British Society of Magazine Editors' launch editor of the year award.
Nuts swiftly gained notoriety as well as laurels for the high number of scantily clad women adorning its pages. ShortList, with its strapline "For men with more than one thing on their minds", has clearly positioned itself away from the babes in lingerie form­ula, preferring a mix of entertainment, gadgets, sport and style. In addition to a flurry of bite-sized lists, there are features, columns and interviews.
High-class coverage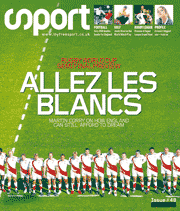 'What you dread as a weekly is simply replicating a story from elsewhere,' says Hilton. 'If PROs come to us and say "these pics are exclusively for you" that makes our job so much easier. It's upmarket so there's no swearing or nudity that might embarrass a client.'
ShortList is published on Thursdays – judiciously avoiding conflict with Sport, which comes out on Fridays. It can make changes to its content until Wednesday lunchtime but editorial planning stretches 10 issues ahead, so the earlier an idea is pitched the greater its chance of inclusion. As well as the print version of the title, there is exclusive content online at ShortList.com.
'I'd definitely have ShortList on speed dial if I were a PR person,' says associate editor, features, Terri White. 'We want to do book extracts and profile pieces around book launches.
And entertainment is huge for us with our Guest List slot at the back and Questionnaire nearer the front. There's the opportunity for cover features as well.'
Feedback from the early issues app­ears largely positive. Taylor Herring account manager Nick Jones says: 'ShortList offers PROs the opportun­ity to place their client in a publication that they would feel comfortable being in. The magazine is well put together and accessible.'
Harvey Nichols' group press man­ager Peter Robinson is even more glowing in his praise. The fashion ret­ailer's menswear buying manager gave his autumn tips on the magazine's Style pages two issues ago.
'ShortList is a well overdue title that provides the same level of fashion and features as many of the monthlies, mixed with news, current aff­airs and sport that historically we grab from our daily newspapers or weekend "supps". A perfect combination,' says Robinson.
The longer-established Sport may be playing a part in hurting some of the paid-for men's tit­les. ABC figures in August put its circulation at 317,093, ahead of FHM, GQ and Esquire.
Sport editor-in-chief Simon Caney says good ideas and access to sports talent are what he wants most from the PR community. He has worked with sponsors and other commercial partners to land interviews with the world's sporting elite, such as Tiger Woods, Roger Federer and Thierry Henry. Quick-thinking drinks brand Red Bull recently secured publicity for itself by offering England rugby union captain Martin Corry up for interview.
'In terms of content we are poles apart, but the arrival of ShortList validates the market,' says Caney. 'People like Mike Soutar and Phil Hilton know what they are doing. I think they've looked closely at what we've done and applied their own model.'
Although the magazine tends to feature a famous sports star on its cover each week, it occasionally bucks the trend, such as with a Mount Everest special several months ago. The New Kit page offers opportunities for product-related stories and the second half of the magazine gives a lot of attention to adventure and extreme sports.
Room for manoeuvre
The title goes to press on a Tuesday night but a week before distribution Caney says he will have a good idea of what will be in the issue – although sport often throws up surprises.
Ketchum senior account manager Gareth Field says Sport has filled a gap in the market nicely with 'really strong content, great images and in-depth int­erviews with high-profile athletes from all walks of life'. He feels the free publication is doing a good job of tapping into major sporting events including the Rugby World Cup and internatio­nal football qualifiers, providing extra analysis 'as well as alternative, sometimes quirky' feature articles.
Alex Brown, communications manger at sports marketing agency Fast Track, confesses himself a 'big fan'. Brown has been pleasantly surprised that the title has stuck to covering a wide range of sports.
There may be scope for Sport to widen its reach outside the capital, where it is distributed at commuter points, sports clubs, gyms and via corporate partners. The French version of the title, launched in October 2003, is now distributed in Paris and 55 other cities.
Both Sport and ShortList are happy to have female readers but are unabashedly aiming for a young male aud­ience. Interestingly, free distribution does not appear to be a stigma for either title. YouGov research for Sport earlier this year found that 82 per cent of its readers are ABC1s, while 63 per cent expressed surprise that a magazine of such high quality is given away.
Guys, it seems, are happy to put free titles such as ShortList and Sport on their reading lists.
CONTACTS...
ShortList

Editorial director
Phil Hilton
E
phil.hilton@shortlist.com
Deputy editor
Ross Brown T 020 7611 9724

Associate editor, features
Terri White T 020 7611 9723

News editor
Tom Cullen T 020 7611 9729
Sport

Editor in chief
Simon Caney
E simon.caney@myfreesport.co.uk T 020 7375 7476

Features editor
Nick Harper
E nick.harper@myfreesport.co.uk T 020 7375 7475

New Kit page editor
Tony Hodson
E tony.hodson@myfreesport.co.uk T 020 7375 7471

Picture editor
Julian Wait
E julian.wait@myfreesport.co.uk T 020 7375 7468