Tax rises are never popular. However, Chancellor Alistair Darling has come under fire from both business leaders and uni­ons by announcing the death of Capital Gains Tax (CGT) taper relief, relating to the sale of shares in unquo­ted or AIM-listed businesses.
From next April, the Treasury has ann­ounced, the CGT rate on the sale of shares will rise to a flat rate of 18 per cent, from the 10 per cent currently available for shares that have been held for two years or more.
The £16m acquisition of Frank PR last week by Australian group Photon, and the rumoured sale of technology PR specialist Hotwire to the same buyer, suggests a buoyant agency M&A market. But will the CGT hike dampen down activity after April? And might we see deals hurried through to beat the deadline?
'The merger and acquisition market is very active currently and this is likely to create a rush to complete sales bef­ore April 2008, thus putting purchasers in a stronger bargaining position,' says Esther Carder, partner at accountants Willott Kingston Smith. 'But vendors should not let the tax tail wag the dog and must pause for thought to ensure they are selling at the right time.'
Still affected

Those who have sold and are in their earn-out period, adds Carder (r), should be aware that, due to the way most deals within this sector are structured, the changes could still affect them. These consultancies should seek tax advice immediately, she recommends.
Nelson Bostock chairman Martin Bostock, who sold his company to Creston four years ago, is appalled that he will effectively be faced with an unforeseen 80 per cent tax rise when he sells his Creston shares. But he thinks the change is unlikely to derail any future deals as the level is still far lower than the 40 per cent income tax rate. He is, however, bothered by the pot­ential imp­act on employees involved in share save schemes.
Bryan Wilsher, CFO at Loewy, which has been actively acquiring PR businesses, says he cannot imagine the rise will stop anyone disposing of their business. He does not think acquisitive companies such as his own would pay more to compensate entrepreneurs for their tax losses as deals are struck on the basis of multiples relating to the target company's performance.
'You always have a cap in a contract,' says Wilsher. 'There may be a push to have a higher cap put in. So maybe some good will come out of this, leading them [sellers] to drive for higher profits to get the maximum return. But it's an unpleasant, unwanted and unwarranted increase in taxation.'
Wilsher confirms Loewy is in takeover talks with two PR consultancies and says he expects to come under pressure to complete deals ahead of April. He also expects the entrepreneurs behind businesses Loewy has already bought to try to negotiate early payment but makes it clear that there is little wriggle room.
Huntsworth chief executive Lord Chadlington is convinced that the proposed CGT change is so unpopular – with the CBI and Daily Telegraph among those campaigning against it – that he 'can't see it going through'. But assuming the proposal stands, he does not think entrepreneurs nor acquisitive companies such as his own will be tempted to hurry deals to completion.
From start to finish, he points out, Huntsworth's acquisition of Trimedia took two-and-a-half years. Huntsworth's strategy at present, he elaborates, is to proactively target companies that might plug a gap either geographically or via the skills they offer. Two weeks ago he made an initial approach to a company – essentially a cold call.
PRCA chairman Richard Houghton believes a lot of the start-up PR agencies that emerged during the tough times of the dotcom slump have now reached a level of maturity that is making their owners think about selling up. Certainly there are persistent rumours attached to a number of agencies (see below).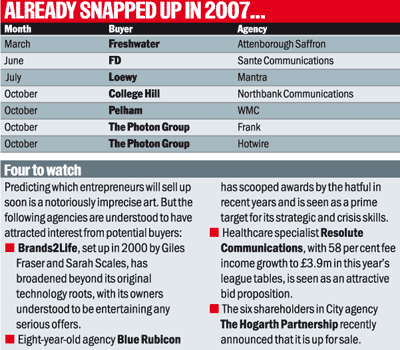 Stick to plans
College Hill chief executive Alex Sandberg is sanguine about the effect of tax changes, thinking it should not affect deals significantly. He adds that he would be cautious about buying an agency from anyone he suspected of trying to close a deal before April.
'We would look extra carefully at any company that sprang onto the sale conveyor right now. For College Hill, if the sale is just about maximising the exit – no shame in that – we aren't the right port of call. We are looking for businesses that want to benefit from being part of a complementary set of practices where the vendor partners share in the growth of the enlarging company.'
That is a view shared by Rachel Owen, who sold her business Black & White Communications to Freshwater last year. While the immediate financial return was a 'welcome factor', what really drove the transaction was the 'opportunity to take my business to the next stage of its development'.
The widespread view is that in trying to clamp down on the excesses of private equity the Government has acted in haste and is penalising the entrep­reneur. The outraged backlash has
begun. Time will tell if it leads to a policy volte-face.