Last week Frank PR and Hotwire were both sold to The Photon Group, an Australian marcoms group (PRWeek, 19 October).
The purchase of Frank PR alone could cost Photon up to £20m, a combination of an up-front cash payment and loan notes, as well as deferred payments that are tied to performance targets.
But how did this relatively new, not to mention unknown, player on the international comms scene find the cash?
One of the reasons is that Photon is listed on the Australian Stock Exchange. Companies that are listed – be it in London, Paris, New York or even Sydney – have more financial clout than non-listed firms, enabling them to draw on better funding streams. Sure, floating is not cheap, and it puts the firm under a host of new rules and regulations, but there are significant advantages for ambitious firms with acquisitions on the agenda.
As well as the ability to raise cash, a listed firm also has an air of establishment and solidity. Its financial situation is open for inspection, so a pot­ential target can assess a prospective new parent's financial health.
For an agency owner making a difficult decision about selling his or her pride and joy, these factors all help.
Meanwhile Photon does not look like stopping with Frank and Hotwire. CEO Matthew Bailey says the group is 'continuing to look for opportunities' in the UK.
As both Golley Slater and the Loewy Group are also reported to be mulling over stock exchange listings, PRWeek decided to look at the 15 groups that currently own PR agencies in the UK.
Who are they, and which UK PR agencies are part of a listed group?
CAGNEY
Listed on: AIM
UK PR agency: The Media Foundry

Cagney was created at the beginning of 2006 to acquire marketing services businesses.
It now has five businesses: Brand Aid, a brand consultancy; advertising and design agency Chick Smith Trott; promotional marketing agency Cubo; market research shop Tree and PR agency The Media Foundry.
Having floated on AIM in February 2006, the group is now worth £6.7m. With its head office in London, it is run by Paul Simons, the CEO, and Patrick Oram, the CFO.
Simons says the ambition is to grow, and being listed gives him access to the capital necessary in order to be able to do that.
'It also means that we can motivate our staff with share ownership schemes. We've found that the whole is greater than the sum of the parts. We're pitching for work that we just wouldn't have got if we had remained independent.
'The biggest challenge is keeping the foot on the gas in terms of growth. We want to attract bigger shareholders and to do that we need to keep growing.'
COSSETTE
Listed on: Toronto Stock Exchange
UK PR agencies: Band & Brown, Brando

The Cossette Communication Group's roots go back 45 years when designer Claude Cossette established a graphic design studio in Quebec City. Today it employs 1,600 people, is listed on the Toronto Stock Exchange and has a market capitalisation of around CAN$210m (£105m). Claude Lessard is the current CEO.
In 2004 the group bought Band & Brown Communications, a London-based consumer and corporate PR agency. In October 2005 it span off a part of Band & Brown to create Brando Communications, an experiential PR agency.

CHIME COMMUNICATIONS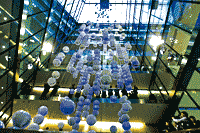 Listed on: London Stock Exchange (LSE)
UK PR agencies: Good Relations, Bell Pottinger, Resonate, Harvard, De Facto Communications

Tim Bell formed Chime Communications in 1989. In 1994 the group floated on the London Stock Exchange (LSE) (foyer, right) with an initial valuation of £19m. It is now worth around £135m, and employs more than 900 people in 34 agencies worldwide. Lord Bell is now the chairman of the group and the CEO is Christopher Satterthwaite.
It owns five UK PR agencies: Bell Pottinger, one of the largest PR agencies in the UK; Good Relations, a consumer, corporate and public affairs agency in London; the consumer shop Resonate; Harvard, a technology PR agency in Middlesex; and finally its most recent PR acquisition, De Facto Communications, a healthcare and life science public relations consultancy based in London.

CRESTON
Listed on: LSE
UK PR agencies: Nelson Bostock, Red Door Communications

In 2001 Don Elgie began to build a marketing communications group that is now worth around £70m. He is still the CEO and the company is listed on the LSE. Eight staff work at the head office in central London's Pall Mall.
In September 2003 Creston made its first PR acquisition – the company Nelson Bostock. This London-based agency began with a technology focus, but has recently moved more into consumer PR. In July 2005 Creston bought Red Door Communications, a 40-strong healthcare PR agency in Mortlake, Surrey.
Barrie Brien, chief financial and operating officer, says: 'We try to leave the individual companies alone where we can. This means they can pitch alongside international partners or ad agencies in the group, and win business that was hitherto unattainable.'

FRESHWATER
Listed on: AIM
UK PR agencies: Freshwater, Attenborough Saffron

Freshwater was founded in Newport, South Wales, by former BBC journalist Steve Howell in 1997.
Now worth £11m, it is a single operation that combines a regional network with specialist consumer, technology and healthcare divisions. It has nearly 90 staff based in seven locations: Birmingham, Bristol, Cardiff, Glasgow, London, Sheffield and Southampton. In February 2007 Freshwater bought consumer agency Attenborough Saffron.
Having raised £2.2m from private investors and the venture capital fund, Finance Wales, to help with seven acquisitions in three years, Freshwater joined AIM on 16 July 2007. Through this placing of shares with institutional investors it raised £4m before expenses, which it is using to finance further growth.
Howell says the firm's strategy is to expand through 'a mixture of acquisitions and organic growth'. 'The "buy and build" element of our strategy has been significantly aided by our AIM listing, despite the high listing costs [over £500,000]. But the money raised is at better valuation multiples than we would get from a venture capitalist or private investors.'
Listed agencies, concludes Howell, have an edge because they are 'perceived as serious, professional, financially robust, and able to handle big projects'.

FTI CONSULTING
Listed on: New York Stock Exchange
UK PR agency: FD

Founded in 1992, FTI listed on the New York Stock Exchange in 1995 and is now worth around US$2.4bn (£1.23bn). This global consulting group has its head office in Baltimore, USA. Its chief executive is Jack Dunn. In September 2006 it bought the Financial Dynamics (FD) PR network.
FD employs 600 people in 14 countries. It specialises in financial and corporate PR as well as public relations. FD's UK CEO Charles Watson says being part of the FTI group has not affected the agency.
'Looking forward, once we've moved beyond the earn-out scenario, we will be able to use the fact that we're listed to provide key employees with a share-based incentivisation scheme.'

HAVAS
Listed on: Euronext Paris
UK PR agencies: The Maitland Consultancy, Euro RSCG Biss Lancaster, Euro RSCG Apex Communications

Back in 1835 Charles Louis-Havas founded the world's first information agency in Paris. Today it is the sixth largest communications group in the world, employing 14,400 people in 75 countries. It is listed on the Euronext Paris exchange and has a market capitalisation of around €1.7bn (£1.2bn). Fernando Rodés Vilà is the CEO.
In terms of the UK PR market, The Maitland Consultancy and Euro RSCG Apex Communications provide corporate PR services from their London offices, and Euro RSCG Biss Lancaster offers clients a broad range of services from London, Manchester, and Edinburgh.
HUNTSWORTH
Listed on: LSE
UK PR agencies: Capital Bridge, Citigate Dewe Rogerson, Hudson Sandler, Quiller Consultants, The Global Consulting Group, Trimedia Group, Trimedia Harrison Cowley, Citigate Public Affairs, Grayling, EHPR, Haslimann Taylor PR, RS Live, Stephanie Churchill PR, The Red Consultancy, Brand Health International, Huntsworth Health
Huntsworth is an international communications group, listed on the LSE. It operates from 70 offices in 32 countries. In the UK it has 16 agencies, offering financial and corporate communications, public affairs, public relations and healthcare PR. It has a market capitalisation of around £217m.
Chief executive Lord Chadlington (formerly Peter Gummer) took control of the company in 2000. Chadlington says: 'As part of a listed company there is pressure to demonstrate continued growth every six months. If you can handle these sorts of pressures then there is a constant sense of achievement. It provides a disciplined financial culture for your business. The disadvantage is that when something goes wrong it is in the public domain. There is nowhere
to hide.'
INTERPUBLIC
Listed on: New York Stock Exchange
UK PR agencies: Golin Harris, Rogers & Cowan, Weber Shandwick

Interpublic was founded in 1961 and the New York-based group now employs more than 40,000 people in 100 countries. Michael Roth is the chairman and CEO. It is listed on the New York Stock Exchange and has a market capitalisation of nearly US$5bn (£2.4bn).
In the UK it owns Golin Harris, a 450-strong global PR agency. It also owns Rogers & Cowan, an agency specialising in the entertainment industry. Another member, Weber Shandwick ,is one of the world's largest PR agencies with offices in London, Manchester, Aberdeen, Glasgow and Edinburgh.

MEDIA SQUARE
Listed on: AIM
UK PR agency: IAS Smarts

Founded in 1999, Media Square now has a market capitalisation of around £23m, £4.2m of which comes from its PR asset, IAS Smarts. It bought the agency two years ago from Huntsworth, and IAS Smarts now has nearly 80 staff across its Edinburgh, Glasgow, Manchester, Birmingham and Belfast offices.
IAS Smarts's head office is in Manchester, but Media Square operates from a London head office and is listed on the AIM market. The IAS Smarts chairman is Tim Hazelhurst and the CEO is Rob Morrice. Roger Parry is the chairman of Media Square, and Philip Gregory is the
divisional CEO.
Gregory claims one of the greatest advantages of being listed is that the group can access capital acquisitions.
'Our strength lies in the combination of individual offices operating as regional centres of excellence with an integrated national network,' he adds.

NEXT FIFTEEN
Listed on: AIM since 2005 (formerly on LSE)
UK PR agencies: Bite Communications, Text 100, Lexis PR, Inferno

Established in 1981, London-based Next Fifteen floated on the London Stock Exchange in 1999 and then moved to AIM in 2005. The market capitalisation is currently just under £50m, and Tim Dyson is the group CEO.
It has four UK PR agencies in its stable. Text 100 specialises in PR for technology companies and has 36 offices around the world. Bite Communications was founded in 1995, has offices in London, San Francisco, New York and Stockholm, and employs around 200 people.
The group owns 76 per cent of Lexis PR and has an agreement to buy the remainder by 2010. Lexis is a London-based agency with consumer, corporate, healthcare, youth and sport divisions. Finally, Inferno has grown rapidly in three years and now employs more than 30 people.
The most recent PR acquisition was the purchase of Credo Communications in December 2005. It was subsequently merged into Bite UK.
Company secretary Mark Sanford says: 'Being listed gives us greater resource to obtain funding and puts greater emphasis on good corporate governance.'

OMNICOM
Listed on: New York Stock Exchange
UK PR agencies: Pleon, Fleishman-Hillard, Gavin Anderson, GPlus Europe, Porter Novelli, Ketchum, Fishburn Hedges, Mercury Public Affairs

Founded in 1986, Omnicom is now listed on the New York Stock Exchange and has a market capitalisation of around US$17bn (£8.3bn). John Wren is president and CEO and its head office is in New York.
It owns Brodeur, an 800-strong group, which trades as Pleon in London. Fleishman-Hillard is a 2,500-strong consultancy offering public affairs, consumer and corporate PR that also has a London office.
Also in London, Gavin Anderson & Co provides financial PR and public affairs, GPlus Europe offers European political consultancy, and both Porter Novelli and Ketchum are large generalist agencies. Fishburn Hedges is another generalist with a strong public sector client list. Mercury Public Affairs completes Omnicom's UK PR holdings.
PUBLICIS
Listed on: Euronext Paris
UK PR agencies: MS&L, Freud Communications, Publicis Consultants

Publicis Group dates from 1926, when Publicis was founded in Paris by Marcel Bleustein as a print advertising agency. It now has more than 42,000 employees in 104 countries and a market capitalisation of around £4 bn. It is listed on the Euronext Paris market. The head office is in Paris.
In the UK it owns three PR agencies – MS&L, with 950 employees in 41 offices, and acquired offshoot Capital MS&L – a financial PR agency with offices in London, Manchester, New York and Dubai. Matthew Freud's Freud Communications, a consumer and corporate PR agency with offices in London, New York and Los Angeles, is also on the books.

PHOTON
Listed on: Australian Stock Exchange
UK PR agencies: Frank PR, Hotwire

Founded in 2000 with just three companies, Photon now employs more than 5,000 full-time and part-time staff and has a market capitalisation of around AUS$500m (£218m). It listed on the Australian Stock Exchange on 30 April 2004. It had 13 companies then, but now boasts a portfolio of 31 companies, including design consultancies.
Matthew Bailey is the CEO and the company's head office is in Sydney.
This month it snapped up London consumer shop Frank PR for a reported £17m, marking its first move into the UK PR market. A deal to buy up tech outfit Hotwire is currently being thrashed out.
WPP
Listed on: LSE, NASDAQ
UK PR agencies: BKSH, Blanc & Otus, Buchanan Communications, Burson-Marsteller, Chime Communications (part owned), Clarion Communications, Cohn & Wolfe, Dewey Square, Finsbury, GCI, Hill & Knowlton, Ogilvy Government Relations, Ogilvy PR, Public Strategies
WPP was established in 1985 when Martin Sorrell took his original stake in the public manufacturing company, then known as Wire and Plastic Products PLC. It is now listed on both the London Stock Exchange and the NASDAQ and is worth £8.6bn.
In September 2007 WPP bought PBN, a strategic consultancy with offices in Moscow, London and Washington DC. WPP took a 49.9 per cent stake in this business, which specialises in the Russian and Eastern European markets.
Feona McEwan, who is the group communications director of WPP, says: 'Being listed gives WPP access to capital, which means it is able to reach more clients.'