The book-buying season is upon us. Nights are drawing in, thoughts are turning to Christmas and next Tuesday (16 October), the winner of the prestigious Man Booker Prize for Fiction will be announced.
As the six contenders for this year's prize – Nicola Barker, Anne Enright, Mohsin Hamid, Lloyd Jones, Ian Mc­Ewan and Indra Singh – sweat it out, they can at least rest assured that a place on the shortlist is raising their profile and boosting sales of their novels.
PR agency Colman Getty, a longstanding promoter of the award, has struck a deal with the BBC, which means that for the second year running the winner will be announced live on BBC1's Ten O'Clock News. Moreover, in the run-up to the big night, all six ­finalists have been given three-minute slots on Radio 4's flagship Today show.
'What is so brilliant about books is that every one is different,' says Colman Getty chief executive Dotti Irving. 'There is an inbuilt story – both what is in the book and the writer's ­story. It is possible to get very good ­coverage for a book.'
Indeed, but only for a minority of ­titles. Every year in the UK, a staggering 200,000 new books are published. Most make little impression on public consciousness. Those that do tend to come from the pens of established authors, ­celebrities and other public figures.
Broadcast opportunities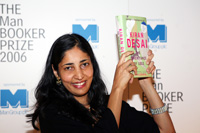 High-quality work by lesser-known authors risks obscurity unless it benefits from a savvy publicity campaign. Landing a spot on the shortlist of a high-profile literary prize, such as the Man Booker, Orange or Galaxy awards, will undoubtedly boost sales but, with only a few slots available, it is the media rather than the prize-givers that offer the biggest opportunities.
Biggest of all is Channel 4's Richard & Judy, whose Book Club and Summer Read segments have made bestsellers out of titles that would otherwise have struggled to make an impact.
'This year's Book Club was even more successful than the year before, and last year we got the number-one and number-two-selling book,' says Amanda Ross, joint managing director of Richard & Judy production com­pany Cactus, who devised the idea. 'We were worried we wouldn't be able to follow it up, but now we are very hopeful about next year's Book Club, where we will probably do ten books.
Submissions are now closed for the next Book Club. On 25 October, Richard & Judy will air a special children's book show and will run a campaign for publishers to introduce a colour-coded system to make it easier for parents to see which books are suitable for which age bracket/level of reading ability.
A second, 13-part series of Jackanory Junior is in production for ­CBeebies, aimed at an audience of four- to six-year-olds, with hopes high that a third series will be commissioned.
Sanjeev Bhaskar, Lenny Henry and Jo Brand are among the celebrity narrators taking part, and CBeebies head of production, animation and ­acquisitions Kay Benbow says that her team is looking for books that can be brought to life in a dynamic way on set.

Also returning is The Book Show, hosted by Mariella Frostrup, which ­begins a 24-week run on Sky Arts on 18 October. This third series sees the show extended from 30 to 50 minutes, with a new feature, The Write Stuff – a ­behind-the-scenes guide to the publishing ­industry. It also contains author­interviews, recorded up to six weeks before transmission.
Tony Mulliken, chair of PR agency Midas, says the ease with which new books can be published makes it difficult to get attention. With relatively few consumers reading the book review pages of the nationals, one tactic widely used by PROs is to try to secure coverage on the news pages. Midas has achieved this with crime ­author Peter James, offering him for comment on police stories.
Authors as expert commentators
Things are different for famous-name writers. Colman Getty is presenting its publicity plan to an eager book trade next month ahead of the launch of Devil May Care, Sebastian Faulks' eagerly awaited James Bond novel. In the realms of non-fiction, Transworld publicity director Patsy Irwin has ­enjoyed recent success in placing General Sir Mike Jackson and Richard Dawkins on Newsnight as expert commentators in their respective fields. Both have recently published books.
Fourth Estate press officer Jessica Axe, currently promoting Nicola ­Barker's Booker-shortlisted Darkmans, says that radio remains an important promotional medium. While Radio 4, with shows such as Open Book, Front Row and Book at Bedtime, springs most readily to mind, there are other influential outlets such as Jeremy Vine on Radio 2 and Simon Mayo on Radio 5 Live – the latter station also now runs a 'Book of the Month' slot to promote new authors.
Axe adds that she has also started targeting bloggers and the online comment sections of national newspapers.
Publishing PROs are blessed with interesting products to talk about. The big challenge is how to be heard amid the babble of an immense crowd.
Contacts...
- Richard & Judy Book Club, Gareth Jones, producer T 020 7091 4900

- Jackanory Junior, CBeebies head of production, animation and acquisitions Kay Benbow T 020 8576 2318

- The Sunday Times, deputy literary editor Andrew Holgate T 020 7786 6000

- The Book Show (Sky Arts), producer Anne Elletson T 020 7705 3640

- Radio 5 Live, producer Simon Mayo Book Panel, Antonia Turnbull T 020 8624 9504

- Radio 4 Arts, planning, Alison Finch T 020 7580 4468

- The Guardian, literary editor, Claire Armitstead T 020 7278 2332

- The Independent, literary editor, Boyd Tonkin T 020 7005 2000
| | |
| --- | --- |
| | VIDEO PODCAST: Content editor of www.themanbookerprize.com Sophie Rochester explains how a blog by the chair of the judges made the selection process more transparent. WATCH |