Despite strong speeches by Tory 'big beasts' Michael Heseltine and William Hague (who gave Brown a good handbagging over his recent photo-op with Margaret Thatcher), it was shadow chancellor George Osborne's promise to raise the inheritance tax threshold that grabbed the headlines. Described by The Times' political editor Philip Webster as a 'clever yet harmless coup' (1 October), it signalled that the Tories would make 'tax cuts with a difference' (The Daily Telegraph, 1 October).
After glitches in the sound system gave the conference a 'stuttering, soundless start' (The Guardian, 1 October), California governor Arnold Schwarzenegger made a videolink appearance. Cameron introduced Arnie as 'someone who knows about fighting back' (BBC News, 1 October).
But behind in the polls, none of the press gave Cameron much hope in the event of a snap election. Even the grass roots think he is 'doomed to defeat', according to a Daily Mirror poll of 300 local Tory party chairmen (30 September).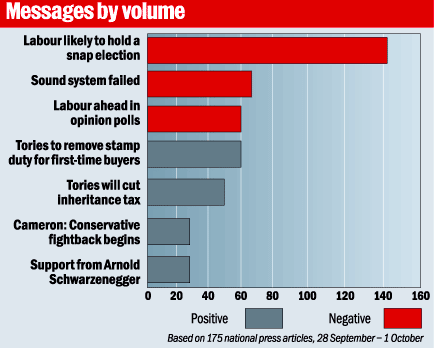 Analysis conducted by Echo Research from data supplied to PRWeek from NewsNow.