If there are still people out there who are sceptical about the impact CSR is having on business, it would have been a pity if they missed last Friday's Clarion Awards.
British TV icons Moira Stuart and Floella Benjamin were followed on stage by legendary crime author PD James. There were prerecorded messages from Kevin Spacey and Hollywood superstar Leonardo DiCaprio, who thanked judges who had voted for his film The 11th Hour.
'Winning a Clarion Award puts me in exalted company with [previous winner] Al Gore,' he said. That CSR awards now jostle for space in the ­trophy cabinets of Oscar winners is proof of their increasing status.
IVCA CEO Wayne Drew told the packed house at BFI Southbank that the Clarion Awards were to celebrate the people and organisations that were 'treading the tightrope of ethical communications'. But he warned that journalists are always ready to pounce on CSR initiatives lacking transparency.
The awards, he added, were still a 'work in progress' after five years, but would stick to their principles of celebrating the role of comms in helping to achieve a fair and responsible society.
Accepting the first of two awards, Gus Colquhoun, who co-founded Jacaranda to provide video content for Body Shop, paid tribute to Anita Roddick, who died last month. The Body Shop founder was one of the first in the UK to show that ethical and environmental concerns and business success need not be mutually exclusive.
'We were filming with Anita a month ago and someone asked her what she thought about companies' efforts to tackle climate change,' said Colquhoun. 'She replied that 30 years ago she would have encouraged people to change the world, but that she had changed that view in a bid to get people to think about how they could offer solutions, even if they were only approximate ones. "In other words," she said, "I tell them, just fucking do something to make a difference".'
CLIMATE CHANGE COMMUNICATION
Campaign: Exposed! Climate change in Britain's Backyard
Produced by: Magnum Photos, True Design and National Trust

Climate change is a planet-wide issue. But as guardian of thousands of acres of British countryside and coastline and some of the grandest buildings in the land, The National Trust (NT) was determined to give its efforts a UK slant. So it came up with 'Exposed! Climate Change in Britain's Backyard'.
Photographers from legendary picture agency Magnum Photos teamed up with NT snappers to produce a collection of 90 photos that demonstrated the effects of climate change in the UK. The collection was launched at the Royal Geographical Society's London headquarters on 28 March.
Close-ups of the damage inflicted on Blickling Hall's library by a death-watch beetles sat alongside images of a rain-lashed Studland beach taken in the height of summer and the ravaged peat marshes at the High Peak Estate. All the images were accompanied by supporting materials to show how visitors could reduce their own impact on climate change.
The exhibition pulled in 1,200 visitors in its first month and has since toured the UK, going on display at Nottingham Castle, Penrhyn Castle in Bangor and Belfast's Waterfront Hall. Smaller versions of the exhibition were sent to all 11 NT regions in the UK.
The Royal Geographical Society also hosted a public debate entitled 'Never mind the icecaps! Who's going to save Britain's backyard?'.
The panel included then-environment secretary David Milliband, author Rosie Boycott and Blur bass-player turned organic farming champion Alex James. It was attended by more than 500 people.
Supporting materials included poster advertising, media coverage in national titles, trade media and the NT's own magazine, as well as short films produced by Sky and Defra. NT press officer Sophie Gaffney explained that the project took a year to pull together.
'We wanted to evoke the feelings that pictures of melting ice caps inspire while showing people in the UK how climate change affects their immediate environment,' she said.
By providing a local counterpoint to the more familiar overseas images of the effects of climate change, the NT wanted to lift some of the 'doom and gloom' associated with the issue and show people how their lifestyles could be adjusted to reduce their environmental impact, she added.
COMMUNICATIONS PRODUCTS
Campaign: The O2 Community Awards
Produced by: Jacaranda for 02

The O2 Community Awards were launched in 2003 as a way for the company to recognise and celebrate staff members' charity and fundraising work.
Nominated staff (they can nominate themselves) can have worked for charities of any size. The key criterion is that they should have 'made a determined and compassionate approach to making other people's lives better in the past 12 months'.
O2 staff from across Europe gather at the event to view presentations of charity work; winners are awarded £5,000 to give to the charity they helped.
Last year's ceremony was held at BAFTA in October. Production company Jacaranda was briefed to film the event, edit it overnight and have it ready for broadcast on O2's internal TV channel Intraview the following day. Interviews with winners were filmed and edited down into six to seven-minute news stories.
One of the most integral elements of the ceremony is the presentations of the short films showcasing the work of the regional and section winners. The O2 organisers want to encourage more staff to emulate the charity work of their peers, so ensuring the films are as interactive with the event as possible is a major part of the brief.
This year's event will be the third consecutive O2 Community Awards that Jacaranda has produced – 'testament to the effectiveness of our production teams', according to O2.
Indeed, the telecoms company claims that award nominations are up 30 per cent on last year, and the profile of the event has grown to the extent that it is now a recognised brand across the company's European operation.
VIDEO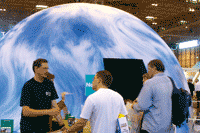 Campaign: One Planet Living
Produced by: Icon Films for WWF

Described by the Clarion Judges as 'lively, unpredictable and direct', this production by Icon Films explores some of the most challenging issues surrounding climate change.
Environmental NGO WWF brought in Icon to make a film that could be used both at its Grand Designs and One Planet Living events, on the campaign trail and for promotional purposes.

Icon producer Laura Marshall says the brief centred around WWF's One Planet Living Campaign, which contains the message that if everyone in the world were to consume natural resources at the rate the UK population currently does, mankind would need the equivalent of three planets to survive.
But despite this alarming statistic, the WWF team made it clear that it did not want the viewer to be scared by the film.
'They wanted an upbeat, promotional film that did not dictate to people how they should live their lives, but encouraged them to want to change their ways,' explains Marshall.
This change of lifestyle was centred around the 'ten easy ways' WWF recommends for sustainable living.
Icon is a natural world specialist, and was able to provide visually stunning footage from all over the planet. But to give the video a homourous twist, Icon recruited a family of jugglers to star in it.
'Without resorting to a sensational or apocalyptic theme,' the Clarion judges concluded, 'it motivates the viewer to take immediate action.'
STRATEGIC COMMUNICATIONS
Campaign: Tesco Energy Awareness
Produced by: Motus, Future Considerations and Futerra

Communicating a new energy efficiency scheme to 200,000 staff in more than 700 locations within two months was a big ask, explains Tesco's engineering manager for energy Neil Bland.
The campaign centred on the supermarket's 'energy champion' scheme. All Tesco Superstore, Metro and Extra stores have a member of staff with responsibility for checking on the store's power consumption and encouraging employees to be energy efficient.
Soon after Bland joined the firm in 2005, it was decided the energy champion programme would be stepped up as part of the firm's climate change drive.
To spread the message among staff, the team enlisted Motus to produce a ten-minute film drawing parallels between energy savings that could be made at home and those that could be achieved at work.
Seven posters encouraging energy efficiency were commissioned using animal characters dreamed up by UK animation firm Aardman Animations, and a training book was distributed to stores.
To relaunch the scheme with as much fanfare as possible, five events were held across the country in January this year. Bland says the latest figures suggest the board's 2000 target to halve stores' energy use by 2010 is set to be realised two years early. The success of the energy champions scheme is such that even tougher targets are being set. There are also plans to roll the programme out internationally.
| | |
| --- | --- |
| | VIDEO PODCAST: IVCA Commercial Director Derek Ray-Hill discusses this year's Clarion Awards. WATCH |