Today's media landscape is vast and sprawling, encompassing the blogosphere and online social networks as much as traditional print and its web offshoots. Stories can spread like wildfire, evolving and changing slant by the hour, shifting perceptions and affecting reputations.
The ability to pick up on what is being written about a person, organisation or brand and then respond fast enough to make a difference is a massive challenge for reputation management.
Electronic monitoring
New monitoring and tracking tools have emerged to address such needs. The Newspaper Licensing Agency launched its eClips electronic cuttings database last year and delivers high quality news feeds. Monitoring specialists have invested heavily in technology enabling evaluation to be conducted at great speed. But do PR teams know how best to take advantage of these opportunities? This question was at the core of the Vocus/PRWeek round table on monitoring and evaluation.
Given the growing role of technol­ogy in evaluation, Cancer Research UK director of press and PR Carolan Davidge wondered whether there was a risk of losing the subtlety of interpretation that comes from a human being?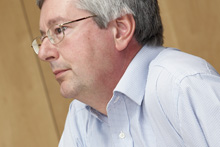 Vocus Europe managing director Andrew Muir (r) pointed out there were drawbacks in using people. 'You give the same article to two people and they will evaluate it in different ways. I'd argue that a piece of technology that can get it right 80 per cent of the time is better than people, who can pick up on fine nuance but are not as consistent.'
But Lewis PR associate director Marcel Kay suggested that communicators do not always understand which 'markers' are put in a piece of software. More education by suppliers as to what can be measured, and how, when using technology would clearly be welcome.
King Sturge corporate PR manager Allyson Andrews raised a matter rel­ated to journalistic convention. Many stories are written with mention of previous stories – often negative in tone – tacked on at the end. Can technology pick up the importance of such mentions, which often have a big impact on readers, she wondered.
Tools such as natural language processing engines are improving all the time, responded Muir, and are inc­reasingly accurate at gauging slant and favourability. But one of the major att­ributes of on-demand software is speed.
'You can do real-time evaluation,' said Muir. 'We meet clients studying a report from three months ago. Sorry, but that's too late. I want to know three days into a campaign if it's working.'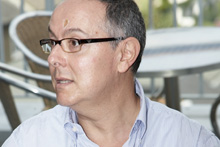 Sony Ericsson corporate vice president Aldo Liguori (l) was swift to agree, citing speed as being essential for his global comms team. 'Being in London with offices all over the world, how can we ensure that any announcement we make is picked up at the same time? The other issue is, how do the local media interpret it? We've looked at possible translation tools so that we can und­erstand how a certain announcement was received in Mexico or Japan.
'The image of Sony Ericsson in Sweden is one thing, in Japan it's another, in China it's another still. The coverage is swayed depending on the image of the company in the market. What is the global impact of what we are trying to do here? Many of our markets have very clear sales goals to achieve,' he said.
Real meaning
This remark struck a chord, with the discussion progressing on to what evaluation should ideally reveal. Kay felt that the PR industry can be guilty of being 'too mechanistic' at times. In concentrating too much on the slant and style of coverage, there may be the danger of missing the real meaning and the broa­der business context. Andrews meanwhile was concerned that for evaluation to be really worthwhile it should include competitor analysis of her firm's major rivals – but that to do this properly might well prove too costly.
Another frequent evaluation shortcoming, identified by Davidge, is a focus on outputs rather than outcomes. When Cancer Research communicates with the aim of trying to lift participation from certain demographic groups in its Race For Life fundraising events, how can it assess which coverage was most effective.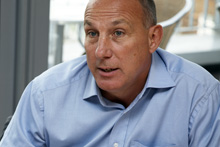 Social networks like Facebook seem to be effective channels for tapping younger audiences, but monitoring and evaluation of this is still developing.
'In a way that's why you might need more technology,' said The Lean Agency principal Simon Quarendon (l). 'In an interconnected world, will people-based evaluation companies have to give up? I wonder if you can do it any more with a couple of old ladies and a ruler.'
Quarendon also felt that the word evaluation is problematic as it can often be used as an excuse for self-justification. His preference is for greater emphasis to be put on performance. He would also like to see more attention paid to evaluation in PR education.
Global focus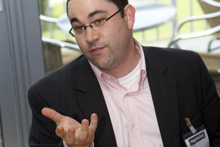 MS&L account director Chip Bates (r), who works on the Philips business globally co-ordinated out of London, arg­ued that the prevalence of such major accounts in the UK is a driver for soph­isticated evaluation.
'The key thing about London is that you can communicate with the whole world in one day,' he said. 'We do use Vocus. We played with it in the US but here it's integral. Measurement is important when you have global clients.'
Muir endorsed Bates' view that the UK is seeing strong growth in state-of-the-art monitoring. Vocus is growing at about 35 per cent year-on-year, but the European part is growing at 100 per cent, with the UK to the fore.
Vocus owns search engine optimised (SEO) press release distribution company PRWeb, allowing it to offer an integrated distribution and monitoring service. Muir warned: 'Make sure the information belongs to you and you can exp­ort it when you want. We've had people coming to us and saying "we can't send out a press release. They won't give me my data back".'
Kay and Bates are both involved in blogger outreach programmes and the direct-to-consumer distribution of information via the web is growing. The ability to send releases to the internet – sometimes with embedded video and audio content – to be picked up by search engines is creating new distribution opportunities. The inclusion of trackable URLs means blogosphere spread – and what is being said by the most influential bloggers – can be assessed.
While companies such as Vocus have built expertise in this area, this level of technology is beyond the reach of most PR agencies and in-house teams. Might this, wondered Quarendon, open the door to digital specialists stealing business due to their skills in fields such as SEO.
'My contentious question is, are digital marketing agencies the threat? The alarmist view is that the PR industry will once again miss the boat.'

BUDGETS

It came as no surprise that budgetary constraints provided a major strand to the round table discussion. This has long been an area of keen debate in relation to monitoring and evaluation, and never more so than in today's climate of procurement professionals and tightened grips on corporate purse strings. Yet, of course, a heightened focus on value for money and return on investment is also a driving force in favour of rigorous insight and accountability.

Budgets spread thinly
The Lean Agency principal Simon Quarendon broached the subject by recalling PRWeek's PRoof Campaign, which launched nearly a decade ago with the aim of persuading PR teams to spend 10 per cent of their overall budget on evaluation. Quarendon sees PRoof as something that was well intentioned but ultimately a glorious failure, arguing that the 10 per cent level is rarely reached. Given that digital media outlets have proliferated at a tremendous rate in the past few years, available budget is being spent more thinly than ever.
Cancer Research director of press and PR Carolan Davidge said that media fragmentation has led to a vast increase in the number of outlets being monitored and a huge rise in cuttings, which is threatening to break the budget. 'We are looking at how we can begin to cut down,' she added.
One reason Sony Ericsson is appointing a PR agency with a consolidated global brief, says head of global communications Aldo Liguori, is to ensure consistency in message delivery and evaluation – and so keep costs under control. But clearly there are times when it may be prudent to increase budgets, for example to highlight to the rest of an organisation the valuable role that comms plays.
'There's unease is our sector, the property market, at the moment. So in the case of a downturn is it in our interests to pay someone like Vocus a little bit more to show our worth to the business?' pondered King Sturge corporate PR manager Allyson Andrews.
This brings us neatly on to the thorny matter of how monitoring and evaluation budgets should be apportioned. Naturally, this depends on each organisation's target audiences and objectives, but the explosion in digital media is leading many to reappraise allocation levels.
'Will 20 per cent of spend go to blogs?' mused Quarendon. 'In the budget round 2007/08, you'll see some difficult decisions on how the pie is sliced.'
THE PANELLISTS
Andrew Muir is MD Vocus Europe, the international arm of the software company that helps PR teams plan, execute, monitor and evaluate the success of comms activity. He has a 30-year careerin building software companies.

Aldo Liguori joined Sony Ericsson and moved to London three years ago. He has held a number of marketing and comms positions at Sony, including head of international PR at Sony Corporation, Tokyo, and head of corporate comms at Sony Europe, Berlin. His current title is Sony Ericsson corporate VP and head of global communications and PR.

Carolan Davidge is director of press and PR at Cancer Research UK. She has held a variety of senior PR roles in the voluntary and public sectors at the Medical Research Council, Macmillan Cancer Relief and Shelter. Prior to PR, she worked in journalism and edited Adviser magazine, published by Citizens Advice.

Simon Quarendon is the principal of The Lean Agency, a consultancy that provides marketing services companies with the tools and skills to improve their operational performance. He is a past chairman of the judges for the AMEC awards, and a former executive director of The International Communications Consultancy Organisation.

Allyson Andrews worked as senior press officer at Eurotunnel from 1989-97, before moving to British Airways during 1998. After five years at Jones Lang Wootton/Jones Lang LaSalle and three at Imperial College London (Estates), she is now corporate PR manager at chartered surveyors King Sturge.

Marcel Kay is an associate director at Lewis PR working on crisis communications and technology PR for clients including Second Life, Lexmark and Experian. In 1996, he began a five-year stint in-house with the DTI and has worked as a comms manager at Serco. Since 2001, he has worked on international accounts at WPP and the Bell Pottinger Group.

Chip Bates is an account director at MS&L, and works on the Philips Global CE, GMM, DAP, CE UK and Maker's Mark teams. He joined MS&L in 1999, relocating from Atlanta to London in 2006. In the US he helped lead the PR programmes for Philips North America.