This Friday marks exactly five years until the opening ceremony of the 2012 Olympic and Paralympic Games in London. Five years may seem a long time, but the game is already afoot for publicity-hungry brands. The first official sponsor, Lloyds TSB, signed up in March (see 'A grand launch', below). Savvy brands and PR agencies are working hard to ensure they are best placed to capitalise on the sporting extravaganza.
While Lloyds TSB and EDF have gone for official sponsorship, others have opted to avoid the expense and problems by sponsoring related sports bodies. Problems include, for example, the fact that access to athletes can be limited, scores of other brands are vying for a slice of the pie and the games are 'clean' with no branding.
Hill & Knowlton client Norwich Union sponsors UK Athletics. Sir Richard Branson's Virgin Atlantic has the 'Flying Start' programme: a scheme offering preferential treatment for the 450 top British athletes on the UK Sport World Class Podium Programme. Press releases about the initiative mention the fact that Virgin Atlantic is supporting Britain's 'top medals hopefuls', but the airline will avoid invoking the ire of the International Olympic Committee legal team because there are no references to London 2012.
Some brands choose to represent specific sports rather than align with the games themselves. Skandia, sponsors of The British Sailing Team, and Corus, which sponsors the British T
riathlon Federation, both use Pitch PR to help raise their profile as supporters of specific sports rather than of the event itself.
Most of the big PR agencies have well-known sporting divisions. But some are already adding further clout to their sporting credentials.
New agendas
In February, Edelman struck an exclusive deal with Vero (see 'A tactical alliance', below). The following month, Chime Communications acquired sports marketing shop Fast Track, although Chime Communications chief executive Chris­topher Satterthwaite is quick to claim the company's decision to buy Fast Track was not based entirely on 2012 preparation.
'In an age where companies and brands are judged more and more by what they do, sports marketing is becoming increasingly important because sports initiatives are important for social agendas,' he says.
At H&K, MD of sports, marketing and sponsorship Andy Sutherden says a five-year Olympic plan was put in place six months ago. The plan includes using WPP sister agencies Millward Brown and The Henley Centre to 'assess and evaluate the opportunity using economic modelling'.
Other organisations, such as VisitLondon, are preparing the ground too. The organisation recently hired Blue Rubicon for a tourism-related brief including leveraging opportunities created by the Olympics.
During the games, VisitLondon will have to cope with thousands of unaccredited journalists descending on the capital to write news and features pieces using the Olympics as their hook – not to mention the media actually attending the events. 'We have a huge planning job on our hands over the next few years,' says communications director Ken Kelling.
VisitBritain (which has also hired Vero), the Department for Culture, Media and Sport, the London mayor's office and the Greater London Authority will also boast a heavy involvement before the flame is lit over London's shiny new Olympic park.
Any brand wishing to build an authentic association with sport before 2012 must do so reasonably soon – although M&C Saatchi Sports and Entertainment CEO Steve Martin says agencies and brands that are not currently involved don't need to panic just yet.
For one thing, promotional activity will not start in earnest until Beijing 2008 finishes and London actually holds the Olympic torch in its possession. Anyway, adds Martin, agencies that are too closely aligned with 2012 could see a huge dip in business once it is all over.
While the marketplace may be cluttered, there are still plenty of opportunities to go around, agrees Four Communications' Sports Marketing & Sponsorship managing director Alun James.
Besides local sponsors and 'tier two and three' sponsorship deals, international Olympic sponsors such as Coca-Cola, GE, Johnson & Johnson, Kodak, McDonald's, Omega, Panasonic, Samsung and Visa will be getting in on the act. There are also a raft of other companies in 'relevant industry sectors' such as construction, licensing, law, transport and financial services that are 'positioning themselves favourably to secure tenders,' according to James.
Meanwhile, the councils in the boroughs hosting the Olympics (Greenwich, Hackney, Waltham Forest, Newham and Tower Hamlets) will also be looking to squeeze publicity from the event.
Regional development agencies nationwide will be using the hook of the games to draw attention to the sports training facilities in their area. Charities will also attempt to score column inches from sporting associations.
Although the opp­or­tunities left can not yet be described as scraps, it is clear the agencies and brands which get themselves into pole position by 2008 will be best placed to profit from both the games and the legacy of sporting events that its organisers are so keen for it to leave behind.


A tactical alliance
In February, Edelman and sports specialist Vero announced an 'exclusive affiliate relationship'.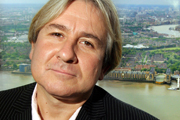 Edelman first encountered Vero boss Mike Lee (l) in 2004, when the agency lost out to Hill & Knowlton in the pitch ato promote London's bid for the 2012 games.
According to Edelman Europe president and CEO David Brain, Edelman lost the 2012 pitch because 'we did not have much Olympic bid experience'.
Brain immediately deter­mined the agency would 'break into the bid market'.
The agency already had a sports and sponsorship dep­artment, and worked with international Olympic spon­sors such as Samsung and Johnson & Johnson. In the UK, Edelman works with Lon­don-based organisations inv­olved in the running of the games, such as the GLA, and was appointed by Locog.
But this deal allows both agencies to go a step further, says Brain. Edelman admired Lee's 'knowledge of the IOC and his ideas that the bids' comms need to have a master narrative'.
In turn, Vero 'needed an int­ernational network to work on global work for int­er­national sporting bodies, such as the ability to run pub­lic affairs-style campaigns'.


A grand launch
As London 2012's first domestic spon­sor, Lloyds TSB wanted to create as much positive support as possible for the investment, driving media aware­ness primarily through broadcast coverage.
The Television Consultancy (TVC) took care of the broadcast elements of the campaign and the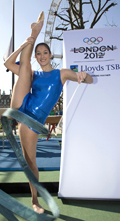 agency pre-filmed a series of content pieces to provide preview footage. These included Olympic hopefuls and a veteran from 1948 London games. Filming included a 'mock-up' of the signing of the contract between Lord Coe and Lloyds TSB's group chief executive Eric Daniels, explains TVC director Nicky Minter-Green.
TVC and Four Communications arran­ged the launch at London's South Bank with the London Eye as backdrop. A stage was built to accomm­o­date trampolines, pommel horses and concentric rings for Britain's gymnasts.
The event opened with a display from the gymnasts and a video announcing Lloyds TSB's sponsorship of London 2012. Speeches from Lord Coe and Sir Victor Blank (the bank's chairman) were filmed, edited into B Roll on-site and distributed to broadcasters.
Coverage included CNN International, BBC World, BBC One O'Clock News (liveinterview), Sky News, Channel 4 News, Channel 5 News, Bloomberg, CNBC, ITV London and BBC Radio Five Live.