When daily business freesheet City AM launched on 5 September 2005, several media pundits predicted its swift demise. The obituaries were more than premature – they appear to have been completely wide of the mark, because nearly two years after its debut the title is enjoying rude health.

In the intervening period other freesheets have emerged in the capital, in the shape of News International's thelondonpaper and Associated Newspapers' London Lite. But City AM has confounded the doom-mongers by growing both its readership and reputation. Audit Bureau of Circulation figures for April and May show distribution topping 100,000 copies for the first time, up from circa 65,000 in the early days.

City AM is handed out between 6.30am and 10am every weekday at ­underground and mainline railway ­stations, as well as at London City Airport and business lounges at Heathrow, Gatwick and Stansted airports.

On the line
'I don't think it matters that it's a freesheet – there's a lot of insightful and informative editorial around for free, whether online or in print,' says Buchanan Communications CEO, Richard Oldworth. 'It has run some good stories in its relatively short history and a number of its journalists are seasoned professionals. I think there is a market for the product and it is positioned very differently from other publications devoted to business. In contrast with the FT, City AM has the advantage of not having to be a chronicle of financial news; it can be more entertaining.'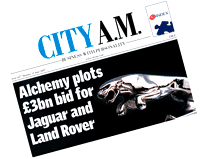 Indeed, with a stable of well-respected columnists and a hungry news team, there is a lot to admire in the paper's content. Among the stories that City AM has broken are Alchemy's planned £3bn bid for Jaguar and Land Rover; Pret a Manger's preparations to float; a Goldman Sachs-led consortium's takeover bid for Associated British Ports; and Apax Partners' interest in acquiring jewellery group Signet.

Major corporate deals of this kind are clearly of interest to the financial movers and shakers that make up a large part of the newspaper's readership. According to independent research, readers' average salary is £77,000 and 20 per cent own a second property. About 70 per cent of readers are male, with 41 per cent aged 25 to 34.

'If the major corporate PROs want to influence the markets and get to the people who are pushing the buttons, we are by far the best newspaper for them to do that,' says City AM editor David Parsley. 'It is time some people realise we have broken some of the biggest business stories around. I don't think we have got the respect of some PROs as much as we should have. The word freesheet is still used negatively.'

Parsley feels that although a handful of corporate and financial PROs, both at consultancies and in-house, may have 'missed a trick' as a result of being sniffy about the free distribution mechanism, the majority have been very positive. The lifestyle PR sector, he says, has been more enthusiastic than its corporate counterpart, quickly realising the potential for targeting luxury consumer goods and holidays at the newspaper's affluent audience.

Last month saw the arrival of features editor Ruby Warrington, former style editor of Heat, who is managing a growing features section in the paper. The intention has always been to look at the people behind the stories in keeping with the newspaper's strapline, 'Business with Personality'. This often translates into coverage of the ways in which the well-heeled City audience can burn their bonuses.

Sport is a daily non-business section, while weekly editorial regulars include Holiday & Leisure, Style & Health, Motoring, Property, Personal Finance and Reviews. Kelly Luchford, founder of luxury consumer agency Luchford APM, admits that, in its early days, City AM was 'not high on our radar' and the focus was to aim for drink, bar and restaurant coverage or short news pieces. However, increasing client requests for the paper to be included among target media and a sense that 'readership is strong' makes coverage in its pages far more prized today.
'We are not a pure business news­paper,' explains Parsley. 'We are 50 per cent business and 50 per cent fun.' He points to audience research which seems to validate this editorial mix; reading dwell time is an impressive 28 minutes, well ahead of the 10-minute average for other free sheets.

Staking a claim
There has been a lot of speculation in recent months as to whether City AM will expand its distribution beyond Lon­don. Nothing has been confirmed, but Parsley says if any launch were to happen this year it would be in Edinburgh.

Founders Jens Torpe and Lawson Muncaster, the entrepreneurs behind City AM – who gained huge experience launching freesheets while at Sweden's Metro International – are clearly ambitious. International expansion at some point in the next few years, perhaps to New York, cannot be discounted.

For the moment, however, it is what is going on in London that counts and the consensus is that City AM is surpassing early expectations. 'We advise our clients to take it very seriously now,' says James Curtis, senior consultant at CitySavvy, whose financial PR clients include ING and merchant bank NIBC. 'It is clear from talking to analysts and journalists that it is helping to set the news agenda in the mornings. People in the City are impressed by the quality of the journalists and columnists. They don't associate free with lower quality anymore. There's no credibility barrier to overcome.'

Ben Copithorne, associate director at B2B and corporate agency Camar­gue, thinks that the inclusion of a Commercial Property section is a major point in the title's favour. Commercial property is currently one of the liveliest asset classes, but traditionally the sector has struggled to achieve due attention in the mainstream business press.

The FT – which last month made the bold move to hike its cover price from £1 to £1.30 and earlier this year invested in a major revamp – remains the pre-eminent business daily. However, the combination of hand distribution in the UK's financial epicentre and distinctive editorial has enabled City AM to carve out a healthy niche for itself.


CONTACTS
Editor
David Parsley
E david.parsley@cityam.com T 020 7015 1210

News Editor
David Hellier
E david.hellier@cityam.com T 020 7015 1204

Features Editor
Ruby Warrington
E ruby.warrington@cityam.com T 020 7015 1252

Sports Editor
Jon Couch
E jon.couch@cityam.com T 020 7015 1254