Agency heads may agree with Henry Ford's assertion that 'nothing is too hard if you divide it into small jobs'. But they are in disagreement over how exactly to divvy up their core work - reporting to existing clients, talking to journalists and chasing new business, among others.
Thanks to a new type of research project by management software firm TimeAct Solutions, we can see how agencies manage their time. It polled staff at 50 UK PR agencies over 12 months, via face-to-face and telephone interviews. It then compiled an 'activity breakdown' for a typical 50-strong consumer agency.
According to data, the largest chunk of agency time is spent on account management (45 per cent), with 18 per cent devoted to reporting back to clients. The research also revealed that less than 20 per cent of time is spent on press office and media relations work.
Juggling act
'Many agencies struggle with balancing efficiency and good client service, which is why overservicing is rife,' says TimeAct managing director Peter Smith. 'Clients expect instant response and immediate turnaround, and agencies rightly make that their priority. But they are often forced to spend more time getting work authorised than actually doing the job.'
To some extent, the research is comparing apples to pears. Those consultancies whose focus is predominantly on strategic services will, of course, spend less time engaged in implementation than businesses that pride them-selves on actual comms delivery. Yet even allowing for this, the findings suggest that agencies are - for want of a better word - 'wasting' much of their time.
We asked agency heads to react to three survey findings (see below).
1. Reporting back to clients: 17.8% of time
The finding that nearly a fifth of agency time is spent reporting back to clients triggered some impassioned responses.
Lewis general manager, UK, Kath Pooley says reporting is a 'necessary evil', but claims it doesn't have to be dull or soak up a client's monthly budget. Lewis is trialling video podcast updates for clients to showcase results. 'Often we use our clients' own tech­nology, such as salesforce.com, to report back online so they can track progress in real-time. My mission is to scale back the administrative side of reporting to a minimum while delivering the updates that clients need, in a way which is productive, painless and profitable,' says Pooley.
But Whiteoaks founding director Bill Nichols believes: 'The scale of reporting has escalated. I don't think you can say it's bad if it's what clients demand, which they do. We have one client who wants to be interlinked to our system so he can have daily reports.'
Tony Langham and Hugh Birley, CEOs of Lexis and Lansons Communications respectively, do feel the survey results are representative of the industry. 'Reducing meetings is always a priority, but clarity of purpose can often only be achieved by spending time on such activity,' says Birley. Langham adds: 'Creative work, especially if it's new, requires careful planning and agreement. PROs probably do no more of this than other creative service industry staff. Advertising has evolved a structure to deal with the same problem, splitting account handlers from creatives, production and media buyers.'
Republic PR joint managing director Jane Howard is not surprised at the time spent on reporting, but still finds it too high. Her staff spend up to 13 per cent of their time reporting on complex, multi-programme accounts, with ten per cent the rule of thumb for simpler briefs.
'Client development will often get logged under the "reporting" banner. This could just as easily be put under "business development". But we do have to battle against "client processes",' she says.
2. Media relations/press office: 18.5% of time
The findings for this category inspired opposing views.
Shine Communi­cations founder Rachel Bell says she was 'shocked' by the results: 'The idea that it's possible to deliver a successful campaign, let alone run a successful business, by spending less than 20 per cent of your time on deliver­ing results is nothing short of staggering.
'Media relations is the very heartland of the skills that clients are buying - relationship-building, news story development, paper meetings, creative brainstorms, media visits, face-to-face sell-ins, news distribution, and good old-fashioned picking-up-the-phone.'
Bell adds that at least 60 per cent of Shine's time is focused on media relations - split between new-business and people development. She says the research shows agencies to be in danger of 'forgetting the very reason they are hired in the first place'.
Harrison Cowley deputy CEO Loretta Tobin does not think that less than 20 per cent is necessarily too low. 'Each account will vary and our remit goes a lot wider than media relations,' she says. 'Where is the time recorded for event management, literature development, celebrity liaison, website management, sponsorship, crisis management, media training and stakeholder communications? PR agencies are no longer just about gaining coverage for clients.'
Consolidated managing director Sarah Robinson says under 20 per cent is 'really low'. She adds: 'It can't be right. This is what we do: media relations. It takes up the majority of our time.' At Consolidated, she explains, a journalist outreach programme, called Media Ambassadors, has been established to complement the agency's standard media relations activity. Under the scheme, the Media Ambassadors visit journalists every week to promote the agency and its clients, and to find out about each writer's interests and passions, both work-related and personal. This knowledge is then shared across the agency and held on its central database.
3. New-business development: 1.5% of time
Diana Soltmann, chief executive of specialist financial PR agency Flagship Consulting, says it is crucial to have a dedicated team for new-business development (which took up only 1.5 per cent of agencies' time in the survey).
'Even though we are a small agency, with 20 staff, we have a dedicated busi­ness development director. Hiring her has been the best thing we have ever done,' Soltmann adds. 'She runs our campaigns, monitors our leads, sends out credentials within 12 hours of new-business enquiries and is the initial contact point with the client. She beats the account teams up to make sure they brainstorm, follows the brief and writes presentations within agreed timeframes. Without her a lot of processes would not happen.'
At Firefly Comm­unications, new-business hours are allocated to client handlers according to business needs. There is neither a dedicated new- business role nor a fixed percentage of time allocated to the activity. 'The disadvantage of a dedicated new-business resource is that this person is not always a practising PR consultant, so might not be close enough or sensitive enough to a prospect's needs,' says Firefly Communications managing director Mark Mellor. 'The disadvantage of client handlers working on new business is that existing client demands can be unpredictable. Existing clients come first in theory, but this can be tested to the limits if a couple of scheduled press interviews clash with a new-business pitch worth £100,000. Inevitably these seem to happen on the same day.'
Huntsworth group business develop­ment director Alison Clarke says the research reflects how poor PROs are at practising what they preach, claiming 25 per cent of an agency's time should be devoted to new business: 'The low amount of time spent reflects the sporadic nature of PR. Constant attention to reputation and leads is required. New-business time must be turned up or down to deal with the peaks and troughs of agency life, but must be there in the first place and should never be switched off.'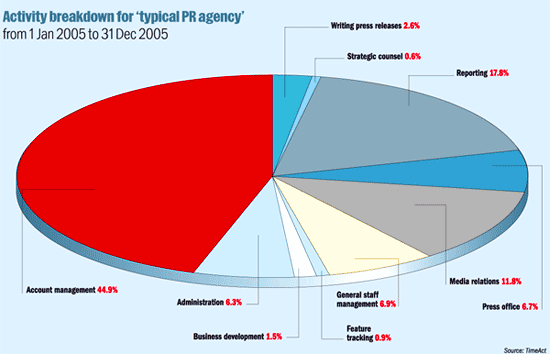 What about smaller agencies?
The TimeAct report shows how an 'average agency' - with 50 staff - spends its time, but some smaller agencies argue they are more efficient.
Oxford-based agency Brazil, which has seven staff, evaluated the time-sheets for all of its consultants. It found that 42 per cent of time was spent on media relations, and 15 per cent on writing press releases, with account management comprising 17 per cent and admin four per cent.
Brazil managing director Joshua Van Raalte says: 'Part of the reason for starting a small agency was to minimise activities that do not generate coverage and cost clients a significant part of their PR budget. I don't think there is a client out there that would be happy with £29,600 of their £100,000 PR budget going on admin and reporting.'