PARTICIPANTS
-Dave Armon, CEO, 3BL Media
-Deisha Barnett, VP, strategic comms, UPS
-Gin Kinney, VP of comms and marketing, NRG Energy
-Justina Nixon-Saintil, VP and global head, corporate social responsibility (CSR), IBM
-Elinor Polack, MD, external affairs, Cigna
-Carolyn Sklar, senior communications director, brand PR, Danone
-Erin Wolford, VP, external comms, Chipotle


"Over the past 18 months, there's been an elevated expectation from all of our stakeholders to understand how are we contributing to our ESG commitments," explains Cigna's Elinor Polack. "It's our obligation to communicate that."
Communicating how a company is measuring up to its ESG goals can be particularly challenging for a B2B brand, though such lessons certainly help all PR pros communicating with consumers, too.
"A lot of companies make commitments, but they need to demonstrate how they're going to meet them," notes Justina Nixon-Saintil of IBM. "We create a full list of actions for any commitment we make. When we made a Net Zero commitment this year, we made sure we had 21 actions that supported it – and that's what we communicate."
With a mission to inspire healthier and more sustainable eating and drinking practices, Danone is "thinking very transparently and comprehensively about how we can communicate the impact of our brands to consumers in shopper moments," says Carolyn Sklar, senior director of comms and brand at the company.
Since studies show consumers are increasingly looking to packaging for information, Danone now includes food waste facts there.
"It's front and center," she adds. "Our Horizon organic brand includes information about our carbon positive commitment and we also have our B Corp certification on the back panel of over 400 SKUs."
As UPS's Deisha Barnett highlight, her brand's tagline of "Moving our world forward by delivering what matters" is indicative of how central ESG is to the company.
"For us, it's very organic. We can't tell the story of the company without telling stories that come back to ESG," she asserts. "At the end of the day, ESG is a gift to storytellers."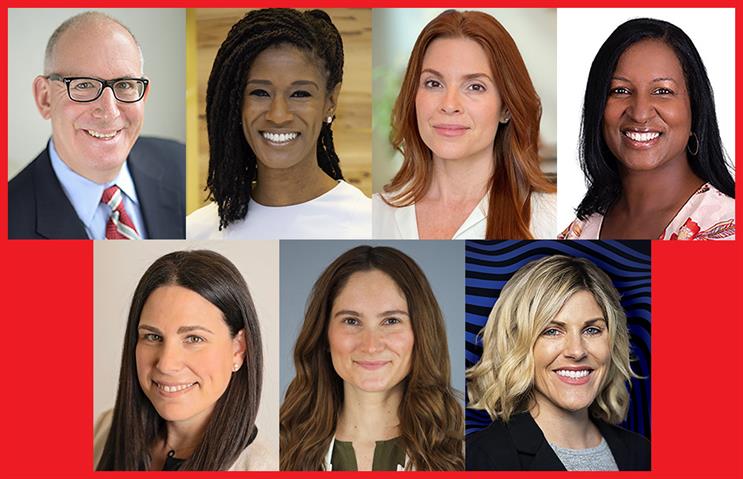 Roundtable participants (clockwise from top left): Armon, Barnett, Kinney, Nixon-Saintil, Wolford, Sklar and Polack.
Making the right – albeit hard - call
Erin Wolford of Chipotle says her team uses the company's mission to cultivate a better world as a lens to view "everything we're doing, from how we're serving our guests, serving our employees, or how we're developing new products and new launches."
In fact, Chipotle is so committed to ESG, the company temporarily phased out its new – and very popular – Smoked Brisket made with Responsibly Raised beef due to supply issues for sustainable beef.
The company also recently launched a campaign with country music star Kacey Musgraves tied to driving awareness for farming and the crisis around the agricultural community.
"We want to drive awareness to consumers that without these farmers, there will not be real food in our restaurants," notes Wolford. "We purchase more local produce than any other restaurant brand in this country. We want people to care where their food comes from and drive awareness and visibility around that."
The company also created merchandise made with sustainable cotton and printed with dye made from upcycled avocado pits from its restaurants that will deliver proceeds to farm-related causes.
As an energy company with about 6 million customers across North America and Canada, "ESG isn't just a standalone initiative, it's foundational to how we operate," explains NRG Energy's Gin Kinney.
Although it operates huge power plants that emit a lot of carbon, "we want to demonstrate to all of our stakeholders that we understand what it takes to address climate change," she shares. To that end, NRG reduced its carbon footprint significantly since 2014, already exceeding its 2025 goals.
"We want to work with all of the stakeholders in the value chain to create a more resilient and cleaner grid so the end products and services we offer our customers are cleaner, greener and renewable," Kinney continues. "We follow leading reporting protocols and we're completely transparent. If anything, we tend to over-communicate because we want to be very informed and create the best possible outcomes."
Taking stock of ESG
3BL Media's Dave Armon turns the focus to another key audience: investors.
"Research shows that the number of times ESG is mentioned in quarterly financial calls with analysts has increased significantly since 2019," he reports.
Among the S&P 500, it was mentioned in 22 such calls in the second quarter of 2019. It was up to 57 a year later. In Q2 2021, it was 150.
Polack accentuates Armon's point by citing a Cigna study that shows media coverage of ESG has increased tenfold over the past year.
"We're doing a lot of testing when it comes to our messaging and how we're communicating to a business audience or investor audience to make sure those signature topics are hitting home and driving impact," adds Sklar. "You really have to get more segmented and savvy with how you're telling the story."
In its annual sustainability report, Kinney's team made it easier for investors to find data on how NRG is progressing towards its stated goals and highlighted key takeaways for download.
"We wanted to make sure that the information is not only easily accessible, but also very digestible for that particular stakeholder group," she says. "It's like our greatest hits for the investor community."
Meanwhile, reports Nixon-Saintil, IBM is creating a focused ESG website where specific data will be easily accessible for investors. Armon notes how Pepsi took a similar approach with the recent addition of an ESG data room on their site.
He cautions, however, against information overkill. To accentuate that point, Armon relays how JetBlue identified seven material issues affecting the airline industry that investors cared about and focused on those key areas.
"They tried not to drown investors in content," he explains.
Let employees guide you
Employees are another hugely important audience for ESG messaging, but a particularly tricky one to navigate because of growing expectations for management to have a strong position on societal issues.
"Employees, whether they're in plant operations, the sustainability group or sales, want to have a sense of pride for where they work," offers Kinney.
In her previous position directing comms for the Metro Atlanta Chamber of Commerce, Barnett saw firsthand how headline-grabbing issues affected businesses in Atlanta and how those companies used employees as a gage to determine the issues upon which to take a stand.
"There were a lot of news issues happening in this state over the past year that presented lots of interesting opportunities for companies," she recalls. "I saw companies and CEOs who felt a great sense of responsibility when it came to issues such as voting rights or racial equity and they understood that a CEO can absolutely make a difference when it comes to what is happening at a state house or City Hall. Many of the companies in our city and in our state found themselves leaning in when they might not have four or five years ago."
At IBM, employees have a strong voice.
"You see it in our Slack channels," notes Nixon-Saintil. "Employees are quick to voice dissatisfaction with certain things that are happening across the world. Our company looks at that very closely." 
"Sometimes the stand being taken is all about the employees," says Armon. He cites a California-based PR firm that, after the Texas abortion bill passed, offered to pay the relocation expenses of any of its employees who wanted to leave Texas.
To engage or not
Of course, companies need to think critically about how they make decisions on which issues to weigh in on.
"You want to make sure decisions about whether to engage or not are based not just on gut intuition, but also on a set of established business criteria," advises Kinney.
To make sure NRG has the discipline and experience to make real-time decisions, her team created simulated social events and mock training for its enterprise leadership team that engaged employees and all different stakeholders.
"It's something we're going to keep doing because we know these events have come very close to reality," suggests Kinney.
Barnett adds that data helps inform UPS on "which percolating social issues may bubble up and turn into a more significant issue that requires the company to make a choice."
Particularly in light of the events of the past year, she stresses that businesses are now "in an age when employees are finding their safe haven at work and there's responsibility for corporations to ensure that staffers feel really safe with their colleagues."
After the social unrest of the past year, "people were mad, frustrated, sad and empathetic – the emotions were so charged in every situation," says Polack.
"We heard loud and clear that there needed to be a safe space at work to be able to talk about these issues," she continues. "We took that very seriously. We had more than 1,000 employees participate in small satellite conversations facilitated by appropriately trained professionals. People want to have authentic, hard conversations. Companies must provide the forum to do so."