This week, Scorpio energy is strong in the air with Taurus' full moon kicking into a two-year eclipse, where we will (supposedly) all be left feeling ready to makeover our identities and relationships.
Speaking of which, many brands have been fighting for our attention this week, to showcase their own identities and try to build a better relationship with their consumers.
Let's see how their stars aligned this week…
HITS
Iceland Tourism, 'Icelandverse'
Showing us that 'real' is better.
This well-executed advert mocks the launch of Mark Zuckerberg's Metaverse, showing us that real life is better than the meta.
A great, super-quick reactive piece of work that was incredibly well written, giving us enough creepy Zuckerberg vibes, but not enough to put us off completely.
Deaf Dance, Strictly Come Dancing
The power of viewing the world through new eyes.
On Saturday night's episode of Strictly Come Dancing, midway through Rose and Giovanni's dance, the music went silent as a tribute to the deaf community.
It was unexpected, beautifully elegant and just enough to give you goosebumps all over. It was a great insight into how the deaf community experiences the world day-to-day.
A massive round of applause to Strictly for letting them do something different, and a reminder that we must all do better to represent all in our work.
MISSES
MADE.com, MADE Diner
The danger of going with the first thought.
This week Made.com partnered chef James Cochran to bring a zero-waste, vegan menu to the streets of the UK. All in a trailer converted into a kitchen/diner.
Yes, it looks beautiful inside and the bagels look delicious, but ideas like this make me feel a little flat. It's begging for that creative spark… fire… anything!
They're promoting the fact you can experience a zero-waste menu inside the diner, but my first thought is that surely this diner will go to waste as soon as the activation is done.
Talking about the environment and sustainability is hard, but we must make sure these types of executions don't literally go to waste.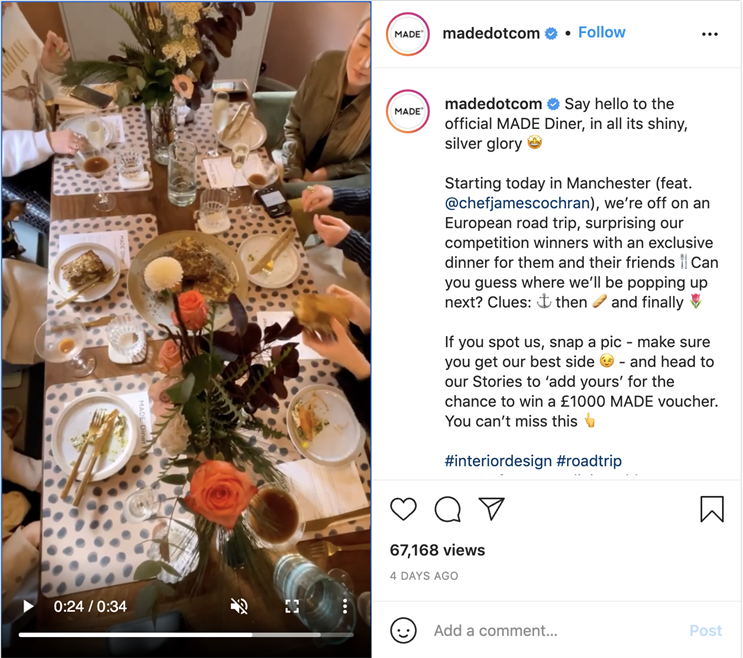 Aldi, Espresso Martini Cheese
I really don't feel I need to say much more than: leave cheese alone. No one needs (or wants) coffee-and-cheese breath.
Having said that, an espresso martini-flavoured cheese does make a good headline. But for that purpose and that purpose only.
Anyone for some espresso martini flavoured cheese? #Aldi #Cheese

https://t.co/xygKrBBZfd

— Virgin Radio UK (@VirginRadioUK) November 17, 2021