Jamie Dunkley – the group external communications director of FTSE 100-listed company St James's Place (SJP) – has witnessed first-hand the growing importance of comms at large corporations.
The In-house Elites: 'The road is endless for comms leaders' 
The In-house Elites: 'I've had to roll up my sleeves and do the doing' 
The In-house Elites: 'It's a once-in-a-generation opportunity' 

The In-house Elites: 'The future will be as complex and fast-moving, if not more so'
His tenure at the UK's biggest wealth-management firm is a case in point. In just two-and-a-half years, Dunkley has become an important adviser to the C-suit and board at a company that "didn't traditionally do external comms".
He was hired as SJP's first external communications director, with a remit to build a comms team – previously (and remarkably) that role was largely carried out by a couple of senior press officers. Dunkley now sits alongside internal comms lead Harry Miller and a team of five.
Dunkley is also one of a small handful of FTSE company comms directors from a BME background. His rise to the top of in-house communications has been meteoric.
He spent most of his career – about 15 years – in journalism, starting out in local newspapers before working his way up to the nationals. This included a decade on Fleet Street, mostly on the City desk at the Daily Telegraph, but also stints at The Independent and London Evening Standard.
Headhunted... for a second time
In 2015 Dunkley joined Maitland as an associate partner, staying for one-and-a-half years before being headhunted to take up his first in-house role – as group media and internal communications director at TP ICAP, a FTSE 250 firm of intermediaries for financial, energy and commodities markets.
In March 2019, Dunkley was headhunted again, to lead external comms at SJP.
"Before I arrived there basically wasn't an external comms function. We had a contract with Roy Beale, who looked after media relations, and Georgina McIntyre (now media relations specialist) who worked with external comms agencies," he says. "It's not every day you get the opportunity to build a FTSE 100 press office."
The reason for bringing Dunkley on board was a realisation by the business that, after 25 years of growth, it needed to raise its profile and improve how it is perceived in the media.
"After surveying the business, there was so much low-hanging fruit that we needed to get done, such as building a communications function, which now is five-strong," he says.
"There were other basic things, like media engagement, that needed strengthening. For a company that was built on face-to-face advice, the senior leadership team and experts across the business didn't have relationships with journalists… instead of being a company that said 'no comment', we wanted to be much more proactive and engage with the media than be reactive."
SJP has an unusual structure in the financial services sector, having about 4,500 advisors who are, in effect, self-employed by about 2,500 different 'partner' businesses under the SJP umbrella.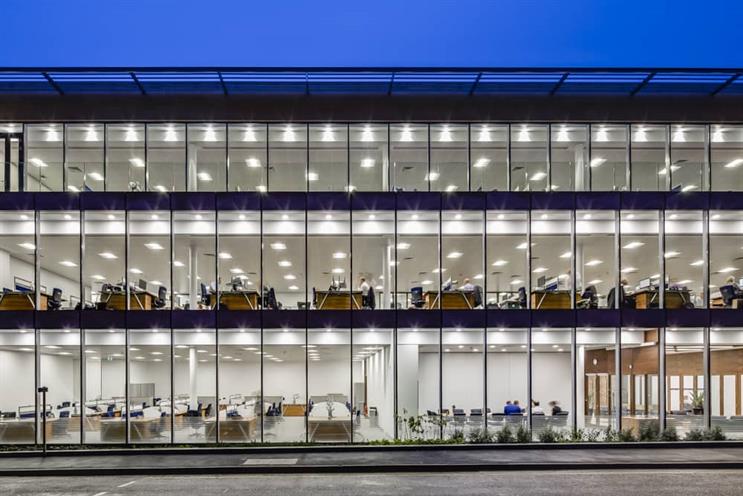 SJP head office in Cirencester
Historically, it had been perceived by the media as an opaque operation because it did not actively engage with the press.
When current SJP chief executive Andrew Croft took the reins in 2018, he wanted to instil a fresh approach to communications, realising that clients' positive perception of the business was not being reflected in the press.
"Although clients loved the business, SJP took part in a national media survey and ranked lowly in terms of capability," Dunkley says. "The perception that was coming through was there was mystique around the company and brand. It was considered 'traditional', 'defensive' and 'opaque' – and, while the company was doing really well, nobody really understood what it did. That was a starting point for change and recruiting someone to this role."
His initial task involved building relations with journalists, newspapers and business titles, and being more proactive about media relations, such as putting forward SJP experts for comment and crafting thought-leadership pieces.
I was really proactive with the executive team and board. This accelerated my role as an adviser to senior leaders
As SJP's external profile improved, so too did Dunkley's role as an internal adviser across the business, particularly to the board and CEO.
His experience as a financial journalist meant he could help the business better understand how the media might perceive sensitive business decisions, such as the remuneration of the company's advisors, which became a media crisis early on in Dunkley's tenure.
"What I was able to do is be really proactive with the executive team and board in explaining why this was happening, the things we needed to do to help the company move on, and what I thought we would need to change to prevent it happening in the future. This accelerated my role as an adviser to senior leaders," he explains.
"While no comms professional enjoys a negative media campaign, in the heat of the battle the business has got to understand and learn from what has happened and what needs to be done. I'd say the advisory bit is now the main part of my role; the communications function's stock has really risen internally. As we have built relationships, trust and visibility across the business, far more people come to us."
Externally, the feedback from journalists has also improved, but there is still more to be done.
I'm quite an optimistic person and get involved in mentoring young ethnic minority talent. The young talent coming through is amazing
Dunkley names two major challenges for his function and the communications industry.
The first is providing a strong narrative for the value of face-to face financial advisory at a time when technology is revolutionising how services are being delivered.
The second, arguably tougher challenge, and a PR industry-wide issue, is improving diversity and inclusion in communications.
"I'm mixed-race Jamaican and, as I've gotten more senior at companies, I've noticed the lack of diversity and the real challenge this industry faces," Dunkley explains.
"I'm quite an optimistic person and get involved in mentoring young ethnic minority talent. The young talent coming through is amazing, but there will be a bit of time lag, particularly at senior levels. We need to make sure we are appealing to as broad a base as possible and remaining relevant by reflecting the wider society, which is changing at such a rate.
"You only have to look at the English football team to see how multicultural we are and the success that it brings, but the awful stuff that happened after shows how far we have to go."
Dunkley's passion as one of the very few BME comms directors of a FTSE 100 company, and the job he has done building SJP's comms function and repositioning the company's image in the media, is testament to the value of placing diverse talent at the helm of communications.
His growing influence as a senior adviser also illustrates how important the function has become to companies that have historically avoided communications.
Jamie Dunkley is the chair of judges at the PRWeek Corporate, City & Public Affairs Awards.
Now read:
The In-house Elites: 'The road is endless for comms leaders' 
The In-house Elites: 'I've had to roll up my sleeves and do the doing' 
The In-house Elites: 'It's a once-in-a-generation opportunity' 
The In-house Elites: 'The future will be as complex and fast-moving, if not more so'