While the world concentrated on its response to the pandemic, other important issues – such as the pay gap between men and women, or between white people and people from ethnic minorities – slipped down the business agenda in the face of the emergency.
The way people work – and particularly, where they work – has been under the spotlight.
But the issue of the gender pay gap (GPG), currently at 15.5 per cent nationally, according to the Government's figures, has not been addressed.
The gender pay gap
In fact, the equality 'can' has been firmly kicked down the road by the Government over the past couple of years.
It suspended its requirement that employers with more than 250 staff must report their GPG annually for the 2019/20 reporting year, due to the pandemic.
It has since given employers an additional six months, until October, to report their figures for 2020/21.
During this gap in reporting, there is evidence that pay for women in some sectors of the PR and comms industry has suffered in comparison to the figures for men.
The annual corporate comms salary survey by The Works Search found that, in 2020, women received an average 2.96 per cent pay increase across the board, compared to 3.26 per cent for men – a difference of nearly 10 per cent.
Meanwhile, 68 per cent of men working in that sector received a bonus, compared with 54 per cent of women.
Although the study is only a snapshot of one sector within the industry, it is instructive because it includes data on 2,000 people from a wide range of agency and in-house teams and a survey of 400 others.
The elephant in the room is that none of the UK's 20 biggest agencies by revenue submitted figures to PRWeek's study into gender and ethnic pay gaps.
So we spoke to several of them directly to ask what they are doing to tackle entrenched issues around pay parity and what barriers they see to wider reporting.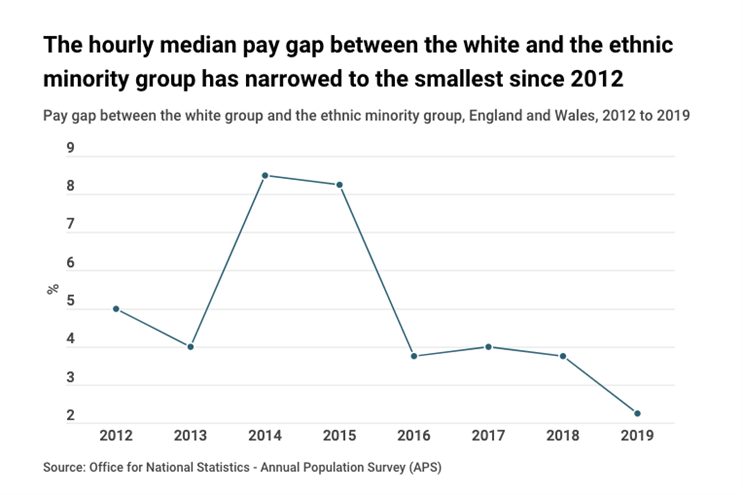 How are big agencies tackling GPG?
Few PR and comms agencies are above the Government's 250-employee threshold, but some do fulfil the criterion.
According to figures reported by PRWeek for the annual Top 150 UK PR Consultancies report, Edelman employed 530 people in the UK – well above the Government's threshold.
Edelman supplied figures to the Government for the 2020/21 reporting year – using a snapshot of its data as of 5 April 2020 – which show that average hourly pay for women in its workforce was 18.3 per cent lower than that for men.
When looking at pay quartiles – which are divided between lower, lower middle, upper middle, and higher – women occupy 50 per cent of the highest-paid jobs and 61 per cent of the lowest-paid roles.
Edelman says that in addition to mandatory reporting, it also conducts internal 'pulse checks' to keep track of its progress.
Justin Westcott, chief operating officer at Edelman UK, tells PRWeek: "In the UK we have made the commitment to ensure the gender makeup of our leadership team reflects the industry… This is a business priority for us, and we have begun a thorough DEI audit of our business, alongside establishing new partnerships with organisations that will support us with our progress, as well as hold us accountable for our commitments."
Edelman has numerous programmes that have the aim of levelling out the career prospects of its staff, including its women's network, a 'men for equality' group and a returnship programme, run by its partner organisation, Creative Equals.
It also has gender-blind parental leave, as well as menopause and miscarriage policies.
The agency says that it has systems in place to gather data about employees to provide colleagues and the industry with "meaningful insight" into its GPG, but it signalled that it would not participate in non-mandatory external surveys of its employee data.
Westcott says: "We… believe reporting data in a consistent and standardised manner across all businesses with high levels of disclosure will help drive equality across the industry and business more broadly."
FTI Consulting also meets the criterion for mandatory gender pay gap reporting, with an estimated 250 employees in its Strategic Communications arm alone, according to figures in the Top 150 UK PR Consultancies report.
In its most recent submission to the Government, FTI reported an average pay gap of 26 per cent.
It also said that women occupied a quarter of the highest-paid jobs in the agency and just over half of the lowest-paid roles.
Commenting on the agency's approach to the GPG, John Waples, vice-chair of FTI Consulting EMEA, says: "At FTI, we pursue diversity, inclusion and belonging with great vigour and continue to challenge ourselves to address pay gap imbalances within the communications industry. We have been committed to engaging our entire firm in pay gap reporting and have gained great insight as a result of the close counsel we have had with our people."
FleishmanHillard, meanwhile, sits just below the reporting threshold, but says it calculates its GPG voluntarily each year, using the Government's methodology.
Ali Gee, deputy chief executive of FleishmanHillard, says: "We share it in detail with our staff in the interests of transparency and because of our commitment to all forms of diversity and inclusion."
In addition to its female leadership coaching group, Omniwomen, programmes for gender equality at the agency include a focus on recruitment practices and scrutinising large salary increases.
Gee says these policies are there "so that we constantly have our eye on equal pay to ensure that roles are paid fairly and if any equal pay concerns arise, they are addressed".
Gee says that three barriers exist to Fleishman- Hillard contributing to wider industry studies of GPG, such as PRWeek's.
Barriers to reporting
The first is that, as part of Omnicom, the agency's actions have an impact on others in the group, which are not only "at different places on their D&I journey" but also, in some cases, below the official reporting threshold.
Another reason is that different methodologies for collecting data – whether used by those conducting the surveys or agencies themselves – might produce different results or else "undermine the authenticity of the endeavour".
Last but not least, Gee says: "Our instinct is that the agencies with the biggest pay gaps might not be inclined to report their data unless required and therefore if we – or a small group of a few other agencies – shared ours, we could easily become a lightning-conductor, despite being – we think – one of the most committed employers in the industry."
Ethnic pay gap
In the wake of the rise of the Black Lives Matter movement last year, the spotlight has also begun to fall on disparities in pay between white employees and their BME colleagues.
However, less work has been done in this area of inequality and fewer data are available.
The Office for National Statistics published figures for the ethnic pay gap (EPG) last October, which covers the calendar year 2019.
That study shows a median EPG, across all ethnic minorities, of 2.3 per cent – the narrowest since 2012.
However, a breakdown of the figures reveals wide differences between ethnic minorities.
People of Pakistani origin experienced the widest EPG, at 16 per cent, while for those of black African origin the EPG was eight per cent.
Employees of Chinese origin were, on average, paid 23 per cent more than their white counterparts – in contrast to members of most other ethnic minorities.
How are big agencies tackling EPG?
FleishmanHillard says this is the first year it has begun to collect data, internally, on its ethnic pay gap, but that it has a "long-standing" diversity and inclusion programme.
This includes 'career guardians' for staff from under-represented groups, whose role is to ensure their potential is not overlooked and to champion them in promotion and pay discussions.
At a wider level, the agency says it tracks recruitment pay and promotion data "to detect patterns or trends of concern" and "to ensure any EPG is minimised".
Gee says: "This is our first year doing the [EPG] analysis and the output or results of this will depend heavily on participation rates."
FTI did not say whether it collects specific data on the pay of its employees from different ethnic backgrounds.
However, the agency says that, in addition to mandatory GPG reporting, it had also produced its inaugural Human Capital Report, in which it publicly discloses data on employees' gender and ethnicity.
Waples tells PRWeek: "The report provides even greater transparency, while also ensuring we hold ourselves accountable and stay in line with our growth aspirations."
He adds: "Our leaders have committed to accountability goals and we have brought in mandatory training programmes on understanding bias and microaggressions."
Westcott says Edelman, "like many organisations… has not been tracking data in relation to the ethnicity of our employee base", but has recently started collecting the relevant information using specialist diversity, equity and inclusion (DEI) consultancy Green Park to give it an accurate picture.
He says: "We recognise that we need to improve the attraction, retention, and development of talent from minoritised ethnicities. This is a business priority for us."
The agency appears to be taking it seriously.
Westcott says: "To ensure that DEI is embedded throughout all levels of the organisation, we are introducing a new core KPI for all members of the senior leadership team where they are required to demonstrate consistent actions and progress aligned to the UK business' advancing equality commitments."
What next?
One issue on the table in the slow progress to parity is that the EPG is not currently on the same footing as the GPG, because there is no threshold for mandatory reporting.
Until this happens – and perhaps for some time afterwards – it will be up to PR and comms agencies of all sizes to decide whether to collect data at all – and then, whether or not to share the findings with staff.
As with the GPG before a mandatory threshold was set, a growing clamour from employees will set the pace of reporting from within.
Meanwhile, employers should note that the long-running headache of recruitment and retention in the industry is rapidly becoming a migraine during a phenomenon some are calling 'The Great Resignation' – as swathes of the workforce reassess their priorities in the wake of the pandemic.
As ever, it is best to be on the right side of history and mandatory reporting could be just over the horizon.
In June, TUC's general secretary Frances O'Grady, CBI director-general Tony Danker and EHRC chairwoman Baroness Falkner, called on the Government to set a timeframe for the introduction of mandatory EPG reporting.
Together, the chorus of workers, business leaders and equality campaigners make for a powerful coalition of voices.
They are currently being ignored by the Government. But for how long?