The PRCA said its analysis of lobbying company entries published by the Government's Office of the Registrar of Consultant Lobbyists (ORCL) showed that the number declaring that they followed no code of conduct increased by 28 per cent between 2019 and 2020.
Of the 166 entries by agencies on the ORCL register which were analysed by the PRCA, 51 per cent adhered to its own code – enforced by the Public Affairs Board; 39 per cent followed no code; seven per cent followed the CIPR's code; and two per cent adhered to their own code.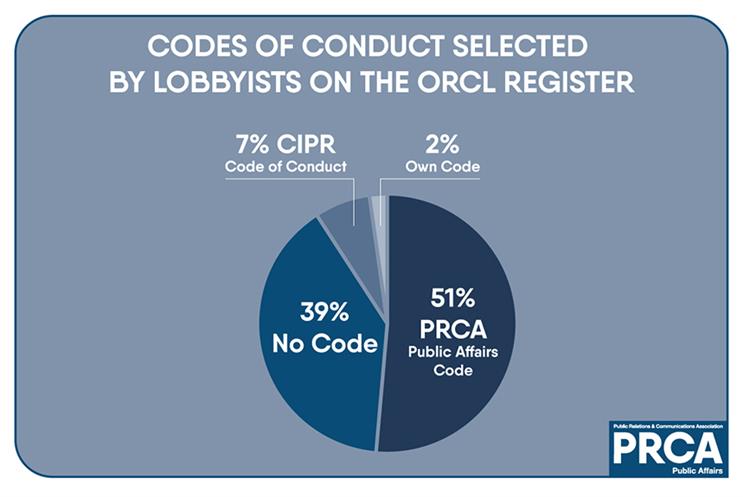 According to ORCL, any firm joining its register of lobbyists must declare whether or not they comply with a "relevant code of conduct" and state where that code can be found.
If they do adhere to a code, they must also sign a declaration every quarter stating that they adhere to it.
Lobbying firms are under no obligation to follow a code of conduct, but they must make this clear when they join the register.
Ethical divide
Neha Khatwani, head of public affairs at the PRCA, said lobbying conducted within the scope of an "independently enforced" code of conduct was a democratic right and improved decision-making, but too few lobbyists adhered to one.
She added: "These statistics make it abundantly clear that an ethical divide has emerged between those willing to embrace ethics and professional standards, and those unwilling to adopt such values. It is shocking that almost half… are happy to be unregulated and unaccountable. And within this group are some enormously influential companies."
Khatwani said "unregulated lobbyists" should sign up to a code of conduct, adding: "We would also urge ministers and other decision-makers to think twice before engaging with those who have chosen not to be accountable for their actions."
The PRCA has consistently criticised the Government's decision to give ORCL a narrow remit and exclude in-house lobbyists since its inception in 2014.
In a formal response to the Government's existing lobbying legislation last month regarding the lobbying act, the PRCA said in-house lobbyists should be included and that it should go beyond contact with ministers and permanent secretaries to include meetings with special advisers and senior civil servants.
Campaign organisation Transparency International UK said unregulated lobbying "corrodes trust" in democracy.
Duncan Hames, director of policy at the organisation, added: "Rules in the UK sadly fall well short of international best practice for regulating lobbying. Transparent lobbying can improve the policy-making process, but the British public is largely left in the dark about who is trying to influence decisions that affect their everyday lives."
---
Click here to subscribe to the new, FREE public affairs bulletin to receive dedicated public affairs news, features and comment straight to your inbox.
Make sure you register for the site to access more than one story per month.
To submit a news, comment, case study or analysis idea for the public affairs bulletin, email Ian.Griggs@haymarket.com