HITS
THIS Vegan helpline
Have you spotted the posters on phone boxes outside London fast-food restaurants while out and about for your daily exercise? I've enjoyed seeing the new veganuary campaign from meat alternative brand THIS, launching its comedy helpline to offer support to aspiring vegans.
THIS has hired up-and-coming comedians to man the phones between 10am and 10pm, dishing up (sorry) meat-based jokes to callers and encouraging them to get through any difficulties they may be experiencing from their meat withdrawals.
It's a nice gentle way of putting a smile on people's faces, as well as a welcome diversion from campaigns trying to make a virtue out of social distancing. Make mine a plant-based chicken tikka.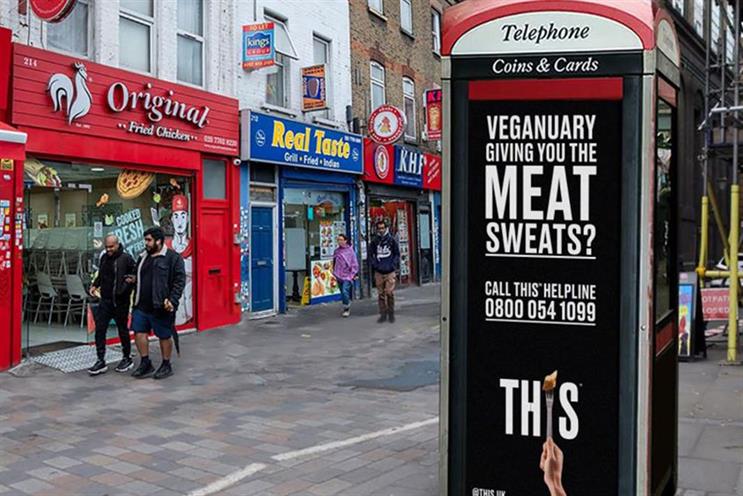 Häagen Dazs gives away 25,000 ice creams
Who cares if it's only three degrees outside? We all love a bit of free ice cream, right? And while we're desperately trying to find new things to watch, having raced through The Queen's Gambit, Industry, Schitt's Creek and even flicked over to The Masked Singer for a rash moment (I know), Häagen Dazs has come up with the ideal solution. There's nothing new in a film/food partnership, but the perfect pairing of Warner Bros' newly launched Wonder Woman 1984 and a free limited edition ice cream (via Deliveroo) has hit the spot for me this month.
#stopblueMonday
Over the last two or three years, around the third Monday in January, several carefully devised, opportunistic brand campaigns filled the news and industry press pages. Originally dreamt up to try and sell more holidays (way back in 2005), the marketing industry had managed to create 'the most depressing day of the year' and turn it into a public relations dream.
For 2021, while we all face the challenges of life during a global pandemic, I'm pleased to see that these campaigns have come to a halt. This year, barely any brands put themselves in the spotlight to offer some kind of solution to the supposed lowest point of the year. Perhaps at last, there is also a realisation that mental health is important every day, and people experience difficulties for wide-ranging reasons and at different times.
I was particularly pleased that the #stopbluemonday movement worked this year.
MISS
Oatly
As a daily drinker of Oatly myself, this isn't one I could ignore. In its first foray on TV, the oat milk brand has certainly got people talking and perhaps not in a positive way.
The series of ads aims to help teenage children convince their dads to give up dairy. The 'Help Dad' ad shows a father secretly sneaking into the house late at night to stock up the fridge with cow's milk, only to be caught by his teenage son. Looking ashamed, the dad is forced to admit he's brought cow's milk into the house again, with his son looking on angrily.
Viewers have been quick to slam the work and even threaten to boycott the brand completely, believing the scene is upsetting and is seen to be mocking the struggles of addiction and alcoholism. The brand's defence came quickly in the form of a tweet but I must admit this particular clip does play close to the mark.
The brand should have lots to shout about, including its great taste and how small lifestyle changes can help and improve the environment we live in. However, as someone who still eats meat (albeit less than I used to) I feel this ad is a thinly-veiled attack on anyone who isn't following a strict vegan lifestyle. I appreciate the sentiment behind the campaign and the impact of animal-based products on the environment, but I am not sure this was the best way to go about it. Make it more inclusive and it might have a broader impact.
The dairy and meat industries emit more CO2e than all the world's planes, trains, cars, boats etc., combined. Need help talking to dad about milk? Go to https://t.co/vqDLHniySQ pic.twitter.com/4HspwIu1ME

— OatlyUK (@OatlyUK) January 16, 2021
EasyJet
I'm definitely not alone in my desperation for a holiday and some sunshine. Not only are we having to cope with the endless stream of images of celebrities 'putting up with' lockdown in St Barts and other sunny locations, but now easyJet is also determined to remind us what we are all missing.
Its new series of elongated social ads is a quartet of videos to supposedly 'soothe' locked down would-be travellers dreaming of a relaxing break. The campaign shows four idyllic scenes – including a Budapest cityscape, a sun-kissed Greek coastline and Austrian ski slopes – alongside the hashtag "#HolidayDreaming", reminding the housebound masses of just how lovely life was before the coronavirus pandemic. Yes, we all need to be hopeful and positive, but personally, while we don't know when this lockdown is being lifted, I'd rather not be reminded of the places I'd rather be. Timing is everything.

---
Click here to subscribe to the FREE Creative Inspiration bulletin to receive dedicated features, comment and the latest creative campaigns straight to your inbox. Make sure you register for the site to access more than one story per month.
To submit an idea for the bulletin, email John.Harrington@Haymarket.com