The value of deals handled by Joele Frank in 2020 was $375.9bn, down 28.1 per cent on the previous year but ahead of SVC, which saw the value of deals it handled fall 37.5 per cent to $347.8bn.
Other agencies near the top of the table from media analysis and data company Mergermarket recorded a significant decline in the value of deals handled last year.
At third-placed Brunswick, the value fell 22.7 per cent to $324.6m, while fifth-placed Kekst CNC recorded a 61.4 per cent drop to $158.2bn. For others there was an opposite trend; the value of deals handled by the newly merged Finsbury Glover Hering – which topped the table for the first half of 2020 – rose 33.8 per cent to $295bn for the full year.
Sard Verbinnen was ranked first by volume of deals, with 221 handled in 2020, although this was down from 249 in 2019.
It was followed in the table by Brunswick (up 15 to 180 deals), Finsbury Glover Hering (down 23 to 177), Joele Frank (down 11 to 167) and Kekst CNC (down 74 to 164).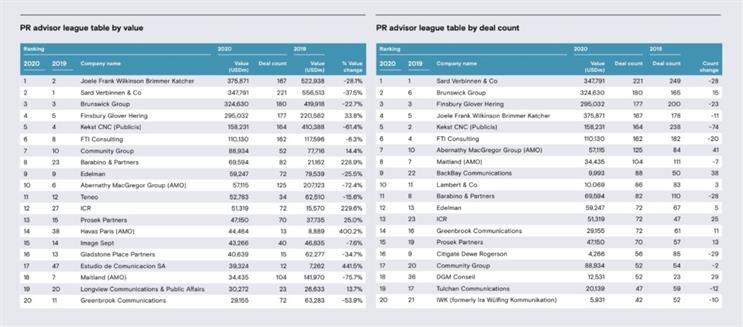 Selected regional breakdown
US
SVC retained the top spot by both value of deals ($332.2bn) and volume (192) in the US. Joele Frank was second in both tables, handling 153 deals worth a combined $323.6bn.
Again, several large agencies recorded fairly big dips in the value of deals they handled, as well as the number of transactions.
UK
In the UK, Brunswick maintained its first place position in the table by deal value ($136.9bn) and moved from third to first in the rankings by volume, handling 78 transactions in 2020.
Sard Verbinnen and Joele Frank both grew sharply in the 'value' table, increasing the value of deals they handled by 246.1 and 948.8 per cent respectively to take the second and third spots, leapfrogging Finsbury Glover Hering and FTI Consulting.
For the deals-by-volume table, Maitland/AMO retained second place with 74, ahead of FTI, which fell from first to third with 69 deals.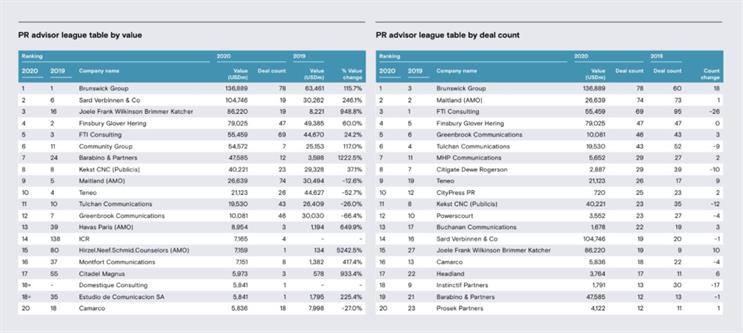 Europe
Brunswick also took the top spot in the Europe rankings, both by value ($237.1bn) and volume (128) of M&A transactions handled in 2020.
Brunswick replaced SVC at the top of the 'value' table; SVC slipped to third place as it handled deals worth $142bn, behind Finsbury Glover Hering, which moved up from fourth to second with a value of $190.9bn. Joele Frank shot up from eleventh to fourth in the ranking as the value of deals handled by the agency increased 178.2 per cent to $128.6bn.
FTI was second in the table of deals by volume (111), ahead of Finsbury Glover Hering, which lost its top spot as the number of deals it handled fell 39 to 106.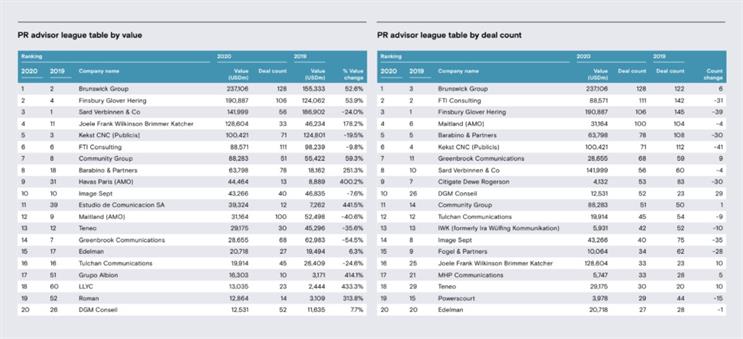 Asia-Pacific (excluding Japan)
Brunswick also held on to the top spot by value of deals in this region, despite the value falling 4.2 per cent to $42.2bn. There was strong growth for second-placed SVC (up 70.8 per cent to $36.2bn), third-placed Joele Frank (up 77.5 per cent to $12.9bn) and, in fourth, Citadel Magnus (up 26 per cent to $11bn).
SVC led the table by transaction volume (up by 12 deals to 37), replacing FTI (down eight to 25) at the top. FTI was third, behind Brunswick, which handled 32 deals in 2020, up nine on the previous year.