Last week, the sudden death of a an employee at Pinduoduo sent shockwaves across Chinese social media, leading to escalated scrutiny on the ecommerce platform's working practices.
Mere days later, on Satursday, an engineer named Tan at Pinduoduo was reported to have committed suicide. The company said that Tan had asked for leave from the Shanghai-based company on Friday morning but didn't give a reason. Tan had began work for the company in July and had passed his probation period in December 2020.
Following the incident, the company is said to have launched a counselling service to provide psychological services for traumatised employees.
Separately, an employee who used Wang as a pseudonym was fired after anonymously posting a photo of an ambulance that had arrived at the office building. In the post, Wang allegedly said "another warrior has fallen" referring to a colleague being taken away by ambulance. The post went viral.
Based on a Twitter thread by tech journalist Caiwei Chen, Wang was questioned by HR and his supervisors about his future at the company. He was offered a deal to leave the company 'voluntarily' if he promised to never mention the matter again, but he refused and was fired and escorted out.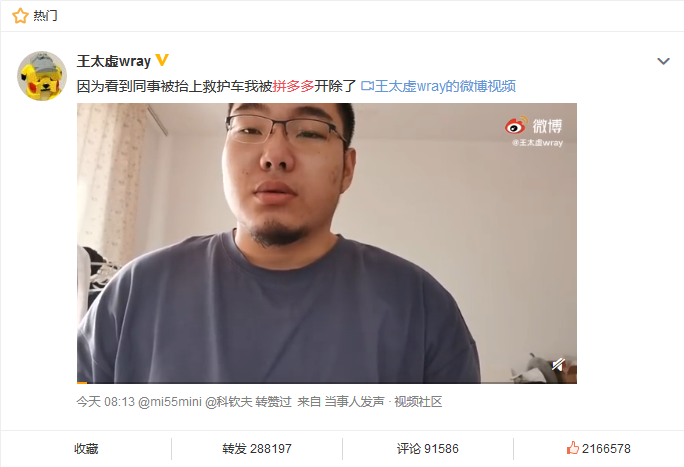 Upon his termination, Wang released a 15-minute video on Weibo in which he claimed that Pinduoduo requires most employees to work at least 300 hours a month. For those in the grocery ecommerce team, employees are expected to clock in no fewer than 380 hours a month, he said.
From a statement obtained by PRWeek Asia and Campaign Asia-Pacific, Pinduoduo said Wang was fired not because of the 'ambulance photos' but the company's subsequent investigation, which found that Wang had repeatedly posted "extreme remarks" on anonymous sites with "significant malicious intent". The company claims that Wang violated the code of conduct detailed in the employee handbook, and decided to terminate his contract.
The company also said that it was "highly suspected that Wang randomly filmed and anonymously released information" to harm the company's reputation even when the facts weren't clear.
This incident has further fuelled discussion on working practices and staff conditions at Pinduoduo, leading to many calling for a boycott of the company. Pinduoduo—along with other major tech companies in China—reportedly encourages a '996' working practice, which refers to working 9 am to 9 pm six days a week. It's become something of a culture among tech companies, leading to mass burnout among Chinese millennials.
Additional reporting, and translation of Pinduoduo's statement, by Minnie Wang.
---
Click here to subscribe to the FREE Asia PR & comms bulletin to receive dedicated news, features and comment from the region straight to your inbox. Make sure you register for the site to access more than one story per month.
To submit a news, comment, case study or analysis idea for the Asia bulletin, email Surekha.Ragavan@haymarket.asia