After exiting the White House, Donald Trump has been offered refuge in Hotel Room 101, alongside Dominc Cummings and health secretary Matt Hancock, according to research that captured public sentiment.
Trump secured 36 per cent of the vote, followed by Cummings (31 per cent), who may need an eye test to find the room, and Hancock (23 per cent).
Joining Trump in Hotel Room 101 are the terms 'social distancing' (voted by 59 per cent of respondents), 'rule of six' (51 per cent), 'tiers' (50 per cent) and 'new normal' (49 per cent).
Cancelled holidays (28 per cent) were another thing people were happy to throw in Hotel Room 101.
Other things banished there include panic buyers of loo roll, masks and 'unprecendented times'.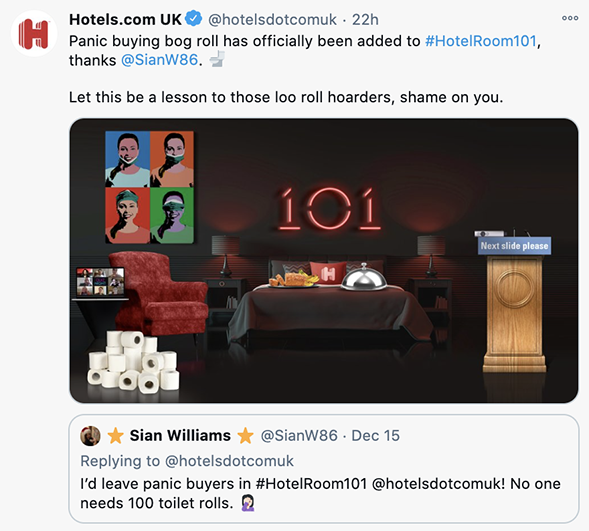 Hotels.com offered a reward night worth £101 to 10 winners, along with running a bonus stamps promotion to bring back that #HotelLife for 2021.
The #HotelRoom101 became the number one trend on Twitter, with more than 380,000 impressions, 4,779 engagements, and 620 competition entries. 
The story also earned plenty of media attention, with more than 244 pieces of coverage.
Manifest's offices in London and Stockholm manage the account.