Few industries have been harder hit than hospitality during the coronavirus crisis. It is predicted that one-third of businesses in the sector will close down in the next few months without more adequate Government support, and about 700,000 jobs have already been lost due to lockdowns and the imposition of heavy restrictions on trading across the country.
PR agencies specialising in hospitality have also been having a tough time. Brand influencer agency WickerWood has shut down and hospitality comms specialist Gerber has put its business on pause.
PRWeek is aware of several other hospitality agencies that have had to let go of staff and take advantage of the Government's furlough scheme in order to survive.
In spite of these hardships, many agencies have provided invaluable pro bono support and run hospitality industry campaigns to help their clients get through the worst of it.
In preparing this special report, PRWeek spoke to several agency leaders and discovered an admirable resilience, solidarity and cautious optimism that the sector will eventually bounce back, although it is as yet unclear what that recovery will look like.
They used terms such as "shock", "roller coaster" and "a domino effect" to describe how the work suddenly dried up once the pandemic arrived in the UK.
"I had calls from clients, one after the other, in the middle of March saying: 'I'm so sorry, we're not going to be able to pay you to carry on'," said Gemma Bell, founder of Gemma Bell and Company, which provides communications services to restaurants, bars and chefs.
"Our premise was just to support our clients as much as possible. Obviously I think what they do is brilliant, but the reality is if they fail, we go down with them. So we were really supportive and kind of held onto each other in that first lockdown."
Bell had to place almost all of her team on furlough, but continued supporting clients with managing director Alice Grier on a pro bono basis.
The economic downturn accelerated plans for the agency to expand its offering into content creation and social media marketing, but its impact also meant Bell has had to downsize her team by about 45 per cent.
"In July, we brought people back part time  and then gradually, as clients were able to start paying a little bit better, we managed to bring one back full time," she said.
Luxury brand influencer agency WickerWood has entered administration and ceased trading.
Gerber is "pausing operations" in January due to the impact of the coronavirus pandemic.
Hospitality workers demonstrate in London last week, urging the Government to revise its restrictions and support packages to the industry (All photos: Getty Images)
Helping each other out
Jori White, founder of Jori White PR and a well-respected industry figure, said she had heard horror stories about cases where clients have terminated contracts with their agencies without any notice. However, in her case, many clients have agreed to keep her PR business on board, albeit with smaller retainers.
"I've had to make a few people redundant, but there are not many business-owners in this climate who haven't," she said. "I've had people paying me throughout and we've won a couple of clients during lockdown over Zoom. 
"My clients have supported me throughout this. Some didn't even want to take down fees. They wanted to make sure that during this whole time of despair, they were still being mentioned so that when we come out of it, they will have the market share." 
White said that she has observed more clients realising they need to be visible to consumers, even if their businesses have pivoted to offering takeaway meals or temporarily closing operations.
It's a similar story over at Palm PR and Digital, a food and drink specialist that serves a mix of branded product and hospitality clients. While its hospitality business is currently at about 30 per cent of its pre-COVID level, it says the food and drink part is "holding up quite nicely".
Founding director Liam Keogh told PRWeek the agency had weathered the first lockdown "considerably well, in hindsight". 
In March, the agency took a proactive approach to preparing the business for the financial disruption ahead by renegotiating contracts to retain clients and "embracing the furlough scheme". 
This appears to have been critical to Palm's resilience. Keogh believes there has been a reluctance by some in the industry to take part in the Government's Coronavirus Job Retention Scheme.
"Using furlough meant that no staff missed out on earnings and ensured that the team has been kept intact and is prepared to take on an upswing in work in 2021," he said.
The summer, after the first lockdown ended, brought in an "insane amount" of new business, which Keogh said beat the agency's previous records for monthly new client acquisition. However, this all but dried up when the second lockdown arrived. 
"After a very tough November, we've seen new business wins return as the restrictions ease. But we've been pragmatic with the types of contracts that we're taking on as we prioritise job retention over everything else," Keogh said.
He explains that in normal times a contract would be for a minimum of 12 months, but in the current climate Palm has been flexible with contract durations and fee levels.
That said, he believes that if the vaccine rollout is a success the restrictions will be over by March, bringing a return to business confidence and growth – even though more parts of the UK were placed under Tier 3 restrictions this week and experts warn that relaxing the rules over Christmas could lead to another spike in infections and deaths.
"We're not looking at 2020 as a growth year, but more a survival year as we've focused on retaining our amazing team above all else," Keogh said.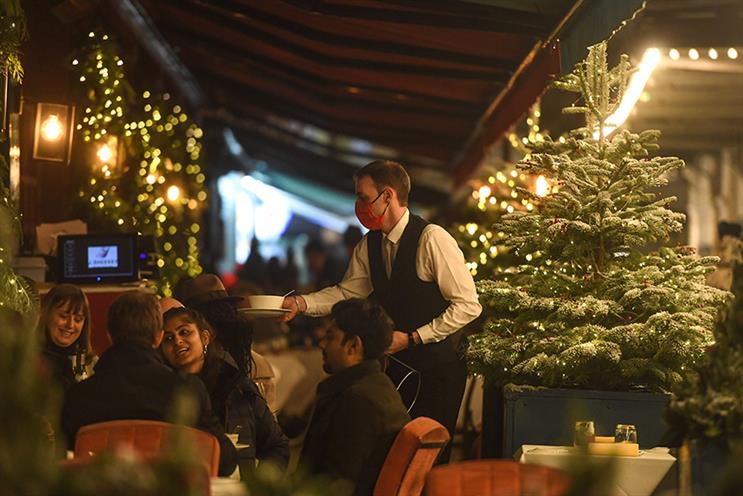 Restaurants were preparing for their busiest week of the year heading into Christmas, but these plans have been scuppered by more regions, including London, suddenly being placed under Tier 3 restrictions this week
'Nowhere near out of the woods'
Anouschka Menzies, founding director of Bacchus Agency, says having a diverse portfolio of clients has helped her agency be more resilient.
"We're very lucky to have well-funded clients who have behaved responsibly at this time… We have come to arrangements which have allowed us to continue to do our work," she said. "We haven't had the issues that we would have had if we were purely restaurants or hotels."
Baacchus has made a few junior staff redundant, and placed a few on furlough during the first lockdown, but made the call to keep all senior staff on board.
Although the business is seeing vibrant pitch activity in property and other sectors, Menzies believes it could take years for hospitality to fully recover.
"It's worth noting that in January, the rent situation is going to be frightening, because [commercial] landlords will then be able to call in all the rents they haven't been able to in the past eight months, and that is going to really affect hospitality," she said. "We are nowhere near out of the woods yet."
The 'rent cliff-edge' was also raised by Jori White, who said a crunch point for hospitality firms and their agency partners will be when the Government stops providing support to cover rent and ends a moratorium that prevents commercial landlords from evicting businesses.
White, who owns her premises in London, puts it bluntly: "If a landlord is not being kind, that will be a killer."
At Fleet Street Communications, of the 10 clients that stopped working with the agency early on in the pandemic, about half have returned. 
The agency had to place one-third of its team on furlough, with many furloughed employees volunteering to help out charities and provide support to industry initiatives.
"We have seen much more volatility in our client base," FSC managing director Mark Stretton said. "Like so many agencies, we feel as though we are working three times as hard to almost stand still."
Stretton predicts that revenue will be about 20 per cent to 25 per cent down this year, but points out: "Relative to the world around us, we feel we're in a pretty good place and are pretty fortunate. It's just terrible to see some of those stories [of hospitality agencies collapsing]."
The owner of the James Atherton pub, Daniel Davies, changed its name to The Three Bellends after Liverpool was placed into Tier 3 restrictions in October. Anger towards the Government has been widely shared within the industry
'There have been dark moments'
It's not just the bigger and more established agencies that have struggled. TandemPR in Liverpool, run by founder Damo Jones, told PRWeek that business came "crashing to a halt" in March as most of its clients "shut up shop and went into hibernation".
After feeding off "scraps of work" for a few months in spring, TandemPR's workload almost halted again in summer and Jones decided to start offering his services for free to local hospitality businesses and charities, as well as ExcludedUK and the Night Time Industries Association.

With the city badly hit by COVID-19 and often in Tier 3 restrictions, Jones said he managed to secure national media coverage for hard-hit hospitality businesses to talk about their experiences.
"I've been trying to give people in Liverpool a voice if they have an interesting story to tell. That has kept me busy, but I've always thought that I just need to get through to next year.
"It's been really difficult to survive and there have been some sort of dark moments," he said. "Hospitality PR and events PR has had this big wrecking ball sailing through it, relentlessly.
"But to be honest, I feel quite lucky, in the sense that I know other people have struggled more. And I know other people have, as far as I know, gone off the radar completely, maybe even permanently."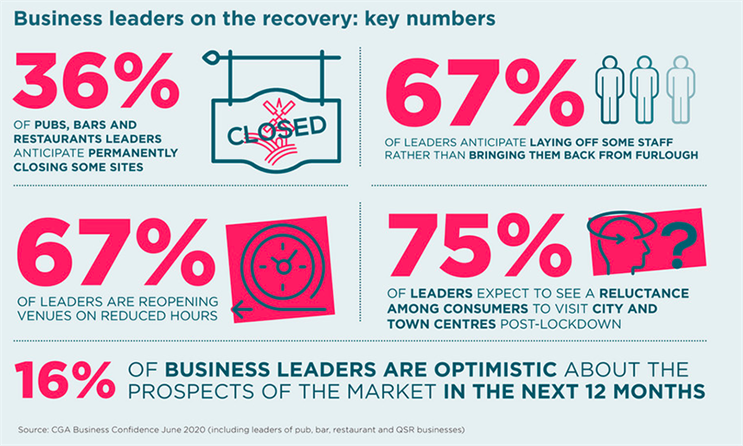 Swapping 'logic for fantasy'
Within the hospitality sector the impact of the pandemic – and downturn – has depended on the business type. Fast food, takeaways and larger chains with established delivery models have fared better than pubs and dine-in restaurants. The Job Retention Scheme has helped to soften the blow, but other overheads have made it tough for many businesses in this sector to survive.
Stretton, who works with the trade body UKHospitality, estimates that half of the industry is "imperiled" and the other half probably has strong enough balance sheets to weather the storm. 
UKHospitality and research consultancy CGA predict more than one-third of businesses will collapse and two-thirds will make some staff on furlough redundant (see infographic above).
Many point the finger of blame squarely at the Government. Stretton told PRWeek the Government largely stopped collaborating with the industry over trading restrictions and lockdowns since July. 
"There are a lot of angry people in the industry right now. There's a real feeling that the Government has stopped following the science and swapped logic for fantasy," he said.
"There is a sense that hospitality is being made to pay for everything else opening up. If that is what the Government needs to do, the support has got to be there. France will compensate these businesses to the tune of 20 per cent of lost revenue.
"The [UK] hospitality industry pays £39bn in tax revenue each year, if these businesses go to the wall, the recovery can't happen as it should… this is an episode of self-harm by the Government."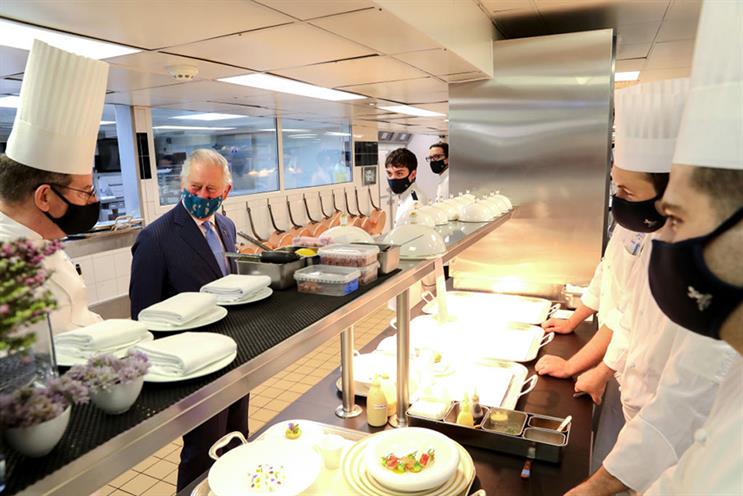 Prince Charles greets chefs at the The Ritz London in support of the hospitality sector. The industry has been visible and proactive in its campaigning efforts
'We're in this together'
PR agencies have helped restaurants, pubs and cafes communicate these changes and keep brands in the minds of consumers, although the Government's sudden changes have given them little time to prepare.
The second lockdown period, while nowhere near as bad in terms of impact on trading, has been "hectic" as many hospitality clients have had to pivot their businesses back toward delivery and meal-kit models. 
"Thankfully, none of our clients couldn't pay us and we carried on, and it was a really, really busy month towards the end of the lockdown. Now, with restrictions easing, the comms have changed again as businesses reopen," Bell explained.
In the run-up to Christmas, she said there has been more short-lead PR: "We're already planning for the new year – it's all about Q1 and Q2 next year, what are the food and drink trends going to be? What's going to be happening and, obviously, [what we're] looking to do in a much more positive time, hopefully, when more people will be able to sign up."
Striking a positive note, Menzies believes the lockdowns have forced hospitality businesses and their agency partners to be much more creative.
"We've had to be incredibly creative to be able to entice customers when businesses are opening, closing and changing their operating model to takeaway and home delivery," she said. "There has been a real agility across the industry and this is a real positive."
There have also been several industry initiatives led by hospitality PR agencies, including Hospitality Delivers, which White helped set up as a platform that makes it easy for the sector to support hotels and restaurants most in need.
"You need to serve the industry, because that will result in sales down the line," she said, echoing sentiments by other agency leaders. 
"We're going to offer our services on a complimentary basis to a certain number of clients in January, to give them advice on how they can get back into the marketplace," she added. "The younger brands have been crucified by this crisis and we want to give 20 of them some of our time; to be a bit of a PR sidekick, to give them advice so they can do it themselves."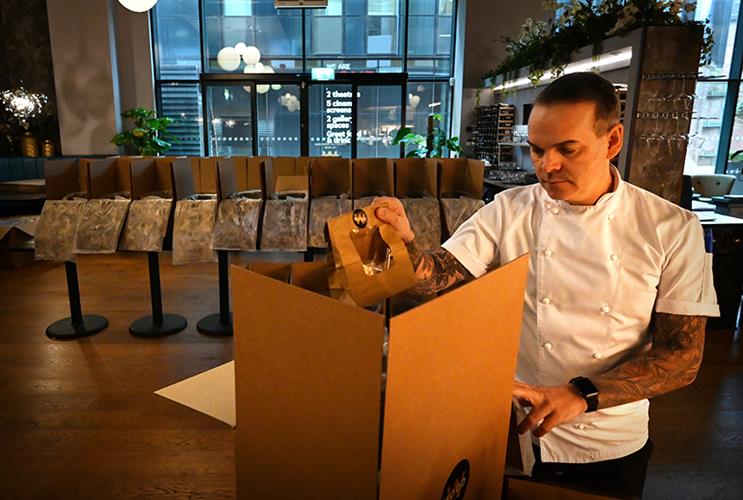 Restaurateur Simon Wood has pivoted to offer high-end meal kits for delivery in Manchester. Hospitality comms during COVID-19 has had to be agile and creative
It's not just hospitality comms agencies that have tried to support the hospitality industry. Firms including Ready10, Brands2Life, Coolr, Frank, Grayling and Tin Man are holding virtual Christmas parties to raise money for Hospitality Action.
The hospitality sector plays a vital support role to the PR industry and there is a genuine sense of agencies wanting to help it get through lockdown.
Although few can predict how long recovery will take, a common response from agency leaders is that it will be a long haul.
"We are heading in the right direction but it will take at least a year to recover, possibly longer," Bell said. "With restaurants closing, when one closes it's an opportunity for another to go in and take up that space.
"By Q3 and Q4 next year, we could be seeing quite a few new openings and growth, which will be really exciting. As an agency, I'm really hoping that this time next year will be a bit bigger, bolder and stronger."
Stretton said the hospitality sector is "clinging on" to the idea of trading conditions improving in April and May, "maybe it's because people can't handle the prospect of it being any longer".
"There is a lot of pent-up demand for the hospitality industry and I feel very good about the industry in the long term… we are completely committed to it," he said. "It's all about bridging across to that point and surviving."
A defiant White added: "We've got to get through this crisis with a positive outlook. PR is about positivity and we will get through this."