Sections

For the eighth consecutive year, PRWeek surveyed the industry workforce to determine the top workplaces in communications. Internal development, compensation, camaraderie and employee support have always been key issues for the judges. Of course, this year these qualities are all viewed through the lens of COVID-19. Organizations' response to the unique circumstances of an unprecedented year factored heavily on the honorees selected.
To see how your organization stacks up against the competition and to gain insights from recruitment pros and industry executives about what they see on the hiring front, check out our Best Places to Work Premium Edition.
SMALL AGENCY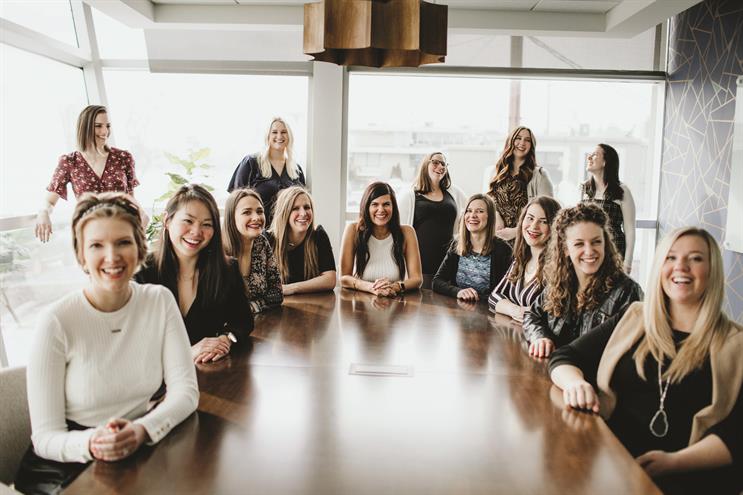 Belle Communication
Headquarters: Columbus, Ohio
A cornerstone motto of Belle Communication is "never stop learning." Encouraging employees to take control of their careers and find what interests them the most has created an agency of independent thinkers and doers.
"Not only do they provide professional development opportunities, but they actively incorporate the new knowledge gained into everyday activities and best practices," was a common refrain among staff.
Belle has long been a completely virtual agency, so while COVID-19 had an impact on business, it didn't rock the culture. The leadership team took pay cuts to ensure the rest of the employees were not furloughed or impacted financially. Remote work was also expanded to include sharing frequent feedback to learn and grow, prioritizing career conversations with supervisors. In lieu of regular weekly company meetings, breakout groups were expanded to discuss stress levels, health concerns and connect with each other.
"Even though we are used to speaking over video calls, it feels like we all know each other much better now," said one staffer.
Despite the challenging times, Belle didn't forget about what truly matters. The agency continued to invest in staff development, offered training and professional opportunities and invested more than $50,000 in pro bono services to nonprofits and small businesses.
As one employee put it, "Belle goes beyond exceptional benefits to foster a culture that is truly empowering, collaborative and appreciative."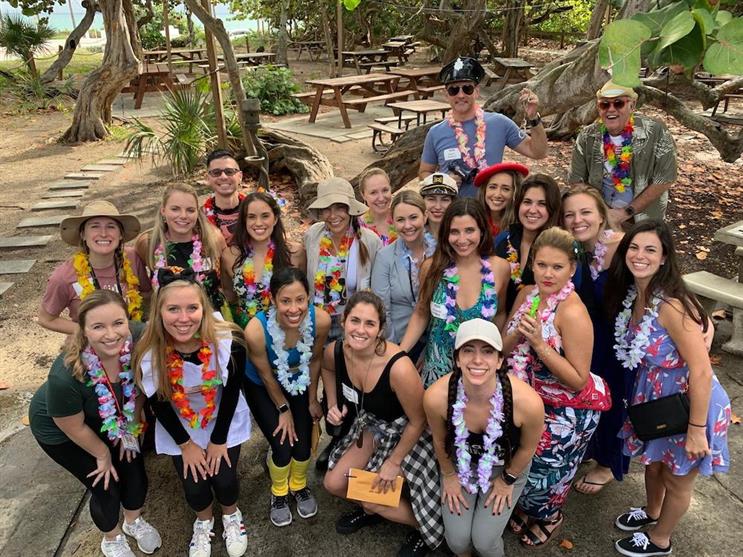 Fish Consulting
Headquarters: Fort Lauderdale, Florida
"I was positively blown away by the remarkable employee comments emphasizing Fish's inclusive, transparent and celebratory internal environment," exclaimed one judge in capturing all arbiters' sentiments.
Perhaps this has something to do with Fish's flexible work hours or that, regardless of title, employees always have access to more senior-level members for mentoring. Part of the enthusiasm surely has to do with the fact that there have been zero reductions in salaries or benefits due to the pandemic. Furthermore, management has maintained transparency about the state of the business to put everyone at ease, started Summer Friday hours early and funded home-office upgrades.
Fostering a celebratory environment across teams and time zones in the best of times can be challenging, but during a pandemic? Not a problem for Fish. The firm had quarantine cocktail kits sent out to each and every staff member. One time, CEO Lorne Fisher drove out to staffer's houses to drop off a care package himself – "socially distanced and with masks of course," staffers emphasized.
When faced with the ultimate crisis of COVID-19, the agency continued to put its employees first, keeping morale high by celebrating achievements and increasing communication to maintain connections and collaboration.
"Fish has always been transparent," noted one staffer, "but the amount of open communication that occurred throughout the COVID crisis was remarkable. It proved that company culture is more than just cool perks; that we are valued and our well-being is top priority."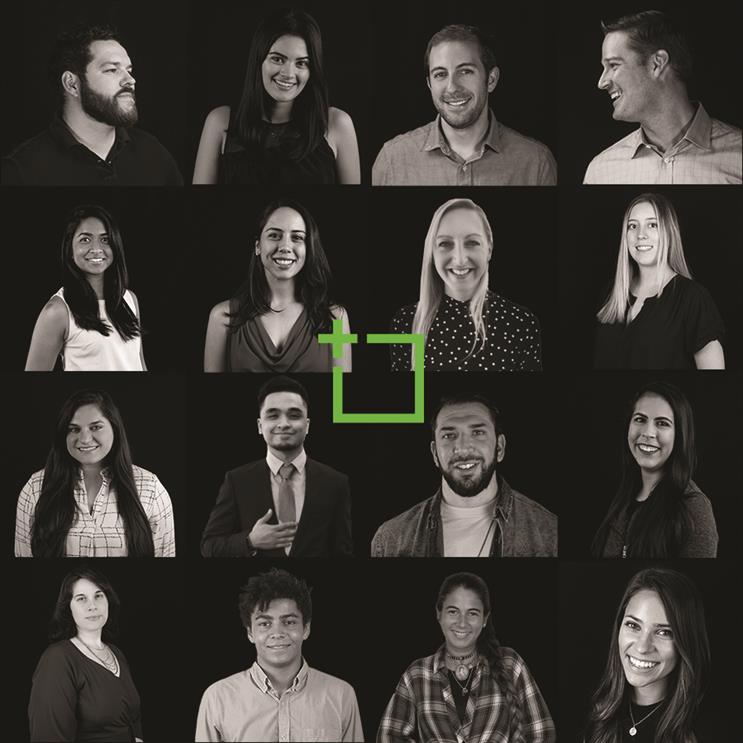 GreenRoom
Headquarters: Miami, Florida
"It's always appreciated and noteworthy, as is the case with this firm, when employees note their agency is all about good people and good work," commented one judge. "And they clearly did a remarkable job protecting jobs during COVID and emphasizing diversity and inclusive efforts."
These sentiments were enthusiastically conveyed by the workforce who broadly stated job security was always top of mind for management. "Even though business development has been tough," offered one staffer, "the agency has ensured that I'm taking home enough to sustain myself and my family."
At GreenRoom, senior management sacrificed their own pay to keep the team together during the pandemic and ensured the rest of the staff's salaries stayed the same. The remarkable job they did protecting their teams during the pandemic is a direct result of their focus in "normal times" on a robust work-life balance, team health and well-being and a "selflessness apparent at all times that is now more visible than ever."
GreenRoom's team-oriented, inclusive culture prevents burn out, keeps staffers intellectually challenged and provides everything to support career and personal skill set advancement. Weekly and monthly workshops, writing and speaking seminars and certifications paid for by the agency run the gamut for everything from photography to ad management to content development to branding.
Remarked one staffer, "The agency feels like a family that not only does great work but takes care of its people. The best job I've had in my eight years in PR."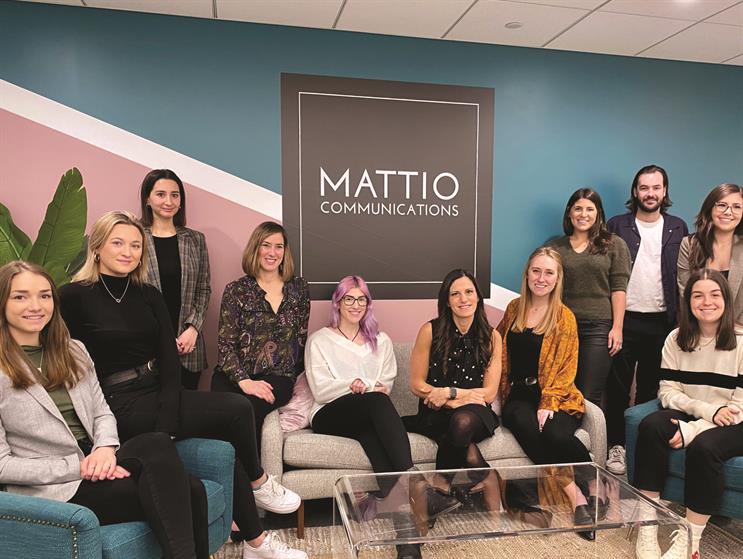 Mattio Communications
Headquarters: New York City
With high marks distributed evenly across the board, judges raved. "This is truly an extraordinary PR agency," noted one arbiter. "An amazing employee practice of matching charitable efforts up with local organizations."
The judges' enthusiasm, though, was second to that of employees. Comments included: "They are the most supportive bosses I've ever worked with," "They give us so many chances to move up in the ranks" and "Mattio's strong, team-oriented, inclusive culture celebrates everyone's unique personalities, skill sets and opinions."
During the pandemic, everyone was grateful for weekly virtual happy hours, group fitness sessions and meditations. Employees were given free COVID-19 tests and those who were negative and felt comfortable were invited to a retreat. A staff therapist was made available for anonymous therapy sessions with the company covering all the costs, and all donations employees made to COVID and Black Lives Matter causes were matched by the agency.
"The people, the teamwork, the ease of access to tools for success, the large portfolio of clients … I feel like I'm working with my friends," noted one staffer.
Oft-cited as "the best PR agency I've worked at," Mattio's care for its employees' personal and professional growth offers everyone the chance to develop monumentally. "Everyone is so close and supportive and the bosses go above and beyond for their employees," summarized one staffer. "I feel valued. I am grateful to have the most supportive bosses for whom I've ever worked."
Narrative Strategies
Headquarters: Washington, DC
Employees describe Narrative Strategies as having "an entrepreneurial culture in which every employee's unique professional development plan is fully supported by the company and its senior executives." As such, it's no surprise to see the firm scored high marks for work-life balance with a culture that promotes growth and "wins and losses as a team."
Boasting a flat structure that encourages ownership, teamwork and collaborative relationships, staffers noted how this ideology only grew during COVID-19.
"Narrative has gone above and beyond to help me fulfill my dual role as a working mom and as a mother of two." All salaries and benefits either remained the same or were advanced. Meanwhile, small, unexpected gestures – such as delivering ice cream to every person on the team regardless of their location – boosted morale.
Regular virtual happy hours, a movie club and twice-weekly check-ins ensured there was additional team bonding time. During staff Zoom meetings, employees had the opportunity to thank others for their contributions. And weekly "creative space" lunches brought senior and junior members of the team together to discuss professional development with mentors.
"I was even instructed to take a week off after an especially taxing stretch," noted one staffer in emphasizing the important management places on employees' well-being. "And they wouldn't take no for an answer."
"This is an organization of exceptionally talented, outstanding people with a great mix of skills and strengths," said another team member. "I wouldn't want to work anywhere else."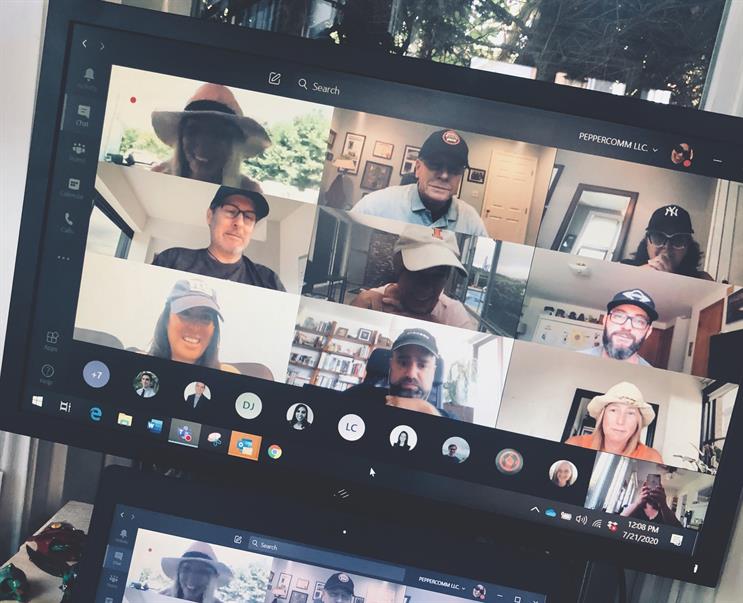 Peppercomm
Headquarters: New York City
Judges unanimously highlighted the agency dynamics of Peppercomm. "To see the management team paying for the lunches of employees who patronized Black-owned restaurants was beyond impressive," explained one arbiter.
It's this kind of conscientious concern for the betterment of all that led staffers to express their overwhelming appreciation for the way Peppercomm has navigated the frenzied waters of 2020.
The agency's response to COVID-19 included senior employees reducing their salaries with junior staff remaining unimpacted. Staff made note of the way in which "open communication and expectations of what's to come" and "a seamless shift to virtual learning events" has helped keep the firm's culture intact and thriving.
Three hours per week are designated for employees to "go fishing" (do yoga, take a walk or simply sign off early). PepSpotlights, in which one employee answers a series of questions about themselves and shares with the group, helped staff get to know each other better while working remotely. And, added staffers, unconscious bias training and "full financial transparency" make it crystal clear how much Peppercomm values its people.
Staunch believers in laughter being the best medicine, agency management makes having a sense of humor a prerequisite. "That's what attracted me to work here," noted one staffer.
"During COVID, I thought we'd all just try to survive," said another employee. "Instead, we thrived."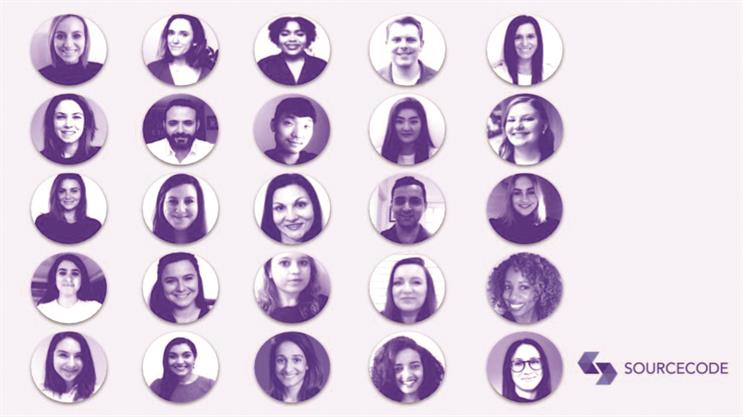 SourceCode Communications
Headquarters: New York City
When it comes to any opportunity you want, "SourceCode Communications will find a way to help you work toward it," raved one employee.
From a $1,500 stipend designated for personal development, training, conferences and networking events, to quarterly KPIs to help set goals and track metrics in order to measure professional as well as personal growth, the agency works hard to ensure staffers are "on the path they want to be on, not necessarily the one management outlines for you."
After taking voluntary pay cuts during COVID-19 to ensure operations could continue and staff would not be affected, leadership went on to support Black Lives Matter by doubling down on the money it spent on diversity and employee development.
"SourceCode [leadership] really walks the walk," explained one staffer. "They care deeply about their employees and show it every day. Their transparency during the pandemic has been unmatched. Management supports people at every corner. This firm remains true to its roots with integrity."
To keep employees safe, SourceCode was "one of the first, if not the first, company to go remote in New York," one staffer pointed out – an extension of the agency's employee-first spirit. "Our leaders are invested in everyone's interests and in ensuring we are all happy, personally and professionally," said another staffer. "I've never felt as supported as I do at SourceCode."
---
MIDSIZE AGENCY

Coyne PR
Headquarters: Parsippany, New Jersey
"Coyne PR demonstrates the power of a company that listens, reacts and implements procedures and processes that matter," said one judge, capturing all arbiters' sentiments.
Employee after employee gushed about the "inventive team-building" inspired during the pandemic.
"Weekly staff meetings kept employees informed, while virtual meditation, cooking classes, storytelling and weekly talk shows kept us close-knit," offered one staffer. Staying connected via Microsoft Teams facilitated discussions about approaches to client work during COVID-19 and contributed to an overall sense of togetherness.
"Senior team leaders empowered us," noted another employee. "They encourage us to better ourselves through training rather than anxiously worrying about the pandemic."
Coyne has experienced zero layoffs, salary cuts or furloughs since the shutdown, unlimited PTO remained in place and employees were encouraged to take time for themselves. A focus on each and every staff member being an important piece of the puzzle was made no clearer than when founder and CEO Tom Coyne called every single employee to find out how they and their families were doing. Exclaimed one staffer, "Now that says something about a company and its leader."
"Since my start as the firm," noted another staffer who indicated he was the eighth employee at the agency, "Tom has had the same mission: 'Be the Best Place to Work.' Coyne has maintained that for two decades. This is truly an agency that leads with heart and humanity."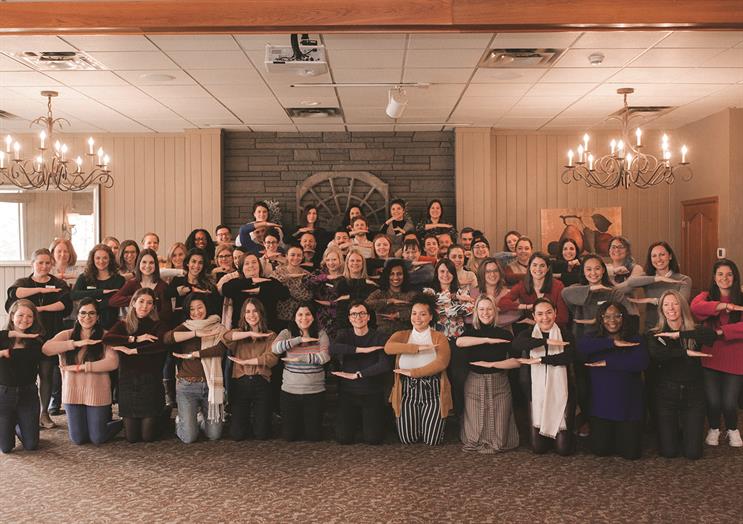 Evoke Kyne
Headquarters: New York City
To a judge, there were two areas that particularly made Evoke Kyne stand out: work-life balance and the ability for employees to improve and develop.
There is a clear path for advancement that includes strong tools, internal trainings with experts, mentorship programs and an exchange program that enables employees to work out of a different office for three months. Judges felt it was crystal clear how much the agency values independent growth.
Effusive in their pride for working at the firm, employees shared comments that include: "Entrepreneurship is encouraged"; "Evoke values the advancement of its employees and provides a stipend for professional development courses, internal education programs and an exchange program"; and "I feel heard regarding what I want from my career and how the company can help me get there. And I see the tangible results of that."
Universal feelings of "stronger together" and "we'll get through this" from top to bottom confirmed the agency's dedication to an inclusive and supportive environment that, even prior to COVID-19, made its employees top priority.
"Sometimes you're in the right place at the right time," explained one staffer. "Evoke Kyne is that right place in this moment."
A caring and innovative agency with diverse staff committed to making a positive social impact, Evoke Kyne could receive no better testament than, "I've never worked with a nicer, more conscientious group."



Hotwire
Hotwire
Headquarters: San Francisco, California
Hotwire's work-life balance is second to none. Its response to COVID-19 only made more evident the agency's commitment to ensuring everyone was as healthy at home as they were at work.
"I cannot think of a better recipient to be included among this year's honorees," shared one judge, echoing all others. "They truly care about their team and have created a working environment that proves it."
In this global agency's U.S. market, no layoffs, pay cuts or benefit reductions took place as a response to COVID-19. Leadership developed plans for each region to keep business efficient, and its Thoughtful Working Policy, in place long before the pandemic, ensured everyone was able to work productively while still having time for their own mental health and families.
"What surprised me is what Hotwire did not have to do for employees," noted one staffer. "We already had all the tools and processes in place for success."
In addition, Hotwire conducted a survey to inquire about everyone's home office setup, where stresses lay and how they could help. The results led to massive work-from-home support including ergonomic chairs, new monitors, keyboards, ring lights and headphones. All teams were also offered various tools to ensure they were able to take breaks from remote working.
"Hotwire is a 'whole person business,'" said one staffer. "The agency truly embodies all of its values and everyone in the organization has a role in making it a great place to work."
The OutCast Agency
Headquarters: San Francisco
The OutCast Agency clearly cares about its employees. One particular area in which it shines is career advancement. "I am hard-pressed to think of another agency that is as committed to their staff's future as OutCast," observed one judge.
OutCast supports continued growth and development with cross-training, rich learning labs, expert guests, mentoring and a culture of zero-ego collaboration. Improvement/advancement opportunities include weekly training sessions on topics such as media relations and crisis comms, as well as panels hosted by journalists. A bold culture of entrepreneurship with employee-led initiatives — namely its diversity, equity and inclusion council — engenders a culture of openness and engagement, which, in these challenging times, has made employees feel "supported, safe and secure."
New team-building exercises have included management office hours, cooking and cocktail classes, "water cooler" Zoom meetings, virtual game nights and breakout sessions across geographies. Each office does weekly get-togethers including lunches, "virtual outings" (the Los Angeles office toured an animal sanctuary via Zoom), trivia nights and socially distanced hangouts. A new panel series called OutCast Overshare allows staffers to talk openly about a specific topic, strengthening connections among employees.
Agency staffers describe its non-hierarchical structure as "a tightknit, supportive culture where folks are encouraged to be themselves — silly, quirky, emotional and professional."
"If you ask employees what OutCast's 'secret sauce' is, it's the people," summarized one staffer. "We support each other, while also challenging each other to achieve excellence."
Praytell
Praytell
Headquarters: Brooklyn, New York
While times have surely been tough, Praytell has stayed true to its values of working harder together and innovating together. Amid COVID-19, this has only strengthened the bond of an already close-knit team. As one staffer put it, "Praytell is like Olive Garden: We're family."
JNeed proof? Multiple employees recalled how CEO Andy Pray's mom sent every staffer homemade care packages. "Many agencies say they are a family," said one judge. "Praytell epitomizes that quite literally."
While it was "not necessarily a surprise" considering the agency graces the PRWeek Best Places to Work list for the seventh consecutive year, employees nevertheless expressed gratitude for Praytell's transparent leadership and empathy during what has been a tumultuous year for everyone.
Even before the wild ride that has been 2020, Praytell has long boasted a culture of inclusion and innovation. However, the challenges of the times have only seen it upping the ante by creating a "People, Culture & Allyship" practice to foster diversity, equity and inclusion efforts internally and externally with aggressive new measures to increase its 40% BIPOC representation.
Judges also called out the launch of a Praytell-O-Vision TV program with staff-hosted "shows" featuring their hobbies and passions that include everything from how to make dumplings to drawing lessons and a task force to compile proactive crisis messaging.
As a testament to the need for connection and creativity during these tough times, Praytell's unique combination of generosity, hilarity and collaboration foster a culture that has led many staffers to say things such as, "I've never trusted my employer more than Praytell's response to COVID-19."
Spectrum Science
Spectrum Science
Headquarters: Washington, DC
Spectrum Science is an organization that helps people find their passion. Cheekily called "Spectrumites," staffers are encouraged to take charge of their careers through the robust development and advancement program, Center for Excellence.
Through clinics, residencies and weekly strategy trainings, those looking to step outside their comfort zones are given the opportunity to learn new skills and gain hands-on experience and deep opportunities.
Staffers laud Spectrum's "friendly CEO" Jonathan Wilson, who "is not interested in bureaucracy," salaries "above industry standard" and "fearless, passionate, smart clients and colleagues." Judges noted how this all clearly combines to create an agency that not only has a great culture, but brings together different types of people from across the country to serve healthcare clients in the best way.
This unshakeable foundation made it possible to address the challenges of COVID. Spectrum provided a stipend for each and every employee to make purchases for their home office space. The firm conducted frequent surveys in order to assess individual perspectives on returning to work. There was also a PSA campaign called Beat the Sit Out of COVID-19 that communicated the urgency around staying home and the criticality of "out-sitting" the virus.
"The narrative is always about discovering what we are comfortable with rather that dictating to us," explained one employee. "This made it possible for us to turn a difficult situation that limited connection into a situation in which we are more connected than ever."
---
LARGE AGENCY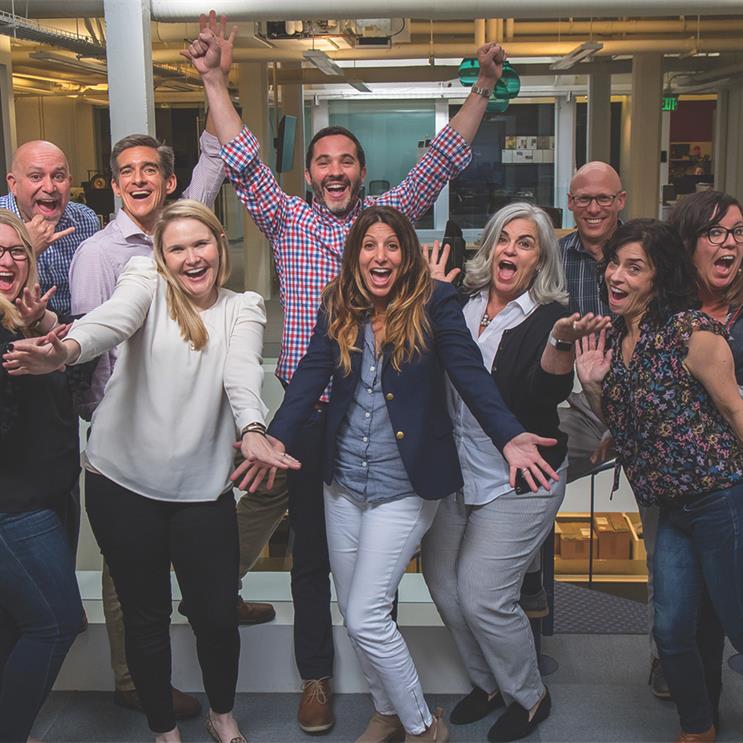 Allison+Partners
Headquarters: San Francisco
Allison+Partners impressed the judges with its response to the COVID-19 pandemic. The agencywide team-building and support groups were vital for maintaining the positive company culture everyone was used to across numerous offices working remotely.
Employees expressed enthusiasm about innovative programs such as The Wolf's Den Book Club, a Diversity + Culture group and the Implementation of Quarantine Chronicles, which entailed sharing new things everyone was doing during the epidemic. Additional resources addressed work-from-home strategies, industry best practices and mental health activities.
Black Lives Matter and Pride Month became a celebration, with panels from both groups speaking about their challenges growing up in cultures that tended to exclude them.
Those with children found the agency's flexible schedules a balm to the topsy-turvy times. Among staffers' comments: "Many of us have kids at home and they've been very supportive of flexible schedules." "No questions asked when it came to developing flex-work schedules — especially for parents." And, "9-5 was thrown out the window to accommodate everyone's needs."
A clear vision for the future, combined with a unique lean, boutique-size camaraderie and senior-level involvement with large-size resources, is Allison+Partners' secret formula.
"I feel supported at every level of the organization with the ability to serve my clients and grow in my career," said one staffer. "And we're all in this together."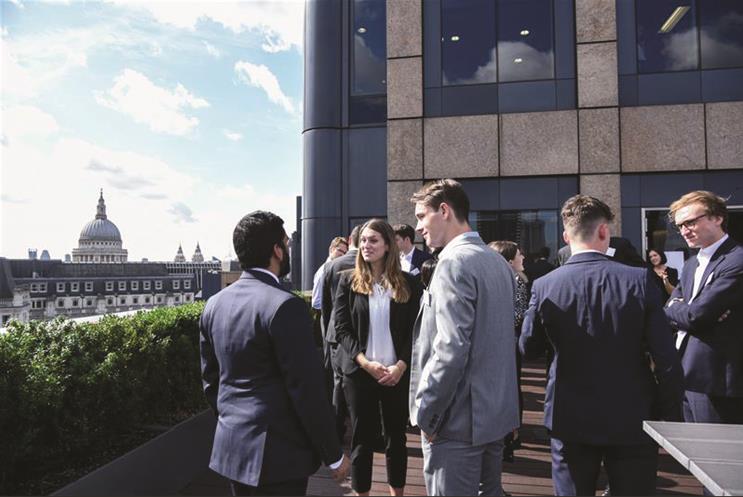 FTI Consulting
Headquarters: Washington, DC
Across the board, employees gave FTI Consulting off-the-chart marks for encouraging work-life balance, fostering a culture of continuous improvement and epitomizing an ethical mindset.
At the pandemic's beginning, the C-suite assured staff it would not furlough or layoff anyone – and it kept its word. Constant communication from senior management and open dialogue about what was happening alleviated uncertainty and helped make everyone feel comfortable working from home.
"We were encouraged to make our own and our family's well-being a priority despite the challenging circumstances," noted one staffer.
And it isn't just upper management that made the difference. Each and every staff member is there for one another through thick and thin.
"I receive constant support, guidance, trust, encouragement and gratitude from my colleagues," gushed one employee. "We've successfully stood up an entire new remote practice, which is a tremendous testament to the cross-collaboration and teamwork within our organization."
From providing funds to buy home-office equipment to increasing sick time in order to ensure staff took care of themselves to providing telemedicine integrations for mental health early on, FTI showed how a broader and deeper camaraderie can truly strengthen relationships – personal and professional.
"It is clear that FTI is greater than the sum of its parts," opined one judge.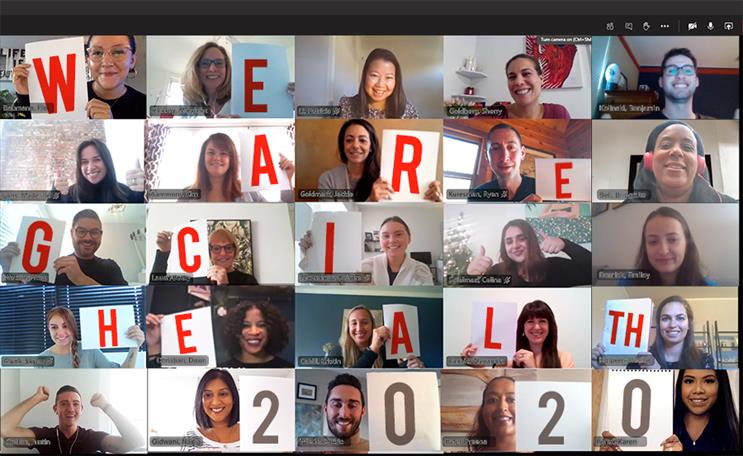 GCI Health
Headquarters: New York City
Judges gave GCI Health lofty grades for how it treats its employees. "I am very impressed with the range of internal and external opportunities available to employees to develop and advance," said one arbiter.
Staffers underscored these sentiments. "In my nine years at GCI, I have been given tremendous growth opportunities and have always felt that leadership truly wants me to succeed," noted one employee.
The firm's recently overhauled employee-led educational programming includes influencer engagement, analytics and racial bias training, focusing on seamless collaboration across the agency. As one staffer explained, "Everyone has a clear path to growth and promotion, multiple professional development learning opportunities and visibility and access to senior leaders."
Support from senior staff was also roundly lauded. "Senior-level leadership is incredibly accessible, friendly, kind and willing to support their employees at all times," shared one staffer. Judges went on to highlight the impressive development programs offered by GCI, along with lunch and learn sessions that feature both agency and external leaders.
Amid COVID-19, that support and consistent communication never wavered.
"Leadership has been very strong and transparent during the pandemic," said one staffer, "including the institution of special resilience training and other support mechanisms."
And the accolades continued among those with children. "We have a lot of working moms who are juggling home school," noted one employee. "The understanding, compassion and collaboration has been amazing."
---
EXTRA LARGE AGENCY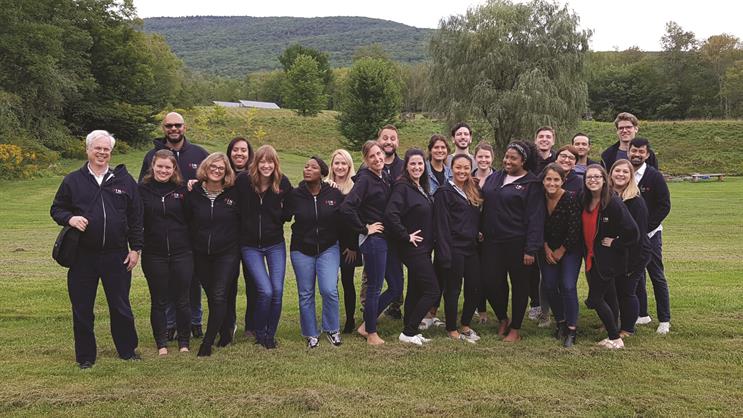 Finn Partners
Headquarters: New York City
When staff members at Finn Partners were asked why they felt their agency is the Best Place to Work in PR, they overwhelmingly sang the praises of CEO Peter Finn, who was broadly categorized as a unique leader with great compassion, empathy and integrity.
"He talks the talk and walks the walk," said one staffer. And his leadership style is evident throughout the agency. "All practice leaders exemplify that mindset," noted another employee.
Proactive in balancing the demands of a changed working environment with the financial realities of its employees, Finn instituted salary freezes instead of making layoffs when COVID hit. All the while, the company continued to invest in DEI, with at least one office launching an anti-racist action committee to fight social injustice and educate everyone on combatting racism.
"Teams are building camaraderie around crucial national and global issues that impact us all, particularly equity and workplace diversity," mentioned one staffer.
"This is clearly a firm that lives its values of treating everyone ethically and with great respect," surmised one judge.
From sending all U.S. offices home a week before most states implemented stay-at-home orders to the company's unique attention to professional development, collaboration and creative team-building, the generosity and thoughtfulness that comes from the top filters down and touches everyone at Finn Partners.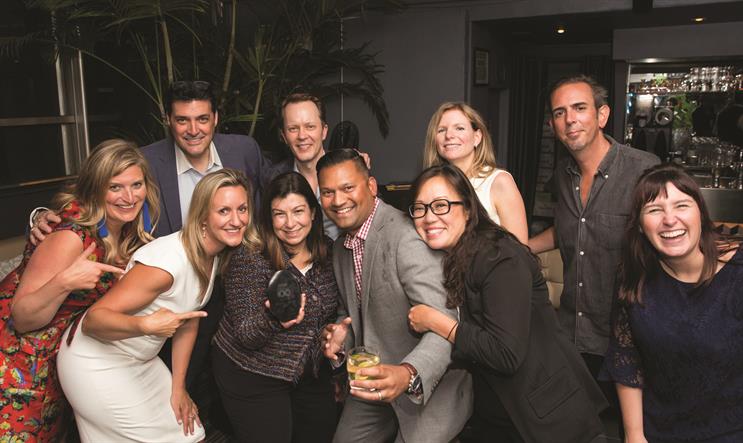 W2O
Headquarters: San Francisco
With its strong healthcare orientation, W2O grew its business in 2020, rather than diminish, which had a major impact on company morale. What particularly impressed judges, though, was how the firm parlayed that success into creatively reinforcing its close-knit, family culture during the pandemic.
This included activities to get employees' kids involved and a new FIT program designed to address work-life balance management. And these were all hits, with staffers remarking on the special camaraderie they feel at W2O from the top brass to the interns.
In a world where COVID-19 has stopped many agencies in their tracks, W2O made it a priority to advocate for its people, partnering with Modern Health in order to give everyone access to on-demand coaching and teletherapy – physical and mental. Also on tap, increased benefits and time off, flexible work hours and allowances for home-office necessities. Said one staffer, "Our CEO Jim Weiss truly cares for his employees and it shows."
Other initiatives include the company matching donations employees made to nonprofits and partnering with the California Life Sciences Association to launch a Real-Time COVID Communications Center, keeping everyone up to date and in the loop at a time when misinformation runs rampant.
Capturing the sentiment of many, one staffer said, "I have told friends, family and colleagues how very fortunate I am to be working for such a company during these extraordinary times."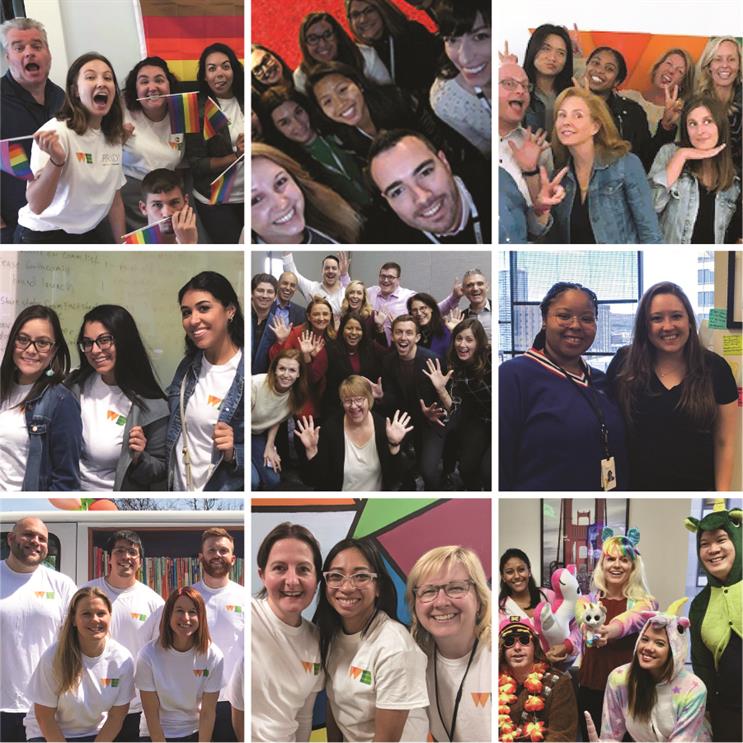 WE
Headquarters: Bellevue, Washington
Based on employee comments, judges immediately highlighted how WE CEO Melissa Waggener Zorkin is the kind of leader "who will introduce herself, ask how you are enjoying your work and if you have any ideas to make it a better place."
The firm's leaders made it clear early in the pandemic that no one would lose their job because of COVID-19. WE publicly committed to not cut salaries, benefits or to furlough anyone in 2020, which left a big impression on the staff.
"Our organization has stood resolute," one employee noted. "There have been no layoffs or benefit cuts. In fact, the company even increased everyone's PTO." Additionally, in order to support anyone who needed a fill-in for an hour/day/week – from notetaker to project lead – WE put together a team to cover, no questions asked.
Overall, the company has shown that it values taking care of its employees, judges concluded, employing a "people first" mentality every day. With a palpable air of real concern for and investment in its people, WE inspired staffers and judges alike.
A culture consistently described as fun, friendly, supportive and very inclusive has produced an atmosphere of positivity – whether in-person or via Microsoft Teams. This, in turn, makes staffers "fans" who appreciate the agency's person-focused commitment.
"Empathy is now our first emotion," one employee explained. "We're being human first and taking care of each other. WE's support during this unprecedented period has been nothing short of incredible."
---
IN-HOUSE TEAM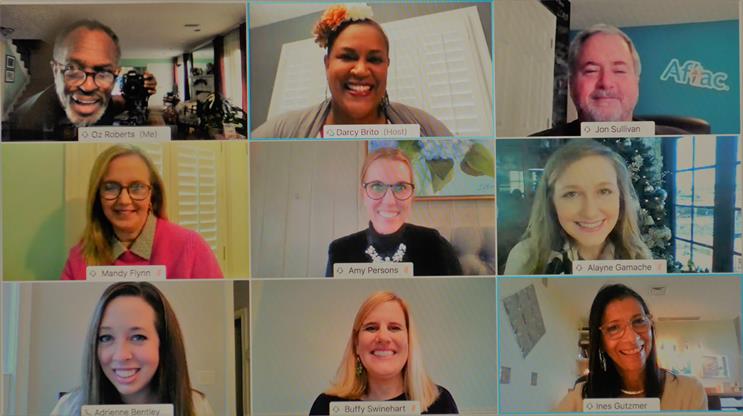 Aflac
Headquarters: Columbus, Georgia
"It is clear that Aflac employees feel valued, supported and encouraged by all levels of the organization," noted one judge. The company's stellar work-life balance and strong, team-oriented and inclusive culture was evident in the staffers' enthusiasm.
From "outstanding team-building meetings" to "Aflac's open dialogue about how we accomplish goals and work together as a team," no aspect of the company went unheralded by employees.
In terms of its COVID-19 response, Aflac proceeded calmly, maintaining continuous communication and ensuring employees were safe so that together, everyone could rise. Not only did salaries remain intact throughout the pandemic, but the company sent branded masks to each and every employee, created a COVID-19 website with regular updates and safety tips and delivered dinners and lunches to employees on numerous occasions.
"My bosses rock," exclaimed one staffer. "They provided meals two to three times a month for our family, demonstrating just how much they care."
While employees were quick to note that leadership was spectacular pre-pandemic, "care and personal engagement has risen exponentially, especially for team members living alone." It is this kind of conscientious behavior that makes it clear Aflac puts its people first and reminded at least one employee why they joined the company.
"It's unquestionably a top-to-bottom team effort," that staffer said. "From leadership to entry-level positions, everyone has a chance to thrive. I wouldn't trade working at Aflac for anything."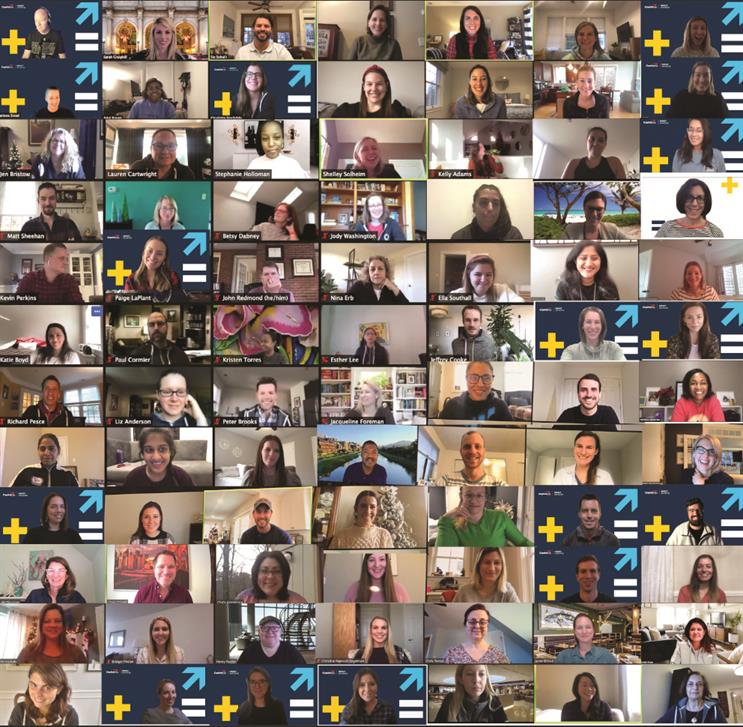 Capital One
Headquarters: McLean, Virginia
This brand's modus operandi in terms of its employees was very apparent – and very impressive – to judges. As one noted: "It is clear Capital One values inclusivity, employee development, open communication and transparency."
When COVID-19 hit, salaries were not slashed. In fact, much was increased: benefits, including extra PTO, enhanced childcare and, for some, a salary hike.
The company took fast and decisive action when the pandemic hit and has continued to communicate about evolving plans, most of which center on making a difference and being agents of change.
As one team member put it, "We are not just working remotely, we're working remotely during a global pandemic, but we're all conscious of and committed to making each other feel supported." Another comms team staffer opened up in a particularly vulnerable way, revealing, "I had the virus and leadership insisted I take the time I needed, even when I thought I was ready to return. That humane support is exactly what we need right now."
The staff was also proud of the company matching donations and its ongoing education and structural changes to improve diversity efforts in the wake of Black Lives Matter protests. Even when faced with a personally and professionally challenging year, Capital One continues to push boundaries and entrust employees with the freedom to innovate.
As one staffer offered, "This is the first company I've worked for where I feel like my opinion matters, is sought and respected."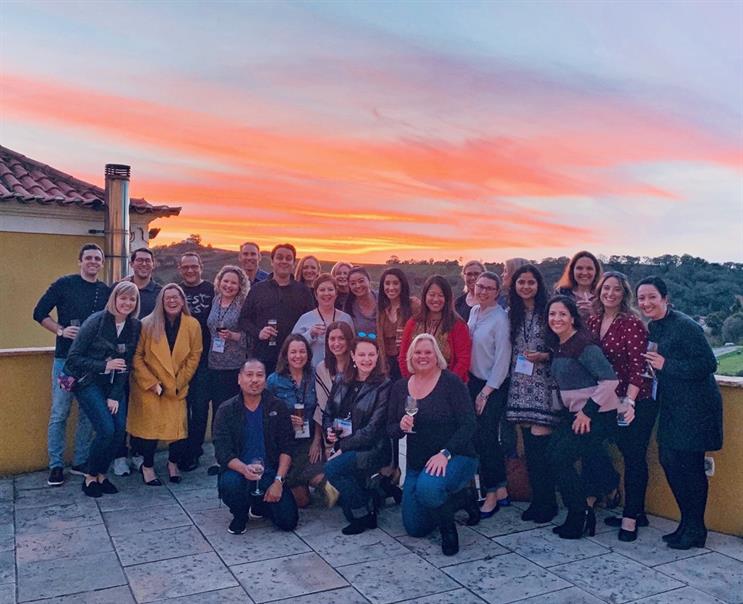 Cisco
Headquarters: San Jose, California
Judges noted Cisco's exceptional response to COVID-19, saying it struck "a near perfect balance between work life and home life, even as the two merged into a blur."
In March, as the pandemic really took hold in the U.S., Cisco committed $225 million toward the fight against COVID-19, including donations to the World Health Organization, homeless groups, hospitals, nursing homes and prisons. In addition, special guests, including medical professionals, musicians, philanthropists and thought leaders, were also brought in to discuss the best ways to handle the healthcare crisis and racial injustice.
The pride employees have in working for Cisco was easily evident in the comments shared by the comms team. "I am so honored to work at this company," explained one staffer. "The C-suite truly honors a triple bottom line and cares about various stakeholder groups, particularly employees."
Cisco is also forward-thinking when it comes to employee growth and development, with a dedication to mentorship, learning technology, stretch assignments and employee advancement.
"Cisco offers the most sophisticated mentoring program I have ever seen. Leaders recognize and promote deserving staff. I love this company," said one staffer.
As is the case with most businesses, Cisco was impacted by the pandemic, but leadership declined to eliminate roles and continued to pay everyone, including cleaners and other displaced contractors.
"I cannot say enough about Cisco's COVID-19 response," shared one employee. "So proud to work here."
PwC
Headquarters: New York City
PwC demonstrated its commitment to the safety and well-being of its staff through a swift and thorough response to COVID-19. Judges certainly noticed the company leaned into flexibility, work-life balance and enhanced benefits to help employees navigate the changing landscape.
Cultivating empathy in these trying times has been crucial, whether it be for working mothers, caretakers or those who live alone. PwC's herculean response to the diverse needs of its employees did not go unappreciated.
An emergency leave policy for all military, EMTs and nurses allowed frontline workers to serve their communities while still pulling down a full salary and benefits. The company further buoyed those in need by donating millions of dollars to COVID-19 causes. In-house, the company offered virtual yoga classes taught by team members, had ongoing check-ins with leadership at every level and produced "get to know you" type events to help keep everyone connected.
"We're encouraged to communicate how we're feeling mentally, physically, emotionally and spiritually," noted one comms staffer. "Our work-life flexibility is top-notch and the benefits that have been added have helped support employees mentally and emotionally during this time."
A purpose-driven company that encourages its employees to think creatively, PwC is the kind of place that makes people "proud to work for an organization that takes a strong stand on important issues and leans on PR to create positive change."
View the 2019 Best Places to Work