Top: NHS and Margaret Keenan give vaccine hope
It was a moment the world had been waiting for and, in the end, it fell to a 90-year-old grandmother from the Midlands to give humanity hope in the fight against COVID-19.
Margaret Keenan became the first person to be vaccinated (outside of trials) against the virus on Tuesday, and much credit should go to the comms work that received coverage across the globe.
Despite the magnitude of the story, the messaging emphasised the personal. The press release from the NHS said: "At 6.31am early riser Margaret, known to friends and family as Maggie, was given the life-saving jab by nurse May Parsons at her local hospital in Coventry.
"Maggie, who turns 91 next week, is a former jewellery shop assistant who only retired four years ago. She has a daughter, a son and four grandchildren and is looking forward to being able to go out again once she receives the top-up dose."
Keenan cut an endearing and relatable figure, dressed in a Christmas jumper as the media filmed her receiving the Pfizer COVID-19 jab. Interviewed by a number of media outlets, she became an important proponent of vaccination to help win over doubters. "My advice to anyone offered the vaccine is to take it," Keenan said. "If I can have it at 90 then you can have it too!"
May Parsons, the nurse who administered the vaccine, also performed well in front of the cameras, and spoke of her "overwhelming pride" at being involved.
The media clearly enjoyed the fact that Buzz Aldrin to Keenan's Neil Armstrong was an 81-year-old man named William Shakespeare. But it was the nonagenarian who stole the show, helped deliver a crucial message and gave a human face to the coronavirus fightback.
John Harrington, editor
Flop: Millwall pandering to 'racist' fans
Imagine waiting for nine months to see live football again, being chosen as one of a lucky few thousand fans to see your beloved team, and your first act at the match is to boo and jeer your own players for supporting an anti-racism movement.
That's exactly what happened at The Den over the weekend in a fixture between home side Millwall and Derby County.
That it was Millwall fans who did it surprised few in the football community. In the past few years some of the club's supporters have made headline news for their racist chants during football matches.
A quick introduction to Millwall fans pic.twitter.com/3ygiKWjGGY

— L (@wrigh2uk) December 5, 2020
The club has a dark history of racism towards black players, an image it has worked tirelessly in the community to shake off.
Even if some fans claimed they jeered because they didn't like elements of the BLM movement, booing your own players who want to stamp out racism is an "act of violent disrespect", as Guardian journalist and Millwall fan Barney Ronay put it.
What is surprising is that the club, given an opportunity to take tough action against the more extreme elements within its own fanbase and draw a line under this sorry episode, has responded weakly and in a fashion that many will view as pandering to racists and bigots.
A vague statement issued a day after the Derby encounter said Millwall was "disappointed" and "saddened" by the "events". What it did not do was call out its own fans, describe what they did, say why it was wrong or condemn them for it.
A further statement on Monday said that instead of taking the knee, players would "stand arm-in-arm with each other in a show of solidarity for football's fight against discrimination ahead of kick-off [against QPR] at The Den on Tuesday night".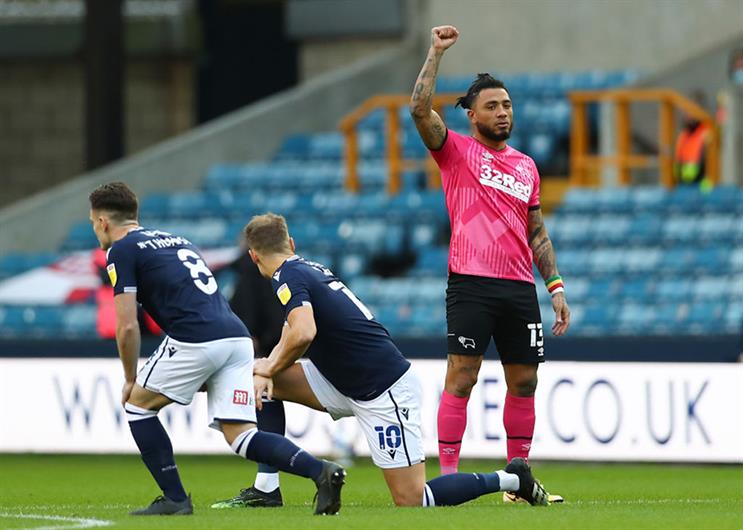 Millwall players take the knee and Derby's Colin Kazim-Richards raises his right fist to boos by fans at The Den on Saturday 5 December (Photo: Getty Images)
The statement added that "anybody found guilty of racial abuse is banned for life", and the club was working hard towards anti-discrimnation and equality.
Yet again, there was no condemnation of the offending fans or action taken against them for bringing their club into disrepute. Instead, 'let's opt for a different form of protest that won't anger our fanbase and cause a repeat of Saturday'. This approach comes across as diversion rather than dealing with the issue.
By dropping the knee protest in place of another "gesture of solidarity", the toxic parts of Millwall's fanbase (and many outside the club) will view it as a victory for those who take pride in sticking the proverbial two fingers up to the anti-racism movement.
Tackling those fans head-on – most of whom are season ticket-holders and easily identifiable – and providing much stronger and unequivocal public relations would have sent a firm message that racism in any form is not welcome at the club and will be dealt with in the harshest possible way.
It would have positioned the Lions as leaders of the pack in football's fight against racism, rather than a severely wounded animal waiting for familiar vultures to pick it apart.
Arvind Hickman, news editor