ESG's indisputable importance
It is indisputable that company reputation and performance in the long term is linked to environmental, social and corporate governance performance. 
For instance, the numerous examples of how ESG controversies have an impact on companies' share price has boards and the broader investment community taking a keen interest in this matter. They are asking for clearer, more universal standards and frameworks for ESG. As Morningstar data shows, more than $30 billion has been added to global environmental, social and governance funds in the first nine months of this year.
We all know that you can't manage what you can't measure. However, quantifying ESG performance on a global scale is a deeply complex problem that was unsolved and unstandardized.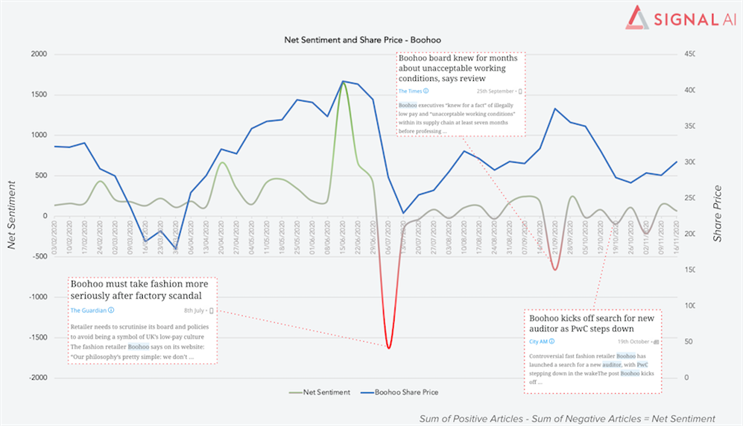 A new global framework
For the first time, it is possible to create a meaningful global framework for ESG using artificial intelligence and machine learning under the assumption that a company's ESG perception is a proxy for its ESG performance. 
Take a scenario where you are able to analyze vast amounts of textual content from the world's media and other external sources, such as legislation, company releases and regulatory sources, and then measure the perception of an organization. Then cross-reference this perception with specific aspects of ESG that an organization is targeting at a point of time such as conservation or labor practices. Let's call these ESG topics pillars. You can then compare pillars between peers, gather actionable insight and improve the organization's ESG performance, and ultimately affect critical decision making. 
Using AI, analysts can now search vast amounts of information, from millions of documents from around the globe in virtually any language to understand the ESG reputation of organizations and distill it into a "reputation score" for different ESG pillars.
Relevant ESG pillars can fit into wider industry standards such as SASB or UNSDG. Alternatively, individuals and companies can easily train their own AI models, personalizing their results according to their own interpretation and definition of ESG pillars. 
Measure twice, cut once
By analyzing this vast amount of textual documents, it is possible to create a knowledge graph that links organizations with the relevant ESG pillars, allowing professionals to understand how much their organization is associated with each ESG pillar. This is based on how often and how they appear together in the media, as well as how central the organization is to each story and the document sentiment towards it. This measure is referred to as an affinity score between an organization and an ESG pillar.  
It is critical for organizations to be able to quantify and compare their ESG performance. I believe that by far the best approach is to do so by quantifying the ESG perception of organizations by using AI to analyze vast amounts of external available data. 
Miguel Martinez is cofounder and chief data scientist at Signal AI.