The PRCA has published its latest annual PR and Communications Census, which polled 1,251 PR professionals in the UK and combines data gathered in March and October.
Thirty-four per cent of respondents reported redundancies at their organisations, while 10 per cent had been made redundant. In October, 34 per cent said they have suffered from or been diagnosed with mental ill-health. 
The pandemic has led to more professionals working out of hours. In October, 44 per cent of respondents admitting to sending emails and making phone calls outside of their official work hours – a 15 per cent increase on the figure in March.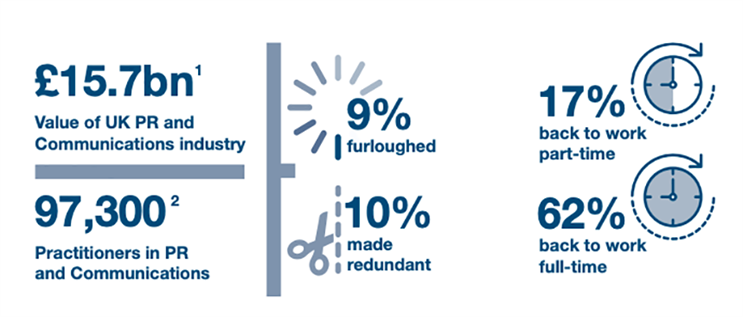 The average salary for all PR and communications professionals increased by nearly nine per cent between the March and October findings, although this can be explained by a far more senior sample in October (see section further down).
The diversity challenge
The survey also tackled diversity and the gender pay gap. The findings illustrate the scale of the challenge facing the industry in its attempts to become more racially diverse.
Although the number of Black and ethnically diverse professionals increased to 12 per cent (up from 10 per cent in 2019), professionals from these backgrounds overwhelmingly occupy junior roles. 
The survey found 88 per cent of managing directors identify as 'white British', but only half (54 per cent) of account executives do. 
The number of PR professionals who attended fee-paying schools (21 per cent) is three times higher than the national average (seven per cent).
"We know we are better than these latest statistics," PRCA REEB chair Barbara Phillips said. "We are the ones who convince and cajole our clients' customers and audiences to engage with products and services because they identify with a narrative. What narrative do these latest stats tell? 
"Currently the PR and communications narrative in regard to ethnic diversity is one that urgently needs rewriting. We already have a great deal of qualitative information and these latest numbers are shocking. Let's refresh our industry's reputation among diverse groups and make the changes that welcome everyone to an industry that, if you stay, can offer the most amazing experiences."
The survey revealed an alarming rise in the industry's gender pay gap, which grew from 14 per cent in 2019 to 15 per cent in March 2020 and 21 per cent in October. The PRCA said the spike could be due to a higher proportion of senior survey respondents in October.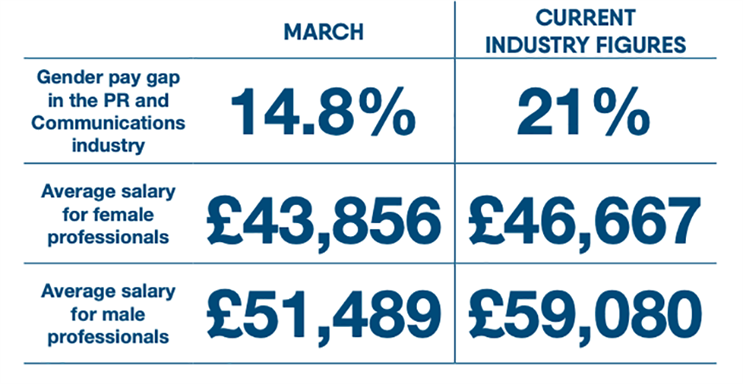 WIPR president Bibi Hilton said the PRCA Census illustrates the disproportionate impact of the pandemic on women, where the burden of unpaid care and home schooling has often fallen on female employees and affected their employment levels.
"While almost the same numbers of men and women were made redundant as a result of COVID-19 (13 per cent men; 10 per cent women), less than two-thirds of women (60 per cent) are back to work full-time, compared to 75 per cent of men; and 20 per cent of women have gone back part-time, compared to no men who responded," she said.
"It is critical, as an industry, that we drive flexible working, mentoring and changes to recruitment practices in order to ensure this cohort of women are not lost to the industry and we can support them into leadership to address the significant imbalance at the top."
Average salaries
In March respondents reported an average salary of £46,513. This increased to £50,606 in October.
This was largely influenced by average agency salaries rising from £46,832 to  £57,121, while in-house average salaries remained flat at around the £46,000 mark.
This can be explained by interrogating the seniority of the October sample. In March, 28 per cent of the agency respondents were at director level or higher, while in October the proportion was 55 per cent. 
Below are the October average salaries of respondents by rank.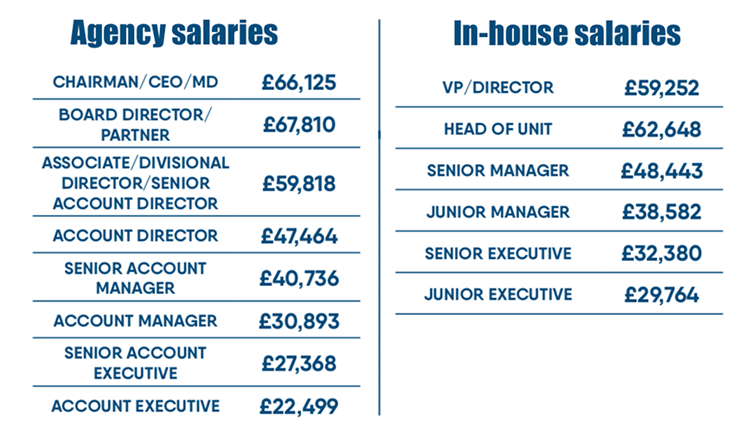 'A chance to reset'
On the survey findings, PRCA director-general Francis Ingham said the effects of the pandemic offer the PR industry the opportunity to reset its approach to diversity.
"For too long, our industry has recruited and promoted in its own image," he said. "There is a genuine appetite for change among business leaders and our industry must seize this opportunity. There is no place for unethical cultures that tolerate inequality.
"Next year will see the launch of our new diversity module within the CMS [Communciations Management Standard] designed to raise standards across the industry. Our industry must do better – empathy and ethics must form the heart of our industry's recovery from the pandemic."