HITS
Spotify's 2020 Wrapped campaign
The music industry has faced a difficult year. Artists are still coming to grips with a new way of performing, and sadly many venues are struggling to survive into next year. And of all people to recognise that, it was Spotify. The brands flagship annual campaign 'Wrapped' championed the theme of gratitude this year, by honouring and celebrating the humans behind the music - the artists but also the listeners - with a humorous twist. And not to mention bringing this to life in a strategic way, utilising its own listener data to create content that would resonate with everyone.
In addition to gratitude, the brand further acknowledged the industry for its resilience this year, launching the #SaveOutStages initiative to raise money in support of venues in need. A very well-rounded and multi-channel media campaign indeed, bringing full circle the theme of gratitude by also recognising the listeners who supported the brand through times of hardship.
Safe to say this might be the strongest campaign to have launched this week.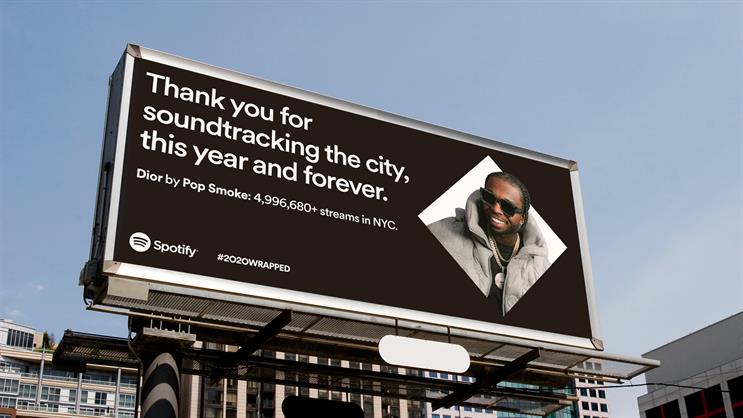 The Berkley makes 100k
A small social creative but a goodie; one you may not have seen this week is from The Berkley Hotel, which celebrated 100,000 Instagram followers with an ode to Christmas film classic Love Actually. Drawing in eyes from some of London's most elite, this video was praised on social media for its charming and harmless approach to thanking its beloved guests. One to watch if you haven't already.
MISS
Lady Gaga's 'Chromatica' Oreo
To make some noise around the launch of Lady Gaga's sixth album this week, Chromatica, she took to Twitter to let her fans know that a bespoke pink and green cookie inspired by the album, is on its way to superstores next year.
While this partnership with Oreo is a bold choice, and one that's certainly on brand for Gaga, it's a little blah in my opinion. It's not the first food-brand collaboration to have hit the streets in 2020, and it also lacks an element of purpose. What I'd really loved to have seen was Gaga team up with Oreo to support the millions of families struggling to feed their families this year. Now that's a truly bold and purposeful way to make an announcement.
?? LADY GAGA x @OREO x #Chromatica ?? Dropping soon! pic.twitter.com/Gtd5qeZXZi

— Lady Gaga (@ladygaga) December 2, 2020

---
Click here to subscribe to the FREE Creative Inspiration bulletin to receive dedicated features, comment and the latest creative campaigns straight to your inbox. Make sure you register for the site to access more than one story per month.
To submit an idea for the bulletin, email John.Harrington@Haymarket.com