The agency devised a two-pronged approach to boosting the profile of the annual campaign, during a year when COVID-19 had pushed other health issues to the sidelines.
Encouraging people to check themselves for signs of breast cancer and seek medical help if needed was the core message of the campaign, which was aimed at a broad demographic ranging from twentysomethings to septuagenarians.
A traditional media relations campaign was orchestrated to launch the campaign at the end of September, just ahead of Breast Cancer Awareness Month in October.

New research was released warning of the negative impact of the pandemic on breast cancer diagnosis and treatment. It showed that nearly half of women were less likely to share their breast health concerns and one in five women under 45 were unlikely to see their GP even if they noticed a change in their breasts.


Don't miss @EsteeLauderUK's first ever Time To Unite event, a live virtual self-check & panel tonight at 7PM. The free event aims to connect, unite and empower people of all ages in the united efforts to end Breast Cancer.

Join here at 7PM: https://t.co/cXk9VTvmh2 pic.twitter.com/zZhFIgnQ5A

— Manning Gottlieb OMD (@MGOMD) October 21, 2020

The agency came up with a #TimetoUnite message for the campaign's first virtual event and live self-check, to bring together women of all ages and backgrounds.
Hosted by Alesha Dixon, with the campaign's global ambassador Elizabeth Hurley, a live Vimeo event took place on the evening of 21 October, run by GP and broadcaster Dr Zoe Williams.
It featured a panel of breast cancer survivors and campaigners who came together to promote the need for people to check for signs of cancer - in which they were shown how to do so by Dr Williams.
The Estée Lauder Companies' UK & Ireland Breast Cancer Campaign have made this super handy guide to help you check your breasts at home... https://t.co/J0VChviM4D ?? pic.twitter.com/eUpn39sOcb

— British GLAMOUR (@GlamourMagUK) October 22, 2020

Those taking part included Leanne Pero of Black Women Rising; Lauren Mahon, presenter of You Me and the Big C; Kris Hallenga, founder of CoppaFeel!; Sebina Hussain, digital content creator; Helen Addis, founder of Change and Check; and Sue Fox, senior vice-president and general manager of The Estée Lauder Companies UK & Ireland.
There were more than 14,000 visits to the campaign event web page, and 3,471 people took part in the live event.
Last night The Estee Lauder Companies UK&I streamed the Time to Unite event and reached thousands with a superb panel discussion and the first-ever virtual breast health self-check (cameras off!). #timetounite pic.twitter.com/TzTIvkt4fl

— Virgo Health (@VirgoHealth) October 22, 2020

After the event took place, CoppaFeel! – one of the campaign's charity partners – recorded a 300 per cent rise in people signing up to its self-check text reminder alerts.
The individual supporters of the campaign helped to drive social media activity, as well as media coverage.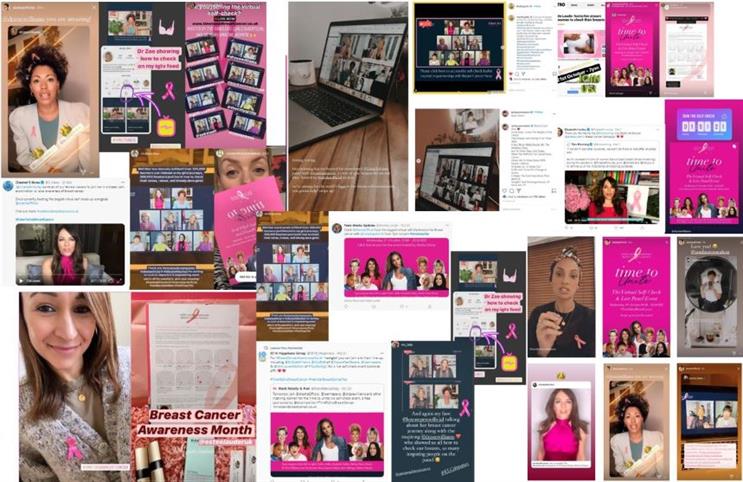 The campaign resulted in a reach of 211m through earned media, with 230 pieces of coverage in outlets ranging from Glamour, Hello! and Marie Claire to the Daily Mail, The Sun and The Daily Telegraph, as well as ITV and BBC.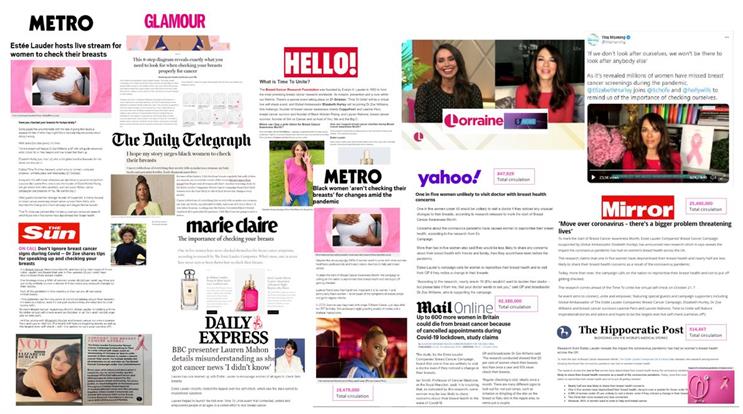 There were 161 earned social mentions and posts – generating 11,600 social engagements with a potential reach of 17.4m.
Natasha Weeks, executive director at Virgo Health, commented: "This year The Estée Lauder Companies Breast Cancer Campaign was more important than ever before. Time to Unite brought people from all ages and backgrounds together to re-prioritise their breast health despite the impact of the pandemic."
She added: "We brought fresh and unheard voices into this year's campaign, to raise awareness and engage with new and more diverse audiences. We were thrilled for Time to Unite to become the largest ever live breast self-check in the UK."



Anna Bartle, vice-president corporate affairs, The Estée Lauder Companies UK & Ireland, commented: "Since Evelyn Lauder co-created the pink ribbon in 1992, The Estée Lauder Companies Breast Cancer Campaign has been dedicated to creating a world without breast cancer, and our commitment this year is stronger than ever."
She said: "The 2020 UK campaign was authentic and inclusive, striking the right tone for the moment and reaching audiences we hadn't reached before. The net effect was unprecedented earned media coverage and high engagement."

---
Click here to subscribe to the FREE pharma and healthcare comms bulletin to receive dedicated healthcare news, features and comment straight to your inbox.
Make sure you register for the site to access more than one story per month.
To submit a news, comment, case study or analysis idea for the pharma and healthcare comms bulletin, email Ian.Griggs@haymarket.com