Welcome to PRWeek's countdown of the UK's best communicators of 2020, compiled by the editorial team for our final edition of the year.
PR professionals are excluded – our focus is individuals from other walks of life, whether that's politics, entertainment, business, or something else.
We're honouring people who have risen in prominence or significantly enhanced their reputations this year due, at least in part, to their comms prowess. Some highly regarded communicators didn't make the cut on the grounds that 2020 was not a breakthrough or standout year; Scotland's First Minister Nicola Sturgeon, for example.
Sadly, there was no space for some notable business leaders. It's an honourable mention to Jeremy Darroch and Steve Murrells, chief executives of Sky and the Co-op respectively, who pledged to donate some of their own wages to help COVID-19 victims.
Not surprisingly, the coronavirus looms large in the top 20.
So too does Black Lives Matter, with several people involved in or supportive of the movement and its aims making the list. Honourable mentions go to Alexandra Wilson, the lawyer who spurred a discussion about racism after being mistaken for a defendant three times in one day; David Whitely, aka DJ Sideman, who quit the BBC after it defended use of the N-word; and Ashley Banjo from Diversity, who expertly defended his dance group's Black Lives Matter-inspired routine on Britain's Got Talent. Many more could be added to that list.
On the other side of the hotly debated 'culture war', there's an argument to include Laurence Fox, whose 'anti-woke' statements gained much publicity and raised his profile. In September the actor/singer announced plans to launch a 'free speech' political party called Reclaim (with, to be honest, limited success).
Another name worth mentioning is Matt Lucas. The actor/comedian – and latterly Great British Bake Off co-host – showed the power of comedy in communicating messages, whether through his re-working of his Thank You Baked Potato song as a coronavirus public health warning, or his mocking impression of Boris Johnson issuing confusing advice on what to do during the pandemic.
The list is, of course, completely subjective, but we hope it contains a few surprises and plenty to think about.
Today, we reveal the number one entry…
Marcus Rashford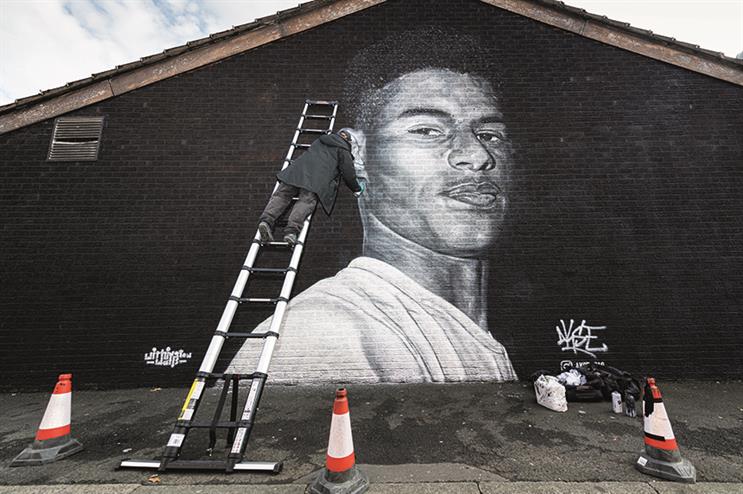 Authenticity, humility, caring, calmness and a steely determination to help children in need is what makes Marcus Rashford stand out as PRWeek's Communicator of the Year.
The 23-year-old England forward, born in Wythenshawe, Manchester, has used his voice to help millions of vulnerable children and their families this year.
His powerful campaign to feed children during the school holidays, in partnership with the food charity FareShare, has raised awareness of food insecurity to unprecedented levels, forced the Government into two policy U-turns – including the quickest by the UK Government in history – and inspired people and organisations across the country to give money, food and compassion during the depths of the coronavirus pandemic.
For Rashford, tackling food poverty is personal. He came from humble beginnings and is part of a close-knit family raised by his mother Melanie, who sometimes struggled to put food on the table when he was growing up. As a child, he relied on the support of free school meals and Breakfast Clubs.
"On hearing of a proposed national lockdown, Marcus' immediate concern was how these children would access vital food supplies if the schools were closed," recalls Kelly Hogarth, Rashford's personal publicist and VP of strategic communications at Roc Nation Sports International.
Rashford's multifaceted campaign has involved raising awareness through media appearances – including high-profile slots on breakfast TV – and regularly communicating and rallying support from his millions of followers on social media to campaign for the Government, politicians and leaders of supermarkets and food delivery brands to establish the Child Food Poverty Task Force.
The results have been staggering (see box). More than 1.7 million children across the UK will be supported by the Government's new schemes at a cost of more than £520m. Nearly eight million meals have already been distributed by FareShare, donations and volunteer levels are at record highs, and awareness of food insecurity has rocketed.
Following Rashford's campaigning, the Government has extended programmes to provide free school meals to run through the summer holidays and into the winter months. He has also inspired businesses across the country, including struggling cafes, pubs and restaurants, to prepare free take-out lunches for children.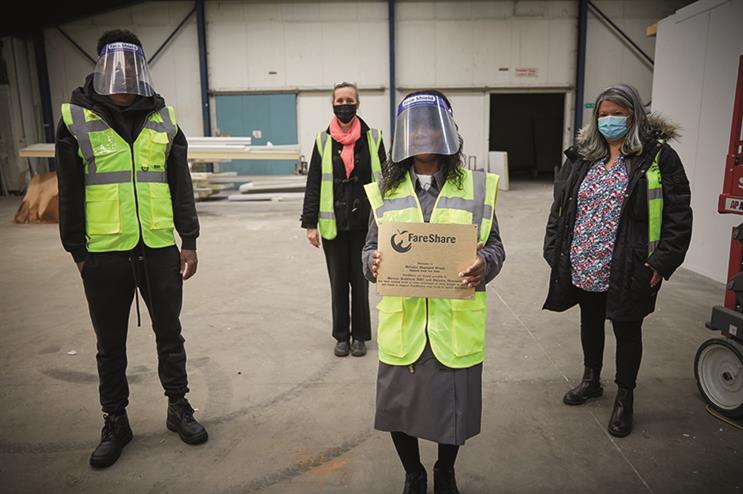 "Marcus has used his massive platform and great fame to make sure those people have a voice," says FareShare's head of marketing and communications, James Persad. "He has had the 'Captain Tom Moore effect', but for FareShare instead of the NHS. He has brought this into the national consciousness and shone a light on childhood hunger, inspiring a whole new generation of young people interested in supporting FareShare."
What makes Rashford such a powerful and effective communicator? Those working closely with the Manchester United star describe him as "caring, a listener, a collaborator, kind-natured and family orientated".
"Marcus is authentic and genuine. He talks from experience," Hogarth explains. "When he doesn't know the answer, he dedicates time to getting out in the community and understanding first-hand. It's never been about him. He sees power in numbers, hence the formation of the Task Force, and he always positions his work as something 'we' work on – the success is because of 'us'.
"I truly believe there is a lot of power in his accent, too. When he delivers key messaging, he sounds like a lot of people who are struggling and provides an effective bridge between the north and south of the country. He's always been inclusive of everyone, never pointed fingers and never judged."
It is these latter traits that have helped Rashford win the hearts and minds of Britons of all backgrounds and across the political spectrum.
Rashford has no interest or time for politics, and is never rattled or aggressive in how he interacts with people online and in the media.
"He encourages dialogue rather than a tit-for-tat slanging match. He has this calmness about him – a sort of steely determination to get the job done. And I think that draws people and organisations to him," Persad adds.
A case in point: when the Daily Mail recently tried to conflate Rashford's campaign work with his private investments in property, Rashford calmly responded: "Please don't run stories like this alongside references to 'campaigning'."
Ok, so let's address this. I'm 23. I came from little. I need to protect not just my future but my family's too. To do that I made a decision at the beg of 2020 to start investing more in property. Please don't run stories like this alongside refs to 'campaigning'. pic.twitter.com/coqla2i19d

— Marcus Rashford MBE (@MarcusRashford) November 15, 2020
In fact, his masterful use of social media offers a salient lesson to other athletes, argues M&C Saatchi Sports & Entertainment global chief executive Steve Martin, who says Rashford has created a "very big gap from other footballers (and athletes in general) on how to use your power of influence to drive your social purpose".

Rashford's political campaign skills have also not gone unnoticed by leading UK lobbyists.
Earlier this year, Cicero/AMO executive chair Iain Anderson said Rashford's free school meals campaign was one of the fastest and most effective he had ever seen, even topping Joanna Lumley's fight for Gurkhas' right to settle in the UK in 2008.
In a sports context, Pitch Marketing Group founder Henry Chappell says this is the most effective campaign he can recall since Ian Botham's epic charity walks, which started in 1985. He also points out that Rashford's non-football work has elevated his status to the level of David Beckham, whose public profile was enhanced by becoming a Unicef goodwill ambassador.
"I'm sure [Rashford] is going to be one of the most in-demand personalities for brand endorsements moving forward. It will be interesting to see how that influences his campaigning, although his partnership with Burberry suggests he will navigate that very well," Chappell adds.
It will also be fascinating to see what other passions Rashford pursues outside football. At the time of writing, he had launched a children's book club with Macmillan Children's Books to promote reading and literacy.
Those who know Rashford believe he is genuinely committed to these causes for the long haul, and will not stop until he has been able to help families in need. And, if current form is anything to go by, his work off the football pitch has done nothing to derail his stellar performance on it.
Widely regarded as one of the finest English footballing talents of his generation, Rashford's legacy may well be about the success of his work in the community as much as his Premiership campaigns, and bringing as much sustenance to children as he brings joy to football fans.
---
Images ©GettyImages