Sony PlayStation – PlayStation 5 UK Launch
The UK launch of the PlayStation 5 featured a takeover of Oxford Circus Tube station, with its iconic roundels redesigned in the shape of the console's four controller button symbols. Roundels were also given a makeover on the walls of the station's Bakerloo, Victoria and Central line platforms. Four other London Underground stations were taken over by PS5 games, featuring scenery and characters from franchises.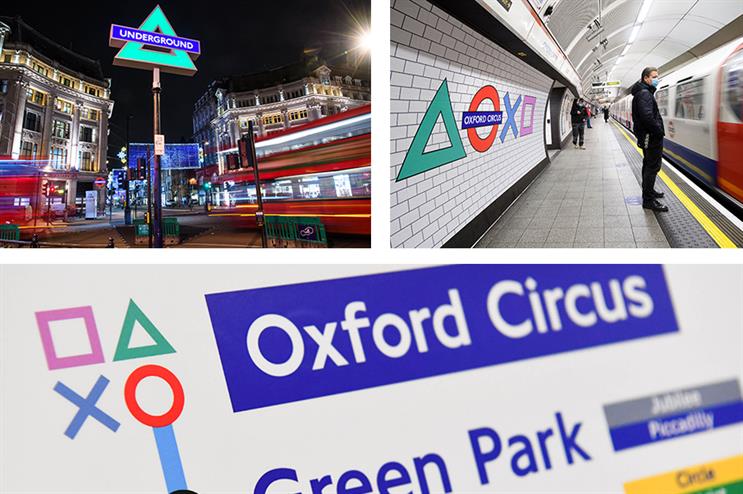 The partnership with Transport for London took place over 48 hours, attracting widespread media coverage and plenty of attention across social channels as photos of the activation were widely shared online.
PR shop Red Consultancy was the creative lead for the activation, working closely with the internal Sony PlayStation team. MediaCom supported with media buying in the stations.
Born Free Foundation – Nature's Closing Down Sale
"When they're gone, they're gone" is one of the hard-hitting soundbites in wildlife and animal welfare charity Born Free Foundation's latest campaign, which offers – tongue firmly in cheek – "incredible reductions of all your favourite animals", including tigers, leopards, rhinos and lions.
Created by Engine and launched on Black Friday, the four-week campaign is fronted by eccentric 'closing down' salesman (actor Harry Peacock) and highlights that wild animal populations have fallen 70 per cent since 1970.
The hero film is supported by a social campaign, out-of-home executions and a digital pop-up on Instagram, which enables the British public to adopt an animal or make a direct donation to the charity.
Tesco – No Naughty List
This year has seen some decent festive campaigns from the big supermarkets, but we've been selective for this rundown. Tesco was among the best, for our money, partly because of the strength of the central idea.
The campaign, by BBH London, shows members of the British public confessing the "naughty" acts they have committed during 2020, such as bad video-call etiquette and buying too much loo roll. However, the retailer reassures people that the "naughty list" does not apply this year, so they should kick back and enjoy the season by indulging in Tesco's festive treats.
Channel 4 and Supermarkets – #StandAgainstRacism
Major supermarkets have generally performed admirably with their communications overall during the pandemic, and this was another example.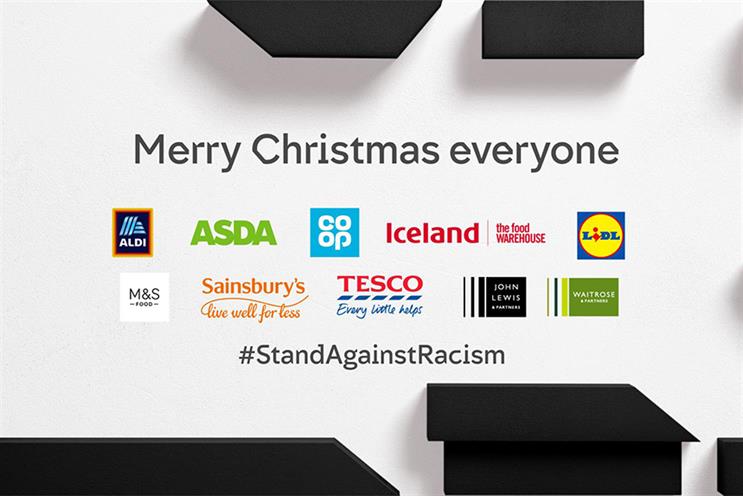 Kudos to Channel 4 for bringing the retailers together. The broadcaster and nine large supermarket groups joined forces for a first-of-its-kind initiative in which they took over two primetime ad breaks to make a stand against racism. It was in response to the racist backlash on social media against the Sainsbury's Christmas film that features a black family.
The ad breaks featured the 60-second version of the Sainsbury's spot, as well as ads by its rivals. They were prefaced by a Channel 4 announcement that said: "Channel 4 stands up against racism. After the reaction to this year's Sainsbury's Christmas commercial, retailers have put their usual festive rivalries aside across two ad breaks tonight to stand side-by-side with us too."
As well as Sainsbury's, the campaign involved Aldi, Asda, Co-op, Iceland, Lidl, Marks & Spencer, Tesco and Waitrose & Partners.
Asda – Delivering Christmas Kindness
Talking of supermarkets doing the right thing, in this simple but clever campaign for Asda delivery drivers were given the option to wear badges that feature the words 'happy to chat', indicating their willingness to speak to customers if they would like to.
Today we're launching our Delivering Christmas Kindness initiative, backed by the @RoyalVolService. As part of it, our delivery drivers will have the option of wearing 'Happy to Chat' badges to let lonely or isolated customers know they have time for them. https://t.co/heCgvZoxWD

— Asda (@asda) November 25, 2020
The idea is to target loneliness during the lockdown – research has found 63 per cent of British people are experiencing loneliness as a result of the ongoing pandemic and restrictions. Almost one in four (23 per cent) are interacting with other people just once a week.
The move is backed by the Royal Voluntary Service, a charity that offers support and companionship. Engine Mischief is the agency behind the campaign.
Great Ormond Street Hospital – Home for Christmas
This touching film for the Great Ormond Street Hospital Children's Charity charts a real patient's unusual journey home during the festive period.
It starts with animation tracking the journey of patient Mia, while she is sleeping in her hospital bed. The film ends with real-life footage of Mia and her big sister Amy – a former patient – opening presents at home on Christmas Day. Adam & Eve/DDB is behind the campaign.
Amazon – The Show Must Go On
Amazon's campaign is firmly rooted in the effects of the pandemic on people's lives and yet it manages not to labour the point with its storytelling.
Even the branding and the obligatory 'pack shot' feel subtle and add to the story, rather than bringing it to a shuddering halt.
The hopeful and uplifting message at its heart is that life continues, our friends and families love us and that the show must go on. Emotional marcomms at its best.
Shropshire Council – Walking Dead COVID-19 Campaign
There is a danger as time goes on that the messages fired at the public to keep them safe during the pandemic and reduce the spread of the virus begin to lose their edge.
Calling all The Walking Dead fans ??????????

The Shrewsbury comic book artist @CharlieAdlard, who is well-known for his work on @TheWalkingDead, has created a series of illustrations to remind people to stay safe during the pandemic. ?????

?? @ShropCouncil pic.twitter.com/RQcsPPF2Dd

— ITV News Central (@ITVCentral) November 20, 2020
What better way to refresh the public health and government comms – and to reach younger audiences – than to bring in Walking Dead comic book artist Charlie Adlard to offer a visual new slant on 'social distancing'.
Beano Studios – BeanOLD Visits Downing Street
A special adult's edition of the Beano comic was sent to Number 10 Downing Street with PR support by Taylor Herring.
Captain Sir Thomas Moore, Marcus Rashford and Dominic Cummings starred in the 'BeanOld' pullout, in a campaign that secured more than 370 pieces of media coverage.
This included mentions on BBC Radio 1, BBC Radio 2 and BBC Radio 5 Live, Channel 5 News, STV News, and BBC News. It also trended on Twitter on the day of the launch.
Beano Studios editorial director Mike Stirling said it is quite conceivable that Dominic Cummings nabbed the copy for his leaving goodie box.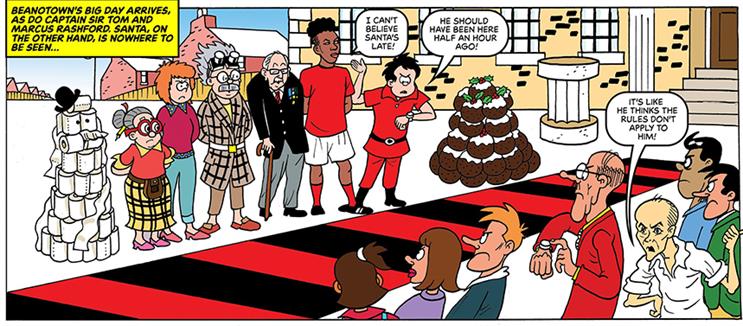 Madame Tussauds – Golfing Trump
Madame Tussauds brought its newsjacking A-game to mark the US election results.
Donald Trump was playing golf when news of the Pennsylvania results was announced and it appeared the US president would be in need of a new vocation.
The Madame Tussauds team and partner Stripe Communications quickly seized on the moment to dress its waxwork Trump in golf kit, which was not an unfamiliar sight during his presidency.
They released the image and footage on social media, achieving impressive media pick-up.
In case you missed it: Five Campaigns We Liked in October: your winner revealed
---
Click here to subscribe to the FREE Creative Inspiration bulletin to receive dedicated features, comment and the latest creative campaigns straight to your inbox. Make sure you register for the site to access more than one story per month.
To submit an idea for the bulletin, email John.Harrington@Haymarket.com