Welcome to PRWeek's countdown of the UK's best communicators of 2020, compiled by the editorial team for our final edition of the year.
PR professionals are excluded – our focus is individuals from other walks of life, whether that's politics, entertainment, business, or something else.
We're honouring people who have risen in prominence or significantly enhanced their reputations this year due, at least in part, to their comms prowess. Some highly regarded communicators didn't make the cut on the grounds that 2020 was not a breakthrough or standout year; Scotland's First Minister Nicola Sturgeon, for example.
Sadly, there was no space for some notable business leaders. It's an honourable mention to Jeremy Darroch and Steve Murrells, chief executives of Sky and the Co-op respectively, who pledged to donate some of their own wages to help COVID-19 victims.
Not surprisingly, the coronavirus looms large in the top 20.
So too does Black Lives Matter, with several people involved in or supportive of the movement and its aims making the list. Honourable mentions go to Alexandra Wilson, the lawyer who spurred a discussion about racism after being mistaken for a defendant three times in one day; David Whitely, aka DJ Sideman, who quit the BBC after it defended use of the N-word; and Ashley Banjo from Diversity, who expertly defended his dance group's Black Lives Matter-inspired routine on Britain's Got Talent. Many more could be added to that list.
On the other side of the hotly debated 'culture war', there's an argument to include Laurence Fox, whose 'anti-woke' statements gained much publicity and raised his profile. In September the actor/singer announced plans to launch a 'free speech' political party called Reclaim (with, to be honest, limited success).
Another name worth mentioning is Matt Lucas. The actor/comedian – and latterly Great British Bake Off co-host – showed the power of comedy in communicating messages, whether through his re-working of his Thank You Baked Potato song as a coronavirus public health warning, or his mocking impression of Boris Johnson issuing confusing advice on what to do during the pandemic.
The list is, of course, completely subjective, but we hope it contains a few surprises and plenty to think about.
Today, we reveal entry number two. The remainder will be published in the days ahead, so stay tuned…
Frontline NHS workers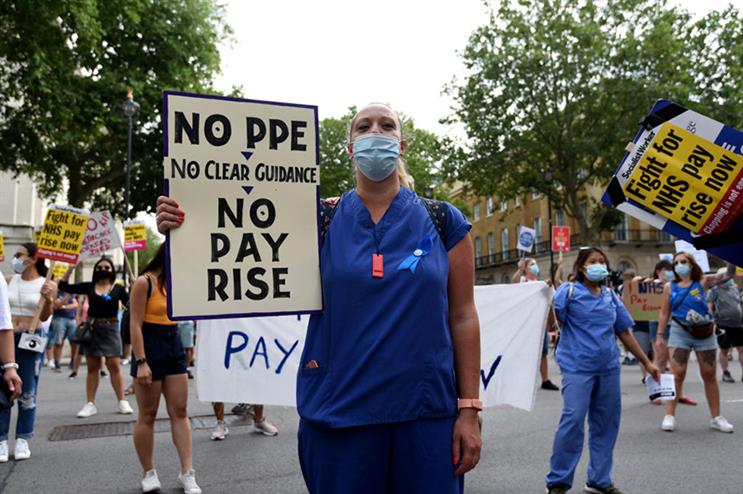 Amid the vital public information and behaviour-change campaigns to help the public adapt to the coronavirus, and an associated 'infodemic', one voice – in fact, a chorus of voices – cut through the noise.
Those voices belonged to NHS staff; the cleaners, the nurses, the doctors, and all the frontline workers who make up this national institution, and who were risking their lives to treat those worst affected by COVID-19.
It's hardly surprising that when the NHS issued a call for 250,000 volunteers to support its efforts, the stated target was exceeded in a matter of hours as the public responded in their hundreds of thousands during the moment of greatest need.
Whatever side of the political spectrum people were on, whether they thought the Government's handling of the pandemic good, bad, or indifferent, it was the dispatches from the NHS front line that nobody could ignore, or dismiss as just 'politics'.
When critical care nurse Dawn Bilbrough posted a short video online, ahead of the first national lockdown on 23 March, of herself pleading with the public to stop stripping shelves bare so frontline workers could get enough to eat and stay healthy for their gruelling shifts, it seemed to bring a nation to its senses, and encouraged supermarkets to support them.
When the Government sought to assure the public that much-needed personal protective equipment (PPE) was reaching frontline NHS workers, a plethora of social media posts and interviews from workers themselves told a very different story and put pressure on ministers to redouble their efforts.
One of the many faces of this demand was A&E doctor Nishant Joshi, who compared the moment to a disaster movie and pointedly asked: "What happens to the healthcare system if we all get ill?"
Their effective comms continued as society began to tentatively open up after the first lockdown. When many took to the streets on VE day in May, it was NHS staff who highlighted the hypocrisy of going outside to clap for them on a Thursday evening while being willing to break social distancing rules for a street party the next day.
Among these was NHS worker Corrina Newman who said in a social media post that frontline staff had been "stabbed in the back" and that the gatherings meant their hard work during the first weeks of the pandemic had been "a total waste of time". Many felt suitably chastened.
These NHS staff members, and many others, spoke with a moral certainty that cut like a knife through people's objections to perceived infringements on their personal liberties, or their cognitive dissonance as they attempted to justify breaches of the rules to themselves.
It was the workers of the NHS who encouraged us to listen, in Abraham Lincoln's words, "to the better angels of our nature" and to look out for everyone else around us, as well as ourselves.
Tomorrow we reveal number one...