Companies with the highest volume of media coverage – on average a total of 207 pieces – received the highest increases (an average of 28,188 per cent) in funds raised between Series A and Series B. 
This was followed by medium funding increases (776 per cent) for companies with an average of 176 pieces of media coverage, and lower levels (153 per cent) for companies that averaged 146 pieces of media coverage.
The Coverage and Capital report, by the consultancy Hard Numbers and CARMA, analysed 120 companies' funding and media results between January 2018 and July 2020. This included CURVE, Crowdcube, Cytora, Papercup, Phos and HelloDone, among others.
The findings illustrate a correlation between press coverage and funding success for start-ups that typically do not invest substantial amounts in above-the-line advertising.
Further, it found the impact of media coverage on fundraising was most pronounced in b2c businesses. The companies that produced the most media coverage received, on average, a 35,635 per cent funding increase between their first fundraising event and Series B.
The report said this illustrates the importance of PR for reaching consumers, with b2c companies averaging 359 pieces of coverage compared to 85 for those in b2b.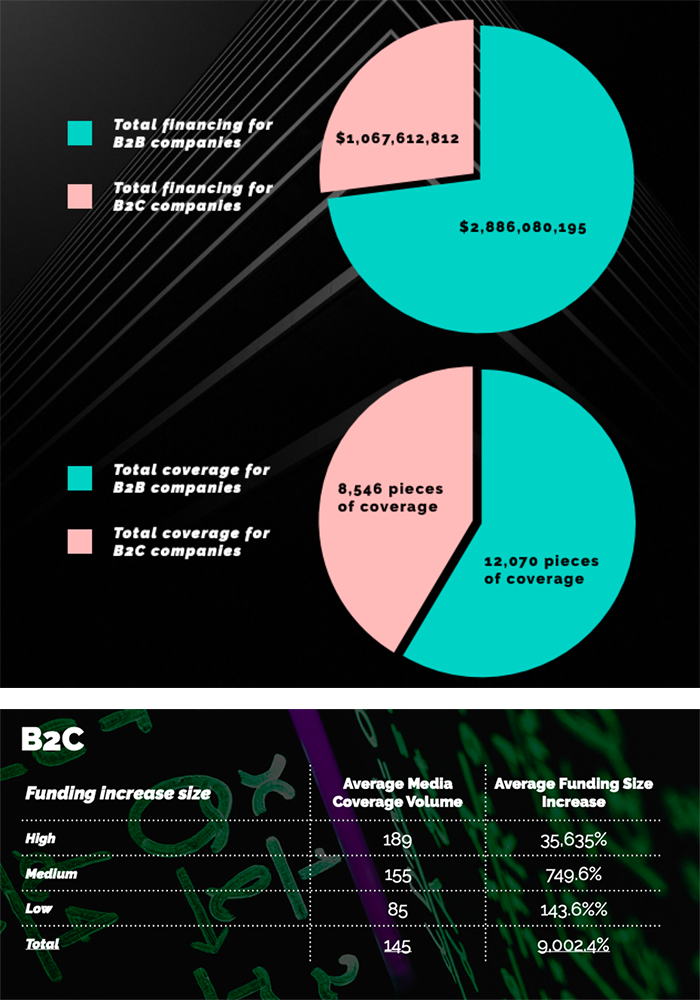 The importance of 'visibility'
Hard Numbers managing director and co-founder Darryl Sparey said that many of the startups his consultancy deals with "recognise the power of PR extends far beyond demand-generation".
He added: "Fundraising is one of the hardest parts of the growth journey, so greater visibility among potential investors can only be a good thing. We hope that our research helps those in a PR, marketing and growth function at any Series A-funded business to make the case for prioritising, and allocating budget to, PR and communications from an early stage."
Richard Bagnall, co-managing partner of CARMA, said: "Data analysis should empower PR and comms professionals to demonstrate value, make informed decisions and optimise strategy. It doesn't have to be complicated.
"In this case, we focused instead on two key indicators to surface a correlation which demonstrates how communications can have a significant impact on a company's ability to secure funding – powerful insights for the next generation of entrepreneurs."