Welcome to PRWeek's countdown of the UK's best communicators of 2020, compiled by the editorial team for our final edition of the year.
PR professionals are excluded – our focus is individuals from other walks of life, whether that's politics, entertainment, business, or something else.
We're honouring people who have risen in prominence or significantly enhanced their reputations this year due, at least in part, to their comms prowess. Some highly regarded communicators didn't make the cut on the grounds that 2020 was not a breakthrough or standout year; Scotland's First Minister Nicola Sturgeon, for example.
Sadly, there was no space for some notable business leaders. It's an honourable mention to Jeremy Darroch and Steve Murrells, chief executives of Sky and the Co-op respectively, who pledged to donate some of their own wages to help COVID-19 victims.
Not surprisingly, the coronavirus looms large in the top 20.
So too does Black Lives Matter, with several people involved in or supportive of the movement and its aims making the list. Honourable mentions go to Alexandra Wilson, the lawyer who spurred a discussion about racism after being mistaken for a defendant three times in one day; David Whitely, aka DJ Sideman, who quit the BBC after it defended use of the N-word; and Ashley Banjo from Diversity, who expertly defended his dance group's Black Lives Matter-inspired routine on Britain's Got Talent. Many more could be added to that list.
On the other side of the hotly debated 'culture war', there's an argument to include Laurence Fox, whose 'anti-woke' statements gained much publicity and raised his profile. In September the actor/singer announced plans to launch a 'free speech' political party called Reclaim (with, to be honest, limited success).
Another name worth mentioning is Matt Lucas. The actor/comedian – and latterly Great British Bake Off co-host – showed the power of comedy in communicating messages, whether through his re-working of his Thank You Baked Potato song as a coronavirus public health warning, or his mocking impression of Boris Johnson issuing confusing advice on what to do during the pandemic.
The list is, of course, completely subjective, but we hope it contains a few surprises and plenty to think about.
Today, we reveal entry number five. The remainder will be published in the days ahead, so stay tuned…
5. Rishi Sunak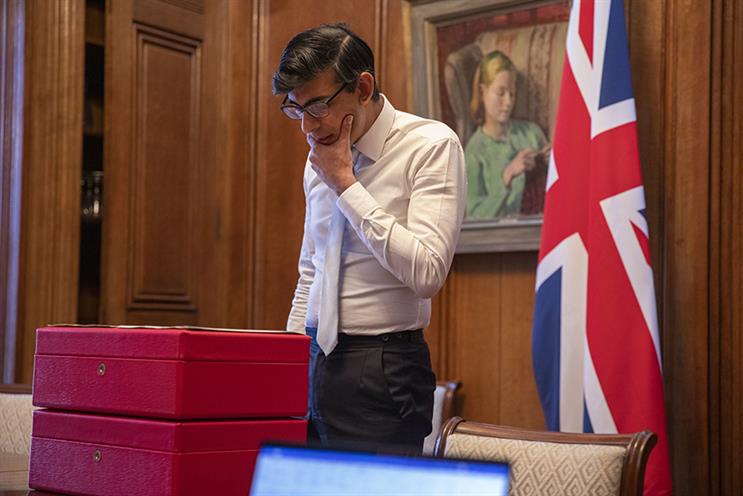 Cometh the hour, cometh the man? Rishi Sunak became Chancellor of the Exchequer in February 2020. When he was thrust into the role, the former Goldman Sachs investment analyst presumably realised Brexit would be tough to negotiate, but little did he know that a global crisis, with the potential to be economically catastrophic, was about to hit home.
Nonetheless, Sunak's response as the crisis developed in March and April felt composed and sure-footed. His first Budget was bombastic and temporarily lifted the spirits of the Conservatives. This was in stark contrast to his boss Boris Johnson's bumbling and constant U-turns in policy. Sunak, still only 40, will be remembered for his slick appearance and cool demeanour in those early days.
From a comms point of view, much credit goes to his director of strategic comms Allegra Stratton, who he brought in to the Treasury in April – so much so that in October, Johnson poached the former Newsnight political editor to be Downing Street press secretary.
With furlough continuing until the end of March 2021, here's 10 things you might not know about the Coronavirus Job Retention Scheme.https://t.co/bGxO7noEdo pic.twitter.com/8z09EvJ5hG

— HM Treasury (@hmtreasury) November 20, 2020
Sunak's Coronavirus Jobs Retention Scheme – known as the furlough scheme – launched in April and has generally been considered a success in saving, in the short-term at least, millions of jobs. However, not all his economic initiatives, and the comms around them, have been universally praised.
In terms of public communications, Sunak is carrying the whole government. He can't fix the comms problem, but he doesn't routinely make it worse like oleaginous Gove and blustering Johnson.

— Rafael Behr (@rafaelbehr) November 2, 2020
The Eat Out to Help Out scheme Sunak launched with major photocalls in the summer to boost the hospitality sector was lauded at the time, but may well have had the unintended effect of driving a surge in infections.
Either way, at the time of writing Sunak is the bookmakers' clear favourite to be the next UK prime minister at odds of 5/2, ahead of both Keir Starmer and Michael Gove.
Tomorrow we reveal number 4...
Image in body copy via @rishisunak on Twitter