Welcome to PRWeek's countdown of the UK's best communicators of 2020, compiled by the editorial team for our final edition of the year.
PR professionals are excluded – our focus is individuals from other walks of life, whether that's politics, entertainment, business, or something else.
We're honouring people who have risen in prominence or significantly enhanced their reputations this year due, at least in part, to their comms prowess. Some highly regarded communicators didn't make the cut on the grounds that 2020 was not a breakthrough or standout year; Scotland's First Minister Nicola Sturgeon, for example.
Sadly, there was no space for some notable business leaders. It's an honourable mention to Jeremy Darroch and Steve Murrells, chief executives of Sky and the Co-op respectively, who pledged to donate some of their own wages to help COVID-19 victims.
Not surprisingly, the coronavirus looms large in the top 20.
So to does Black Lives Matter, with several people involved in or supportive of the movement and its aims making the list. Honourable mentions go to Alexandra Wilson, the lawyer who spurred a discussion about racism after being mistaken for a defendant three times in one day; David Whitely, aka DJ Sideman, who quit the BBC after it defended use of the N-word; and Ashley Banjo from Diversity, who expertly defended his dance group's Black Lives Matter-inspired routine on Britain's Got Talent. Many more could be added to that list.
On the other side of the hotly debated 'culture war', there's an argument to include Laurence Fox, whose 'anti-woke' statements gained much publicity and raised his profile. In September the actor/singer announced plans to launch a 'free speech' political party called Reclaim (with, to be honest, limited success).
Another name worth mentioning is Matt Lucas. The actor/comedian – and latterly Great British Bake Off co-host – showed the power of comedy in communicating messages, whether through his re-working of his Thank You Baked Potato song as a coronavirus public health warning, or his mocking impression of Boris Johnson issuing confusing advice on what to do during the pandemic.
The list is, of course, completely subjective, but we hope it contains a few surprises and plenty to think about.
Today, we reveal the entries ranked 10 to six. The remainder will be published in the days ahead, so stay tuned…
10. Sir David Attenborough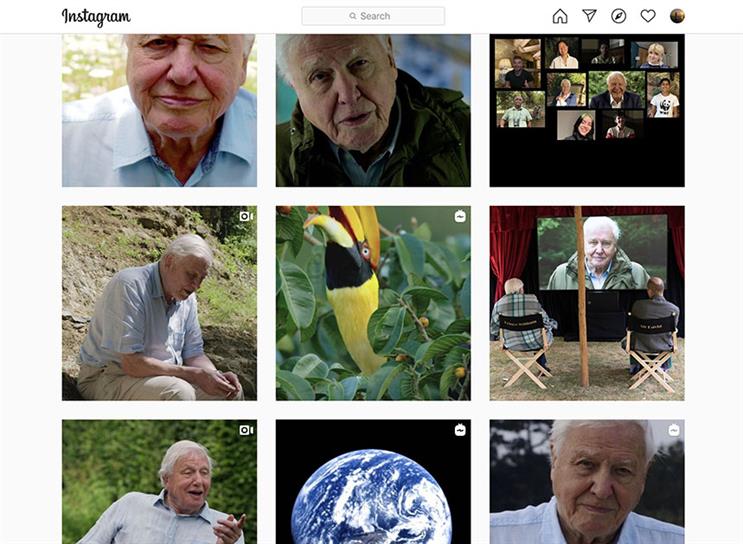 Perhaps in the knowledge the end is nigh – not only for him (please, no!), but also for the planet as we know it – Attenborough has in recent years been quickly evolving from comforting national treasure to bona fide activist.
Not content with spreading his message to swathes of traditional TV viewers – his most recent BBC series Seven Worlds, One Planet was broadcast in more than 235 territories – the 94-year-old has realised this year that, to maximise impact, he must engage new audiences.
His 2020 documentary series A Life On Our Planet was a Netflix Original; and to promote it, a debut on Instagram, with any doubts over his appeal among the younger generation dispelled in less than five hours, when he became the fastest person yet to attract a million followers on the platform.
Just a few years ago, an Attenborough documentary might have contained the occasional tear-jerking moment – a wildebeest calf being taken down by a hungry lioness, say – but now the overall mood is far more harrowing. Almost every programme is framed by mankind's destruction of the natural world, from the climate crisis to plastics pollution. These days, you'd be forgiven for watching the whole thing from behind the sofa.
This decision to use his content to campaign has been accompanied by a more savvy approach to media relations. Newsworthy interactions including video Q&As with the younger members of the royal family and a first meeting with fellow 'eco-activist' Greta Thunberg show how far up the agenda public relations has climbed.
More than 18 million people viewed his first insta video post, which included the line: "Saving our planet is now a communications challenge." 
'Brand Attenborough' is here, and long may it – and he – last. By Rob McKinlay
9. Sharon White, chairman, John Lewis Partnership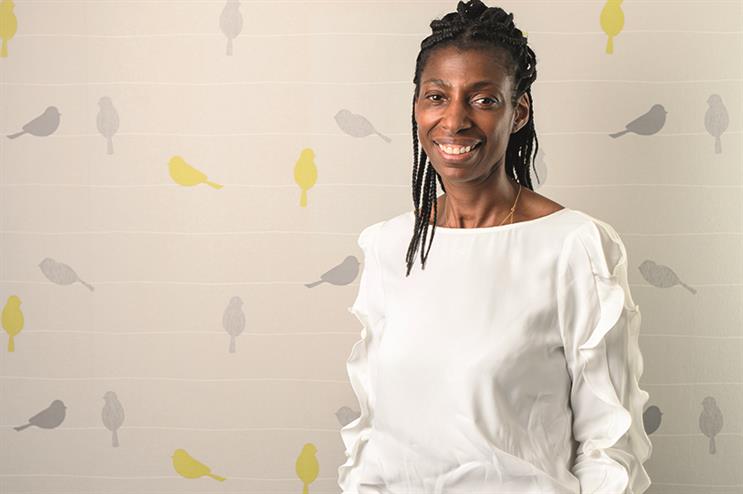 When 2020 began Sharon White knew that taking over as chair of the combined John Lewis and Waitrose operation in February, while the British high street was already in the doldrums, would be a huge challenge. She had no idea of the global crisis and deep recession just around the corner.
However White – who went on from her London comprehensive school to take a senior role at the Treasury and then become boss of media regulator Ofcom, and who was made a Dame in the 2020 New Year's Honours for her public service – has gradually convinced us she has everything under control. Indeed, she has displayed a fearless determination to turn around these classic middle England retail brands.
During the first peak of the pandemic in May, White recorded a video message thanking staff for their efforts and announcing that the new JLP distribution centre would significantly boost home deliveries and its reopened textile manufacturing plant was donating 20,000 metres of fabric to make gowns for NHS staff.
In late August White grabbed the headlines by announcing that John Lewis was scrapping its 95-year-old 'Never knowingly undersold' pledge because it wasn't working in the age of online discounters. She fronted up the controversial announcement – as she did when John Lewis closed eight stores – by doing countless media interviews, including a cover piece in The Sunday Times.
In September White explained the partnership was reviewing its brand purpose, modernising it "to tackle inequality, wellbeing and sustainability".
And in November, along these lines, the brands unveiled a joint Christmas campaign based on 'acts of kindness', timed to launch on World Kindness Day, promising to raise £4m for charities. By Danny Rogers
8. John Boyega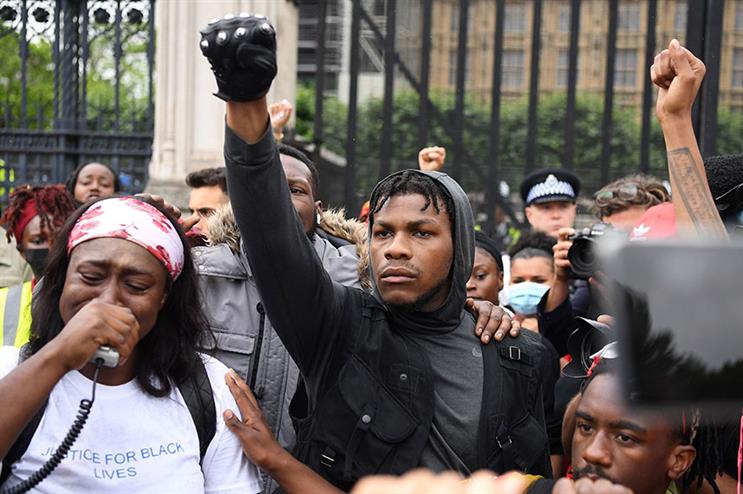 The Star Wars actor was arguably the most famous face at UK Black Lives Matter marches this summer. The images of Boyega addressing the crowd through a megaphone at London's Hyde Park were among the most enduring of the protests, encapsulating the visceral anger and determination of those demanding change.
The power of his words matched that of the pictures. "I need you to understand how painful it is to be reminded every day that your race means nothing," he said. "That isn't the case any more – that is never the case any more."
The 28 year-old's public image has evolved from likeable action star to impassioned and authentic campaigner for race equality.
Crucially, he's been unafraid to confront powerful organisations. In a high-profile interview with GQ in September, Boyega criticised the mighty Disney for having non-white characters in the Star Wars sequels "pushed to the side" as he slated the treatment of black people in Hollywood more generally.
He told the magazine: "Like, you guys knew what to do with [white fellow Star Wars cast members] Daisy Ridley, you knew what to do with Adam Driver. You knew what to do with these other people, but when it came to Kelly Marie Tran, when it came to John Boyega, you know fuck all."
He also blasted perfumes and cologne brand Jo Malone after it substituted his character in its 'A London Gent' advert with Chinese actor Liu Haoran.
Boyega, a Peckham native who is of Nigerian descent, quickly resigned as Jo Malone's first global ambassador, explaining: "I have no time for such nonsense. While many brands understandably use a variety of global and local ambassadors, dismissively trading out one's culture this way is not something I can condone." By John Harrington
7. Annemarie Plas, Clap for Carers campaigner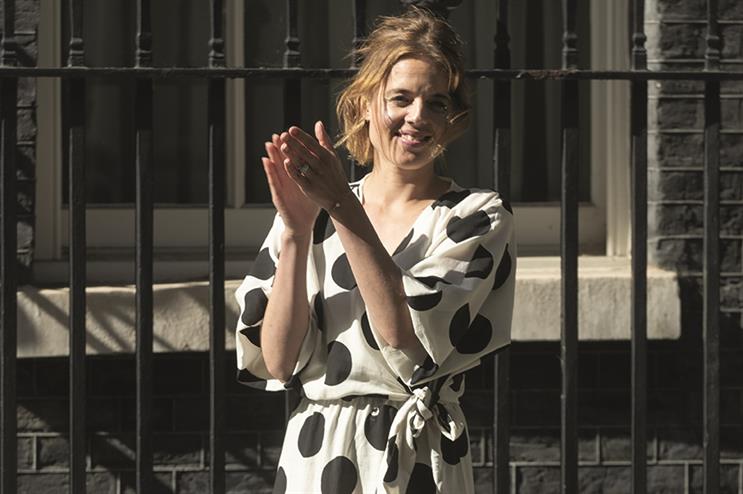 It's said that the NHS is the nearest thing the UK has to a national religion in increasingly secular times, and one effect of the pandemic has been to elevate its staff even higher in the public's minds.
So when Annemarie Plas began a social media campaign urging people to step outside their homes at 8pm on a Thursday evening to "clap for carers", the public response literally reverberated across the country.
For the royal family, the Prime Minister, celebrities and ordinary people alike, her call to action struck home as an outlet to express a deep-seated gratitude for the work and sacrifices of key workers.
No matter that the notion of clapping for carers originated in Europe, where the pandemic struck shortly before hitting the UK; Dutch-born Plas was the person who successfully imported the idea to the UK.
The weekly event took on a life of its own, becoming a socially-distanced jamboree complete with people in fancy dress, opera singers and improvised bands, for its nine-week duration.
Importantly, Plas also knew when to stop, and called for the final show of support to be held in the last week of May – but for an annual 'clap' to take place on its 26 March anniversary.
It's a rare thing to help a nation find its voice and express its appreciation, and it is even more unusual, in these fractious times, to identify something everyone can agree on.
But the clamour – when people stopped clapping for a moment to listen to the cacophony from surrounding streets – was the sound of unity. By Ian Griggs
6. Dave Lewis, Tesco chief executive (and other UK supermarket bosses)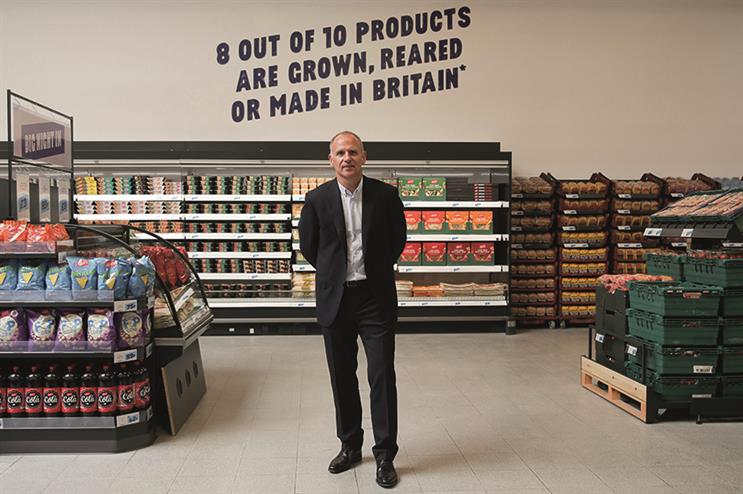 British supermarkets were some of the first organisations to have to deal with the COVID-19 crisis on the front line when panic buying broke out in March. The bosses also had to keep their staff, and customers, safe amid rising infection rates.
Thankfully, most of the food retailers dealt with the crisis with aplomb. Dave Lewis – who has run Tesco since 2014, and stood down as planned at the end of September – was already established as a strong communicator, and successfully calmed fears over panic buying. The category leader quickly upgraded its online delivery capacity and boosted the morale of its hard-working staff. Similarly, Sainsbury's chief executive Mike Coupe (who left the business he had led since 2014 at end of May) was praised for many of the same things – particularly his decisiveness in prioritising serving the elderly, vulnerable people and key workers in the early days of the pandemic.
Another good leader and communicator was Iceland's straight-talking managing director Richard Walker, who at the end of March told healthy customers they should go against Boris Johnson's advice and visit supermarkets in person to free up delivery slots for the elderly and vulnerable. The 37-year-old also called for more protection for store colleagues, saying staff "really felt on the front line in a war".
But most of the British supermarkets enhanced their reputations during the pandemic, with particular credit also to Asda, Aldi and Morrisons. By Danny Rogers
Tomorrow we reveal number 5...
AnneMarie Plas, Dave Lewis & John Boyega photos all ©GettyImages