The council approached Adlard, who comes from Shrewsbury, to help highlight core messages such as keeping your distance from others, washing your hands and getting tested if you have symptoms.


I've teamed up with my local council @ShropCouncil to help spread the message of some of the steps to keep us all safe during the pandemic. Please share far and wide to help spread the message. Thank you ?? https://t.co/5iQ3wEmI4p

— Charlie Adlard (@CharlieAdlard) November 18, 2020

He has reprised the work that helped make The Walking Dead into a global phenomenon, with illustrations bringing a new urgency to the notion of keeping your distance.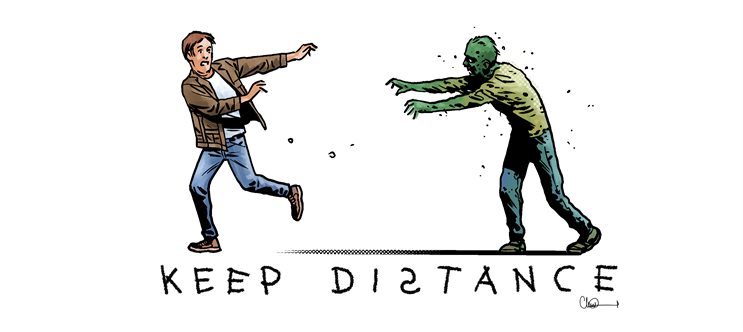 And the new approach to reminding people how to minimise the risk of catching COVID-19 has made a big impact on social media. It has also resulted in media coverage from the Press Association to BBC and ITV news, since the images were released last week.
Spreading the word
Gareth Jones, senior comms officer at Shropshire Council, told PRWeek: "As part of our campaign, we were looking to get external voices from outside the authority to help us get those key public health messages out there. There was also a desire to approach some well-known people locally to help us out."
He said: "Nationally, there's an element of 'COVID fatigue' setting in, and there was a sense that we needed a different approach to engage with our residents – especially younger people, where there has been marked increase in cases."
Seeking support
Jones explained how the council approached Adlard for help. "We discussed several options with him, including if he would be willing to draw some images based around some of the key measures designed to keep everyone safe during the pandemic. We gave Charlie a brief [saying] what we wanted to relay to people and he worked his magic."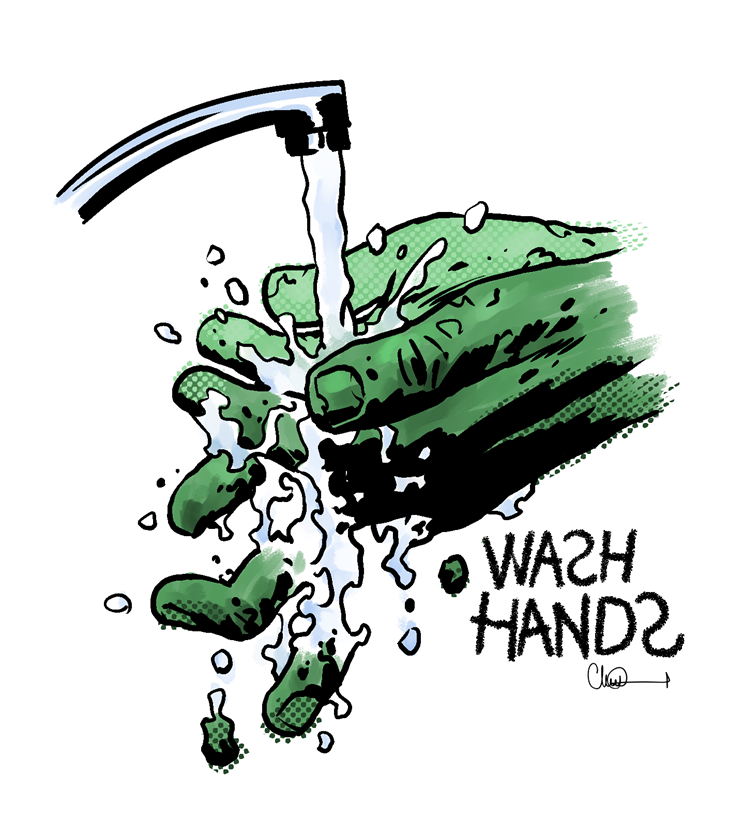 The striking images have "really captured people's imagination and the response has been overwhelmingly positive," Jones added.
"From our point of view, it's having the desired effect – people who wouldn't normally read our posts are sharing and taking notice. It's being shared far and wide and the media coverage has also been brilliant."


Calling all The Walking Dead fans ??????????

The Shrewsbury comic book artist @CharlieAdlard, who is well-known for his work on @TheWalkingDead, has created a series of illustrations to remind people to stay safe during the pandemic. ?????

?? @ShropCouncil pic.twitter.com/RQcsPPF2Dd

— ITV News Central (@ITVCentral) November 20, 2020
Motivated to help
Commenting on his decision to help the council with its COVID comms campaign, Adlard said: "The pandemic has had a massive impact on the whole range of organisations working in the county's cultural sector – theatres, music venues, festivals and museums. Our sector makes a huge contribution to Shropshire's economy, quality of life and communities."

---
Click here to subscribe to the FREE public sector bulletin to receive dedicated public sector news, features and comment straight to your inbox.
Make sure you register for the site to access more than one story per month.
To submit a news, comment, case study or analysis idea for the public sector bulletin, email Ian.Griggs@haymarket.com