2020 has been a year of immense pressure, both on agency and brand side. There's been pressure for businesses to justify the value of PR. There's been pressure around asking for funds in 2021. There's been pressure to keep headcount in teams. But one way to overcome—or at least pacify—some of that is to be able to effectively demonstrate the value of PR, both to clients and to company stakeholders.
During a recent live virtual session by PRNewswire, Danny Tan (pictured below), SVP at Omnicom PR Group, said that one issue that continues to exist in the industry is brands or agencies taking the "easy route" when it comes to measurement. This could be happening for a number of reasons, he said.
"The first is organisational inertia. The idea that 'we've always done it this way' or that 'if we change things, we won't be able to compare against last year'," he said. This mindset means that the industry will never be able to evolve and adapt to rapidly changing audience patterns.
The other challenge is exclusively focussing on activity or output measurement. "The level of sophistication with which PR pros can measure the work has evolved so much, and yet, many of us are still measuring activity and output because it's easiest to measure and it's something a lot of us are comfortable doing," he said.
Another problem could be unfamiliarity or a lack of awareness around new tools that are available. But Tan said it's imperative that agency folk learn about them as there are so many platforms nowadays that make measurement less of an exercise in guesswork.
Moving past AVE
AVE as a method of measurement is not just old news—it's bad news. Tan recalled his internship days 14 years ago where he was tasked to handle the AVE Excel sheet and literally measured print coverage with a ruler.
"It was such a tedious process but we would report those numbers to the clients, and everybody would be happy. It was a way for [the agency] to quantify spend," he said. "But there's been a call to move away from AVE because it's been proven that it's a deeply flawed way of measuring the effectiveness of PR. And most modern professionals will agree that it's a poor gauge."
But Tan added that the intent of AVE was noble when it was first designed. "The person who created AVE was trying to demonstrate the value of PR work, and that's a pursuit that's worthwhile," he said.
The basics of PR measurement today
Acocrding to Tan, there are four stages of modern PR measurement, and they can be broken down to these areas.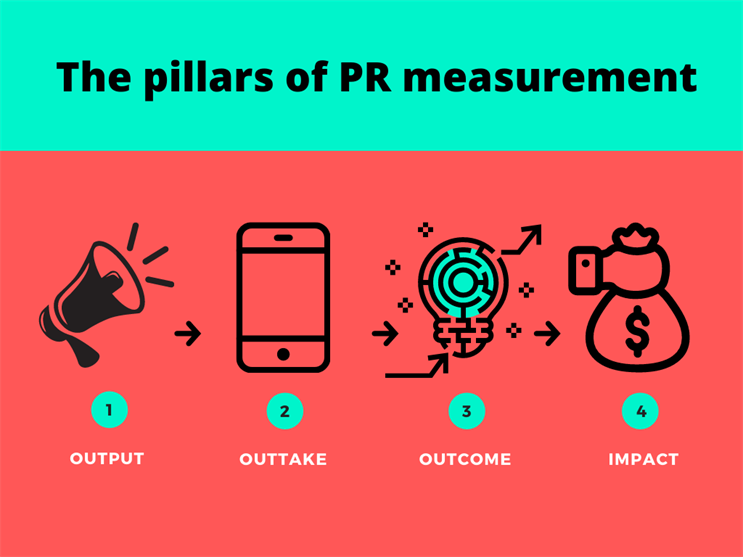 Output
Output refers to whether your message is getting to the intended audience, and is the most basic aspect of measurement most agencies would already employ. This relates to metrics such as exposure, awareness, reach, and impressions.
There are a few things to think about when looking at output including volume of media stories which is the number of stories an agency might generate for a client, and reach which can refer to audited circulation figures and unique visitors among other metrics. 
The agency should also take note of tonality which is the positivity, neutrality or negativity surrounding coverage. "If journalists have chosen to present the message in a [negative] way, then the audience receives the message in its unintended form," said Tan.
Key message penetration is observing whether audiences are understanding the conveyed message, and share of voice gives agencies a sense of how a client's brand is performing next to competitor brands. 
Outtake
Once exposure is identified, agencies should see how audiences are beginning to engage with content. A common way to do that now is via social media engagement, and Tan said that measuring engagement a brand has achieved with followers is a useful way to approximate outtake.
Agencies can also look at campaign hashtags and organic search volume. The latter method should include asking the question: 'If you strip away of all the paid search ads, are people searching for that topic?' Tan said: "The more they are, the more successful you are."
Organic website traffic is also key, and should be isolated next to paid traffic. This is so that agencies are able to estimate month-to-month traffic and take note of ups and downs while coinciding with marketing activity. For example, if there were significant press activities in one market, that can be linked back to an uptick in organic web traffic, and an attribution model can be built whenever a press activity is done in the future.
There's little point to a campaign if targeted audiences are not remembering messages, or are treating the messages as spam. So, message recall and retention is useful for agencies to think about whether audiences are receiving a message and are subsequently able to remember the message.
Outcome
Now that agencies are able to measure how audiences are processing a message, it's important to begin to approximate what has clicked or changed in audiences' minds. Could it be an attitudinal or behavioral change? Do they feel or think differently about your brand? Do they associate the brand with the things you want them to associate your brand with? Do they feel more predisposed to recommending you? Are they thinking about purchasing you? According to Tan, these are all approximations in whether a brand has been successful in changing the way people think about it. 
Impact
Following that, how are audiences making a decision based on their thoughts and feelings? How much of an impact has the messaging made? Do they go ahead and make a purchase? Do they attend an event? Do they request a demo? Do they visit a store? "These are all actions that demonstrate a level of business impact," said Tan.
Tips to turnaround measurement practices
Tan said that a vast majority of brands today are stuck in the first bucket where output or exposure is adequate data. But he argued that a business is most interested in what's happening at the end of the funnel. "The stuff at the top is much easier to measure, but what's worth doing is not always easy," he said.
To begin with, he suggested setting the right communications goals from the start. "Your comms goals shouldn't simply be 'I want to get more interviews for the CEO'. But why? Does that ladder up to broader business goals? Perhaps you're heading towards an IPO soon, and you want greater visibility for the CEO to attract investors. There's a need to align comms goals to the business as closely as possible," he said.
It's also important for brands to allocate budget to measurement. "If you don't allocate at least 10 percent of your communications budget to measurement, then the 100 percent you would have spent on is not going to be worth very much. There's not going to be a way to quantify the success," he said.
Brands should also focus on trends and patterns rather than an absolute number. Tan said that it's more important to understand why something is trending upwards or downwards. Brands should also challenge their agency partners if nothing beyond PR value is being offered, as Tan said it's simply "not acceptable" in this day and age.
He added that submitting work for marketing or PR awards also helps practitioners and brands understanding the rigour of the measurement process. "It's like putting a mirror to your work, it's a really good test," he said. "It's a useful process."
Finally, Tan said that the Barcelona Principles are a good framework for new practitioners to familiarise themselves with. He added that it might not be easy to get serious about measurement, but added a Warren Buffet quote to reflect the consequence of not doing it right: "It's only when the tide goes out that you learn who has been swimming naked."
---
Click here to subscribe to the FREE Asia PR & comms bulletin to receive dedicated news, features and comment from the region straight to your inbox. Make sure you register for the site to access more than one story per month.
To submit a news, comment, case study or analysis idea for the Asia bulletin, email Surekha.Ragavan@haymarket.asia