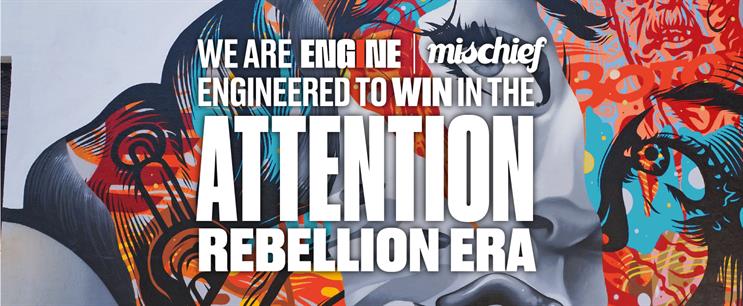 The tagline is "engineered to win in the attention rebellion era", which is about "distracting consumers who are more resistant to brands now than ever", according to Daniella Bertolone, the agency's head of operations and client services.
The "serious attention seekers" approach aims to focus on work that attracts attention within seven seconds – one second less than the average attention span.
Bertolone told PRWeek the Engine-owned agency has worked with behavioural scientists to identify three "attention levers" for work: the personal, based on identity and recognition; the surprising, where there's an unexpected narrative hook; and the emotional, which "engages the heart versus the head".
She said that for 92 per cent of consumers, work that combines these three levers will be much more attention-grabbing, and for 88 per cent it will be much more memorable.
"Given the challenge that we're facing in this attention rebellion era, these two points are absolutely critical for our brands to stand out and win in this space."
The reposition is an "evolution, not revolution", Bertolone said. "It was about putting more structure and emphasis on ideation."
Managing director Greg Jones described the new positioning as "Mischief 3.0", following the agency's first iteration under founder Mitch Kaye and the second under the leadership of Frankie Cory, who left in July 2019. Jones said work on the brand fresh has been in progress since he and Bertolone moved to their current roles last year.
Jones said: "[Mischief is] 14 years old now; that's quite a long time for a creative agency to retain its heat. I've been at plenty of agencies where you get to 12, 13, 14 years and you either fall off the face of a cliff or you get quite bloated and boring. So I'm proud of the fact that we're 14, still winning awards, still getting on the hot pitch lists, still converting a lot of those opportunities."
Performance
Mischief effectively merged with sister Engine agency MHP last year. The combined entity, which generated revenue of £26.4m in 2019, was Highly Commended in the Large Consultancy of the Year category at the PRWeek UK Awards last month.
Jones said: "We're part of Engine, but we retain that entrepreneurial, independent spirit; we work closely with MHP, but we certainly haven't been subsumed by them. There's a lot to be proud of, given our longevity in the market – it's just nice to be able to put our stamp on Mischief and what we should look like."
The MD (pictured below, with Bertolone) said he expects annual revenue at Engine Mischief to be flat this year.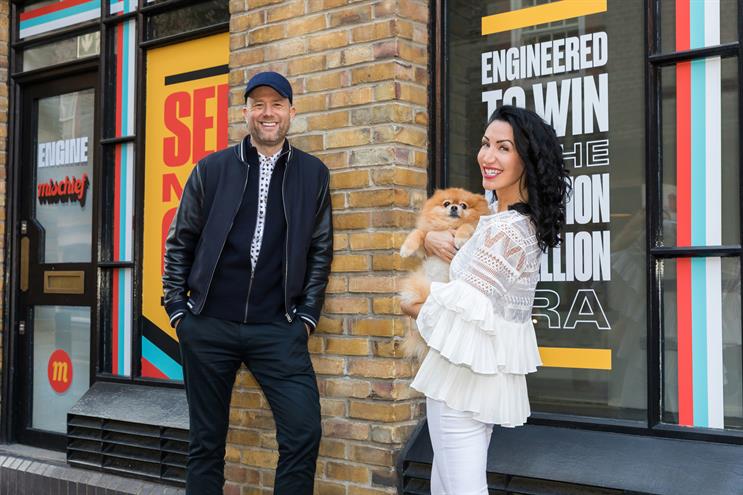 Jones said recent growth has come from both new clients and expanded work with existing ones.
Mischief has been involved in joint pitches with MHP, and Engine more widely, this year.
Wins since March have included IWG, a joint pitch with MHP, and Just Eat, for a brief that includes press office and campaign work. Its other clients include Asda, Lego, National Trust, Huawei and Unilever.
Regarding trading conditions more generally, Jones said: "I think it slowed in Q2, but in Q3 and coming into Q4 we've definitely seen more briefs.
"No doubt there's more of a squeeze on budgets, for sure. Clients need more for less. That's why we've won so much this year, because we're able to demonstrate how our work cuts through."
Engine Mischief did not put staff on furlough or make redundancies among its full-time staff during the initial period of the coronavirus pandemic, and it gave some pay rises alongside promotions last month, Jones said. He believes not being over-exposed to industries hardest hit by COVID-19 has helped.
To mark the repositioning, the agency has launched a scheme called See My CV to help the next generation of creative talent. Staff were to give graduates feedback on their CVs at a pop-up shop in London, but COVID-19 forced the initiative online. The agency expects to talk to about 30 graduates individually via Zoom in the next week or so.
Bertolone said: "It's really good to see the requests coming through nationwide, because COVID-19 has created this 'lost generation' of 16- to 24-year-olds who are really missing out in terms of those graduate opportunities."