In the wake of the 2007-2009 global financial crisis, many short-sighted brands that had drastically cut their marketing and communications budgets soon regretted it.
Recessions come and go, but so too does consumer awareness and consideration. Those businesses that kept their brands in the consciousness of their customers – for the right reasons – generally enjoyed a healthier recovery. The same, too, can be said of businesses that tried to keep their teams intact.
Although it is too early for such lessons to be drawn from the coronavirus crisis, it appears many brands are mindful that they need to "keep the lights on".
After a three-month pause on marcoms projects from March to June, agency bosses and pitch consultants have reported a steady rise in the number of PR briefs coming into play, with activity really picking up since the end of August.
However, this is an unusual year, in that consumer PR pitches are proportionally much more active than those in other disciplines, and clients are leaning on the agencies for broader remits and more strategic work.
One consultant tells PRWeek this presents a huge opportunity for consumer PR to shine.
We approached leaders from Hope&Glory, Cow, Taylor Herring, The Romans, Exposure and Ketchum to investigate this recent trend and find out what it means for PR agencies.
'Coming out fighting'
Hope&Glory PR co-founder and chief creative officer James Gordon-MacIntosh tells PRWeek that in March his business took a 20 per cent hit due to projects being put on ice, but the work pipeline was never empty.
"Most of the recovery has come from clients that we have a retained relationship with, or some form of ongoing relationship with and are picking up projects and starting to do them again," he says. "We have seen a respectable amount of new business work flying around as well. I don't think there was a period where it was, like: 'Oh Christ, we've got nothing in the pipeline anymore.' I think there are a bunch of brands out there that just needed to keep going."
Hope&Glory, which recently claimed PRWeek's UK Mid-sized Consultancy of the Year title, has been "particularly busy" in September and October, which Gordon-MacIntosh says is about 50 per cent due to the pre-Christmas rush, but also brands in sectors that have seen a surge in demand due to COVID-19 lockdowns.
"There have been digital and online brands that have done pretty well [during this period] that have existing relationships with agencies but want to do something different, because they see an opportunity in it. Or, in some cases, they are doing PR for the first time," he adds.
Taylor Herring chief executive James Herring agrees with Gordon-MacIntosh on two points – there has been a tendency for certain brands to keep motoring on in spite of COVID-19, and the pandemic is having a vastly different impact on other sectors.
"It's been very cruel for some broad industry brands and sectors, including pubs and restaurants, hospitality festivals, and live events, which are going to have a much longer rebuild in front of them," Herring says. "But we are seeing many verticals that we support – technology, food and drink, entertainment, retailers – coming out the back end of this year fighting after four months of complete disruption.
"The experienced marketers know that this recession is going to pass and it's really important for brands to keep the lights on and not allow the competition to creep in there and take advantage."
Herring explains that the types of briefs his agency is seeing are about brands "putting their best [foot] forward going into next year".
"That means they need to have a really super solid plan so when the clouds start to lift they are in the best possible shape," he adds. "They might not, right now, necessarily be trying to do lots of product-based campaigns. But there are a lot more bigger, brand-type campaigns – that brand fame piece going into next year."
Taylor Herring is one of the consumer PR agencies that has delivered acclaimed work during the coronavirus crisis. Consumer PR firms are taking on broader remits in briefs that span multiple channels, and many with a 'purpose' heart (see graphic below for examples).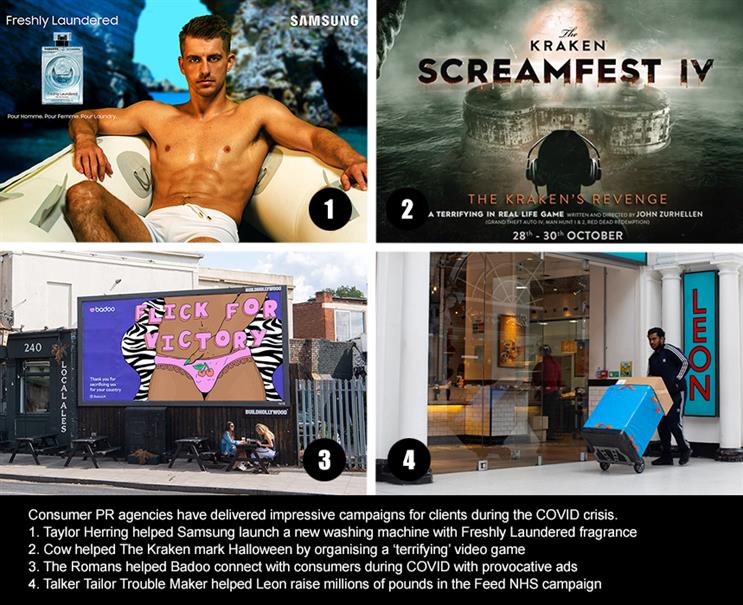 'Bigger budgets'
Cow's head of PR, Alex Bell, tells PRWeek that in the new business briefs she is seeing, brands are looking to "shake things up" – and this is particularly prevalent among those that had not adapted their communications to the current climate.
"For brands that haven't really had that cut-through, they're coming out and thinking if the old model [of communications] is definitely not working, are there new things they should be doing. There's been a lot of chat within the industry that the brands that 'hid' have lost market share," she says, while observing: "The briefs are definitely more wide-ranging and brands want that earned-centric approach. It's very rare you just get that press office brief."
Another factor driving new business and the recent flurry of consumer PR activity is what Herring describes as "loose change from unspent marketing budgets".
"We're also noticing the budgets seem to be slightly bigger than they have been in recent years," he says, although he isn't sure whether or not it is a sign that marketers have "woken up to the fact that you get a lot more bang for your buck from PR than you can do from other channels". A new business consultant says it is.
"The budget seems to be bigger, the briefs seem to be pretty ambitious and pretty chunky, and generally there is a real sense of everybody wanting to come out fighting next year."
A consumer PR leader who has also observed larger briefs and budgets is Ketchum's consumer brands managing director, Sophie Raine.
She notes PR's ability to provide more "creative bang for the buck" as a real benefit during these leaner times.
"PR specialists have been able to shine during the pandemic because we've been able to pivot really quickly against really tight budgets to offer low-cost and creative solutions that can earn a conversation rather than pay for it," she says.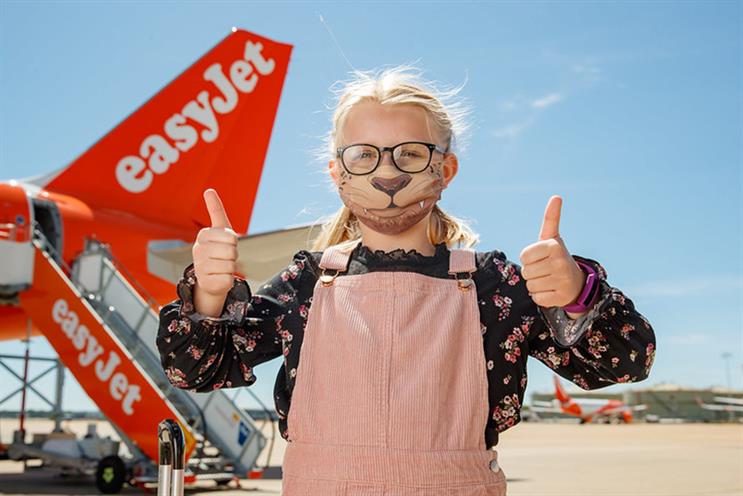 Taylor Herring's work helping easyJet reopen won plaudits and plenty of coverage 
'Eating adland's lunch'
Raine believes the time is ripe for PR to take a greater share of marketing budget from other disciplines, rather than being "the poor relation amplifying everyone else's work". She observes that some brands have cut budgets to advertising and media, but PR budgets have remained fairly resilient to this squeeze, a statement backed up by new business consultants.
"I've noticed a lot more of the briefs are blurred," she adds. "It's not like: 'Here is your budget for PR, and here's the budget for paid'; it's more there's a total budget and clients want a good idea that works across all channels. I know it's something that we've been talking about as an industry for a really long time – about 'eating the ad industry's lunch' – but it feels like it can really start to happen now."
This is a sentiment Gordon-MacIntosh agrees with – to a point. While he wouldn't go so far as to describe it as 'PR eating adland's lunch', he explains that the maths works out in a PR agency's favour. "If you're looking to trim a budget, then you're more likely to do that in a £25m media budget than you are to a £250,000 or £25,000 PR budget. We should weather this better than anyone else in the marketing communications mix."
Not everyone agrees that consumer PR is taking a share of adland's pie, however, even if it has been more resilient to budget cuts than other disciplines.
The Romans founder and executive creative director Joe Mackay-Sinclair, who works closely with advertising agency Mother, says that while he has noticed "more confidence" in the market with briefs coming in "thick and fast", he's seen no evidence of PR muscling in on adland.
"I know PRs love saying it. If you have the opportunity to knock an ad agency, you'll have a queue of PR agencies around the block who are saying: 'Finally we are taking advertising agencies' lunch.' But it is absolute bollocks," he says. "However, I think clients are getting smarter with how they spend their money."

Brands such as Ikea and Paddy Power have run creative earned media campaigns during the COVID-19 crisis to connect with consumers in new, fun and clever ways 
Are retainers back in vogue?
Although The Romans has been winning several pitches during the pandemic, Mackay-Sinclair is reluctant to crow about success at a time when his peers in the industry are losing their jobs and struggling. It's a reluctance several agency leaders expressed when speaking to PRWeek on this subject.
Mackay-Sinclair says there have been some positive trends for consumer PR, particularly to do with the types of briefs in the market this year compared with previous ones.
"Normally in Q3 and Q4 you start seeing lots and lots of little bitty projects. Actually, what we've found in the wins that we've had is they are all retainers," he says. "It's great because that gives you the ability to be strategic with your planning, which means we've been able to hire full-time instead of freelance [staff]."
Mackay-Sinclair says that although there was a clear dip in trading during April and May, the agency has still had a relatively "good year", and he believes a big part of the reason is that The Romans did not place any staff on furlough or make anyone redundant.
"The team really pulled together and because of that we've been able to win so many pieces of new business," he says. "One of the things I've observed is that if you have to get rid of a load of people or furlough them, then you haven't got enough people to be able to work on new business, because [those who remain] are looking after existing revenue. By us taking a little hit in April and May, it gave us the team we needed to be resilient and grind out those wins."
Gordon-MacIntosh also mentioned that COVID-19 has "tested" agency-client relationships. He believes agencies that placed teams on furlough will have "unsettled" some clients.
Nonetheless, Exposure UK chief executive Maneeze Chowdhury believes this crisis has helped many agencies get closer to clients as trusted and strategic partners to help them navigate the resulting economic turbulence. This has manifested into "longer-term" relationships and new business opportunities.
"What's really interesting is we are getting more longer-view briefs," she says. "What brands are looking for is to land a strategic story or strategic campaign that will last beyond just a moment. Some are even thinking beyond Q1 and Q2 in 2021… and looking beyond COVID-19, too."
Chowdhury describes the uptick in new business activity as more of a "mini pitch season", but says the work is purpose-led and, generally, more meaningful.
"The briefs are interesting, because we're getting more strategic briefs. Lots of platform-led briefs, more long-range briefs versus campaigns and tactics," she says. "I think COVID-19 has given brands a chance to reflect on the impact that they're having on society, [whether] that is significant enough, and if they should be accelerating that agenda and activating in that space.
"The other part is there's a lot of global societal tension [with the pandemic and the US elections] and that's led brands to really think about their cultural viewpoints and how close they are to their consumers. So the briefs have been really interesting and exciting."
There's little doubt that consumer PR has bounced back, and as marcomms budgets remain lean in the short to medium term, this may not just be a sign of recovery, but a road to reinvention.