2020 has been a year of unexpected headwinds and hurdles, driving the evolution of the automotive industry across its operations and communications. With the ongoing pandemic affecting how brands connect with consumers, and Twitter witnessing the strongest growth in monetisable daily active users (mDAU's) to date, Twitter is releasing the results of a recent survey delving into the automotive consumer behaviour.
Earlier this year, a survey was undertaken across Saudi Arabia and UAE, highlighted the role of Twitter within the purchase journey. This survey revealed that, when buying a car, nine out of ten shoppers will visit Twitter at some point in the process. 61 per cent of Saudi respondents revealed they came to Twitter to find information from the brand itself, dealers, or automotive publishers. Similarly, 54 per cent of UAE respondents said they look for automotive news, covering new model reveals, vehicle features, reviews, and vehicle performance on the platform.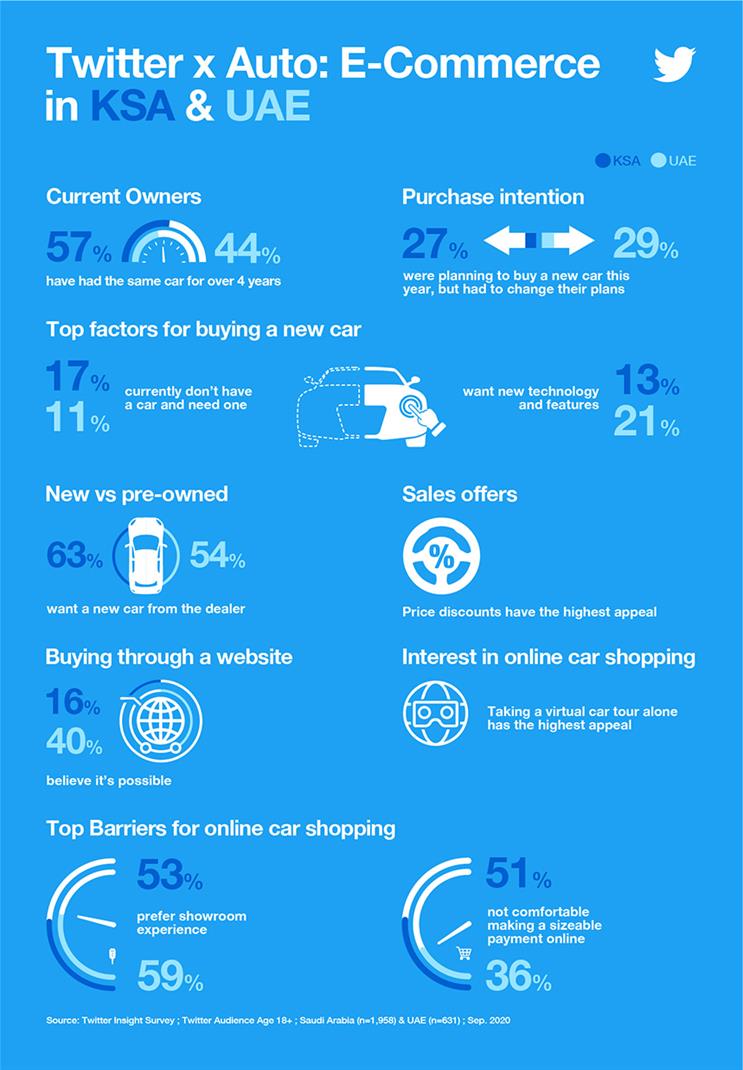 Twitter's more recent survey delved into the factors affecting purchases across Saudi Arabia and UAE, revealing how they have evolved and changed throughout the pandemic. The survey also tapped into the recovery and momentum of the automotive industry post COVID-19, such as the acceleration of e-commerce sales.
Meghan Doyle, Head of Revenue, Branding Sector, MENA, Twitter said: "Twitter's position within the automotive industry has never been clearer. With the growth of the platform, and our leaned in audience, the results of the survey further highlight the opportunity for automotive brands to connect with their audiences. Despite the challenges 2020 has thrown, we continue to see success in driving phenomenal results for brands across the region, who are paving the road to recovery."
With the finding that just under 30% of buyers had cancelled plans to buy a car this year (KSA: 27%, UAE: 29%), the survey further revealed that around 50% of buyers within KSA and the UAE would consider purchases within the next year, with 24% in KSA and 23% in the UAE planning on purchasing a car as early as Q4 of this year. Purchase drivers behind those decisions were revealed to be driven by an alteration in financial situations as a result of Covid-19, as well as issues with current vehicles, or the need to own a car. In parallel, the survey revealed that 58% of people across each market were driven by discounts on final prices.
E-commerce has been a rising star across numerous sectors within the Middle East, however, Twitter found that a large portion of its audience, 84% of Saudi respondents and 60% of UAE respondents, were unaware of the availability of online automotive transactions. For those familiar with the process, virtual car tours and the ease of purchase were driving factors, while the lack of a showroom experience and the size of payments raised concerns.
The results of the survey highlighted the opportunity for automotive players to further connect with their audiences, driving awareness of their platforms, and highlighting their benefits. A recent example of the power of these connections was seen through Volkswagen Middle East's campaign which celebrated the brand's collaboration with The Walt Disney Company Middle East. Through a series of videos depicting Volkswagen models in playful videos inspired by characters from popular Disney Pixar movies, the campaign celebrated the 25 Year Anniversary of Pixar while highlighting each vehicle's features in synergy with family favourite characters.
?? ?????? ?? ???? ????? ?????? ???? ????? ?????. #???????? ???? ?????? ???????? ???? ????. #???????_????????2 #????_???????? #????????_???????

— vwmiddleeast (@VWMiddleEast) April 22, 2020
Through a Brand Lift Study, run through Kantar, it was revealed that the campaign garnered strong growth in brand favorability and purchase intent among the engaged and video viewer audiences. Brand Lift Studies add a further layer of insight to brand campaigns, providing an understanding of key measurements such as awareness, consideration, intent, and other key branding goals. The reports provide information beyond topline results and deliver insights into how certain elements of a campaign and creatives are driving brand lift.
With a +5.8PP (percentage points) uplift in message association among the video viewers audience, the campaign also saw a +14.9PP uplift in purchase intent among the engaged audiences and a +8.7PP uplift in purchase intent among the video viewers audience.
Marketing Director of Volkswagen Middle East Anja Petrovski said, "The campaign was very successful on Twitter; it overachieved the benchmarks in the three categories that are very important for our brand; brand favorability – which are overall impressions about the brand, ad recall – recalling seeing the ad on the platform in seven days, and I'd say that heavy branding helped a lot when it came to the videos, as well as growth in ad recall and purchase intent. The most memorable campaign was for audiences between the age of 35 and 45 which is exactly our purchasing decision audience. In addition, having these family moments and family creatives, helped to relay a strong message when it comes to the in-market audience buying the car because we know that here in the region heavy influence comes from family members, wives and kids."
At the onset of the pandemic, and in the wake of the lockdown faced in Saudi Arabia, Nissan Saudi Arabia took to the platform to launch its door-to-door service. The campaign highlighted the service as well as Nissan's commitment to the health and safety of its consumers. The campaign saw an +8PP increase in engagement rate against the Twitter auto benchmark, as well as an +9PP increase in link click rate, driving traffic to the website.
Ahmed Soudodi, Marketing Director of Nissan Motor Corporation in Saudi Arabia said, "We really wanted to ensure that our customers had the confidence and peace of mind that their vehicle would be ready at a moment's notice in the eventuality of having to go to a hospital or a doctor or tending to an older relative's needs. Working with our strategic partner and award-winning roadside assistance supplier Morni, we developed an app where customers can download and select a pick-up and drop off timing. The vehicle gets picked up for servicing or a minor repair, it gets serviced, brought back to the customer's home completely sterilised through a contactless delivery experience free of charge."
??? ??? ????? ??????? ?????? ??????? ?????? ??????#????_???? pic.twitter.com/BvS92H2MuL

— Nissan Saudi Arabia (@nissansaudi) July 6, 2020
In summary, with half of the automotive consumers on Twitter planning to buy a car in the next six months, there is a large opportunity for brands to communicate with their audiences, whether unveiling new launches such as car models, or connecting during key moments. In addition, with the growing trend in automotive e-commerce online, now is the time to be raising wider awareness of automotive online offerings, with a tailored and evolved campaign strategy more important than ever before.
A version of this article first appeared on PRWeek sister title Campaign Middle East
---
Click here to subscribe to the FREE Middle East comms bulletin to receive dedicated news, features and comment from the region straight to your inbox. Make sure you register for the site to access more than one story per month.
To submit a news, comment, case study or analysis idea for the Middle East bulletin, email Arvind.Hickman@haymarket.com