The PRCA and CIPR warned that greater transparency is needed over how the Government awards contracts to ensure public confidence in the use of taxpayer money.
Yesterday, The Sunday Times revealed that 'vaccine tsar' Kate Bingham hired eight full-time consultants from Admiral Associates – equivalent to £167,000 a head – to oversee media strategy work.
Concerns have been raised about whether appointing a PR firm for media relations and strategy work is an appropriate use of taxpayer funds when the Government has more than 130 communications professionals working in the Department for Business, Energy and Industrial Strategy (BEIS), which reportedly signed off on the contract.
There are also concerns about the transparency of the procurement process, although the Government has special rules to streamline procurement in the case of COVID-19-related contracts, which has previously benefited comms agencies including Hanbury Strategy, Public First and Topham Guerin.
Admiral Associates is not a member of the PRCA, but its owner is a member of the CIPR.
PRCA director of communications and marketing Koray Camgoz said government departments need to be clear on how public money is spent.
"Decisions governing how public funds are spent – including the recruitment of PR agencies – must be subject to robust processes. Failure to undertake professional procurement processes threatens to damage public trust at a critical time for the country," he said.
"The pandemic has underlined the importance of strategic public relations and the exceptional value it can deliver for organisations and governments. But PR – like all other professional services – must be procured in a professional manner."
The CIPR said: "All public expenditure should be undertaken based on transparent procurement and proper accountability. We understand the widespread concerns surrounding the awarding of public sector contracts and share the call for increased transparency on ensuring value for public money.
"We urge BEIS to be clear about how this public money is spent and to be transparent about the agreements that exist between Admiral Associates and, through Kate Bingham, BEIS."
PRWeek approached Admiral Associates for comment. In response, BEIS confirmed that "specialist communications support" was contracted and details of commercial arrangements will be published "in line with the usual transparency arrangements".
PRWeek has asked the department to provide further details about the "specialist communications" services it has contracted Admiral Associates to provide.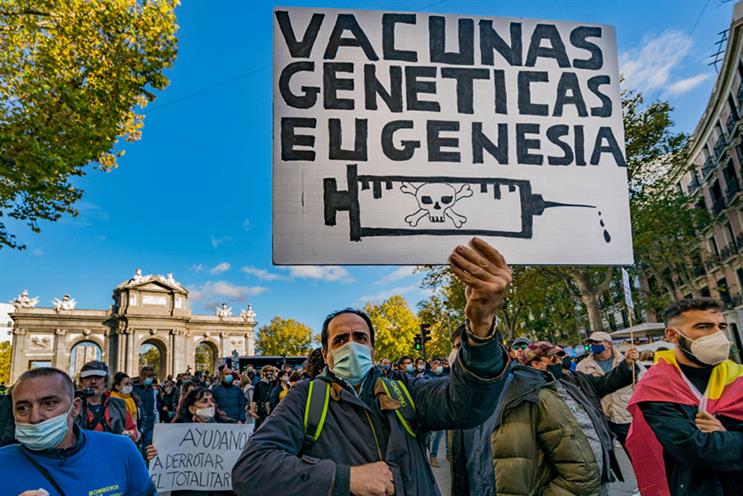 Demonstrators march against coronavirus in Spain. Experts warn of a substantial communications challenge over a vaccine (Photo: Getty Images)
'Is this a good use of money?'
PR professionals have raised concerns about the scope of work and the procurement process. Lynn PR founder Shayoni Lynn has worked in public sector comms and has previously provided comms support for the flu vaccine campaign.
She said there is a certain level of flexibility to streamline the procurement process for COVID-related and other crisis work, but is concerned about an apparent lack of due diligence.
"If there were to be an inquiry into… spending £600,000 on media strategy work when you have a fully functional Government Communications Service that does exactly that – is [it] a good use of taxpayers' money?" Lynn said.
Lynn said work around the COVID-19 vaccine is incredibly challenging due to substantial scepticism, conspiracy theories on social media, and reports of vaccines being rushed out.
"This is about people who've never been anti-vaxxers, who may be genuinely concerned about what a COVID vaccine might do because it is being expedited so quickly. Is media work going to solve that fear? I very much doubt it. Getting press coverage or being in a few press conferences is not enough to really get over the fear," she said.
"So the awarding of £600,000-plus in a contract for some media work when you've got a team of very qualified practitioners that can do that, without any tender or procurement or audit process, is questionable."
Hotwire group chief development officer Andy West said the awarding of the contract and the lack of transparency around deliverables should "send a shiver down the spine of the PR industry".
"It's not the spend that should be called into question but the inability to take the wind out of the story by simply stating the impact the PR spend had on the Government's strategy," he said. "Had the advisors in question built a strong measurement framework aligned with the goals behind the purpose of the Vaccine Taskforce, then they'd have been able to quell the media interest."
Strategic comms consultant Paddy Blewer said the initial reporting of the contract showed a naïvety about what PR actually does for governments and there may be scope of work where an outlay of this magnitude is justified.
"In the last 20 years, I've seen plenty of projects at higher rates, some of which have nothing to do with media relations, often for sovereign states, often around geopolitical and/or capital markets considerations," he said.
"But, unless we are missing something, this looks like it's a remarkably well-remunerated contract for the services mentioned that, importantly, is paid for by British taxpayers. While all governance systems are somewhat 'manageable', I would be really interested to know the tender and review process behind this gig."
Do you head up a nebulous government taskforce? ?????

Are you married to a government minister? ?????

Do you require the services of a "boutique PR firm"? ?????

My DMs are wide open. ?????

— Joe Mackay-Sinclair (@AlpineJoeJoe) November 8, 2020