As Joe Biden landed a US presidential victory last weekend following a nail-biting race, congratulatory messages streamed in from world leaders. In their messages, leaders in Asia implied relief, shared values, and the workings of democracy.
In India, PM Narendra Modi congratulated the president-elect on his "spectacular victory" and noted Biden's contributions to strengthening India-US relations when he was vice president. Modi also sent out a separate tribute to VP-elect Kamala Harris: "Your success is pathbreaking, and a matter of immense pride not just for your chittis, but also for all Indian-Americans. I am confident that the vibrant India-US ties will get even stronger with your support and leadership."
My warmest congratulations @JoeBiden and @KamalaHarris on your historic election. The huge turn out is a reflection of the hope placed on democracy. pic.twitter.com/Neai7coU6j

— Joko Widodo (@jokowi) November 8, 2020

In Indonesia, president Joko Widodo said "the huge turnout is a reflection of the hope placed on democracy" accompanied by a photo of himself at the White House with Biden during his reign as VP.
Singapore PM Lee Hsein Loong said in a congratulatory letter to Biden: "Americans have placed their trust in your vision and leadership. Likewise, many countries are also looking forward to the global leadership of the United States under your administration as we work together to overcome the significant challenges facing the world, especially the immediate crisis brought by the COVID-19 pandemic."
In Malaysia, PM Muhyiddin Yassin said in a statement: "The American voters have decided decisively in endorsing Mr. Biden as the 46th President of the United States for his leadership and vision." Many on social media called out his nod to the democratic process as Yassin himself was made leader through a 'power grab' rather than a federal election.
Congratulations to @JoeBiden and @KamalaHarris. Our alliance is strong and the bond between our two countries is rock-solid. I very much look forward to working with you for our shared values.

— ??? (@moonriver365) November 8, 2020

South Korean president Moon Jae-in also chimed in with a sincere message that indicated 'shared values' with Biden's incoming administration: "Our alliance is strong and the bond between our two countries is rock-solid. I very much look forward to working with you for our shared values." 
Japan's Prime Minister Suga Yoshihide's message was a little more formal. He wrote on Twitter: "I look forward to working with you to further strengthen the Japan-US Alliance and ensure peace, freedom, and prosperity in the Indo-Pacific region and beyond."
However, the silence from Hong Kong and China is deafening. China's President Xi Jinping is yet to congratulate Biden, while Hong Kong leader Carrie Lam condemned the US 'interference' in city affairs on Friday, before the US race was called.
"For the past year or so, the American administration and officials have been repeatedly interfering with the internal affairs of the People's Republic of China and the internal affairs of Hong Kong," said Lam. "That is totally unreasonable and cannot be justified in international relations." She vowed for a 'return to normalcy' regardless of who wins the election. 
Upon Biden being declared the projected winner of the race, the editor of Chinese state-owned Global Times wrote: "Analysts generally are not clear on whether Biden's policies towards China will soften or adjust, but at least I think it's possible a future Biden administration will do away with the performative aspect of Trump's stance towards China."
In Taiwan, however, President Tsai Ing-wen, constructed a warm message that resonated differently from Hong Kong and China. She said on Twitter: "The values on which we have built our relationship could not be stronger. I look forward to working together to further our friendship, & contributions to international society."
Kamala Harris a crowd favourite in Asia
Harris was a clear winner on social media, especially following her resounding victory speech which has been heavily spliced and shared across social media in the last couple of days. Harris' South Indian heritage resonated with many in the region, as well as her immigrant family's story of struggle.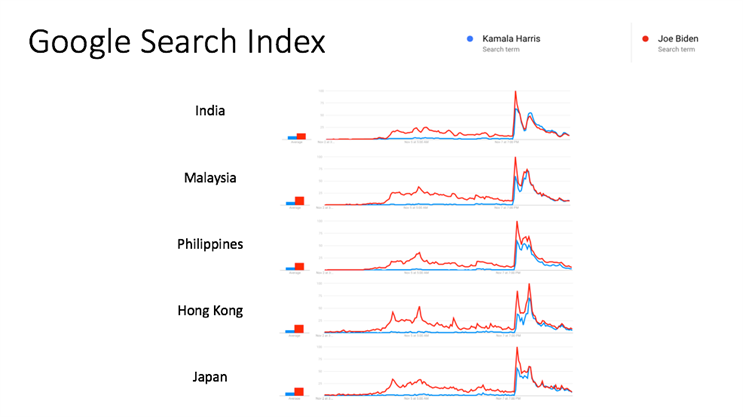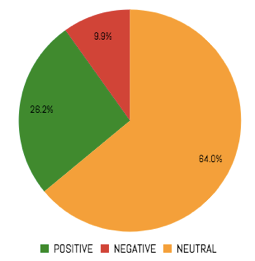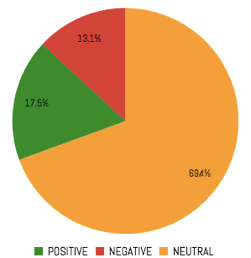 According to data from social listening company Circus Social, Harris garnered 26.2 percent of positive sentiment (see left chart) across social media platforms in five markets (India, Malaysia, Philippines, Japan and Hong Kong), compared to 17.5 percent for Biden (see right chart). But in terms of mentions on social media, both Biden and Harris were equally split with 120 million mentions each.
---
Click here to subscribe to the FREE Asia PR & comms bulletin to receive dedicated news, features and comment from the region straight to your inbox. Make sure you register for the site to access more than one story per month.
To submit a news, comment, case study or analysis idea for the Asia bulletin, email Surekha.Ragavan@haymarket.asia