A fairly scant week in the world of creative marketing, something that comes as little surprise during a week in which even a second lockdown has been overshadowed by antics playing out across the pond.
That said, there has been a good smattering of reactive campaigns, some that hit the mark, others falling short.
HITS
Mr. P loses his 'tache
Pringles kicked off Movember by removing the moustache from its logo, the first logo change in over 50 years. Logo changes themselves can be hit and miss, as we saw earlier in 2020. There were polarised opinions in response to various logo changes by the likes of McDonald's separating its arches trivialising the introduction of social distancing.
This move from Pringles hits the mark, though, bringing Movember back to the fore simply and effectively. Unlike logo changes earlier in the year, this was a launch moment for the brand's 'Pop, Share, Chat' campaign; Pringles is pledging money to the charity as well as encouraging conversations around mental health.
Grenade sends in the tanks
Sports nutrition brand Grenade took to the streets of London in a classic stunt, turning up to the Houses of Parliament with a celebrity topped tank. The stunt marked the brand's campaign for gyms to stay open during the second lockdown, following a week of Government claims around the importance of exercise and the mental and physical benefits during stressful times.
The campaign's success is built on having a public more sceptical of conflicting government guidance and a lower fear factor than in March/April. The tone around this lockdown allows for this level of humour-driven creativity for the right brands and the right topics. The use James Haskell, an existing brand ambassador, tops off the activation by adding that extra level of light-heartedness we're craving in times like these.
As an added note, I'm a big fan of Grenade's PR and communications manager on LinkedIn calling out coverage on the Archbishop of Banterbury. It's a title we should see in more target media slides.
For the physical and mental wellbeing of this great nation, please #KeepGymsOpen ????

Sign the petition here ?? https://t.co/oapELwhoQC pic.twitter.com/r6iNeIKmtK

— Grenade® (@grenadeofficial) November 4, 2020
Amazon, 'The Show Must Go On'
It'd be easy to criticise this, as some have, for its ending statement: The Show Must Go On. After all it is Amazon that becomes a key beneficiary to high street shops having to close their doors for a month in the run up to Christmas.
From a purely creative standpoint, however, the advert strikes a chord. Perfectly timed in many ways with its focus on cancellations and stay at home orders, but hopeful in its message. Whilst others talk of Christmas being 'a bit different' this doesn't need to state the obvious but provides an engaging and uplifting story.
MISSES
Burger King: Order from McDonald's
I love Burger King's marketing machine, but as Fernando Machado, the global CMO, frequently says, they are risk takers and not everything will be a resounding success. This week's campaign saw the brand ask its followers to buy from McDonald's and other popular fast-food restaurants. It launched this in various European nations as each went into lockdown. The attention-grabbing headline does its job, but it missed the chance to support small businesses.
McDonald's and Burger King will survive, but will fellow burger joints like Dip & Flip, Black Bear Burger, Mac & Wild and Twisted Burger Company? All these brands appeared in a follow-up post, but Burger King had the chance to place smaller businesses ahead of Domino's, Pizza Hut, Five Guys and other big international brands featured in the main post.
The headline was a hit, but the copy beneath missed an opportunity.
We know, we never thought we'd be saying this either. pic.twitter.com/cVRMSLSDq6

— Burger King (@BurgerKingUK) November 2, 2020
Gap fixes divisions with a hoodie?
Gap took a leaf out of the Pepsi playbook this week in response to the US election. As tensions rose and Trump's Twitter feed went into overdrive, Gap's classic branded hoodie appeared on its Twitter feed to save the day. A half-red, half-blue hoodie appeared and proclaimed: The one thing we know, is that together, we can move forward.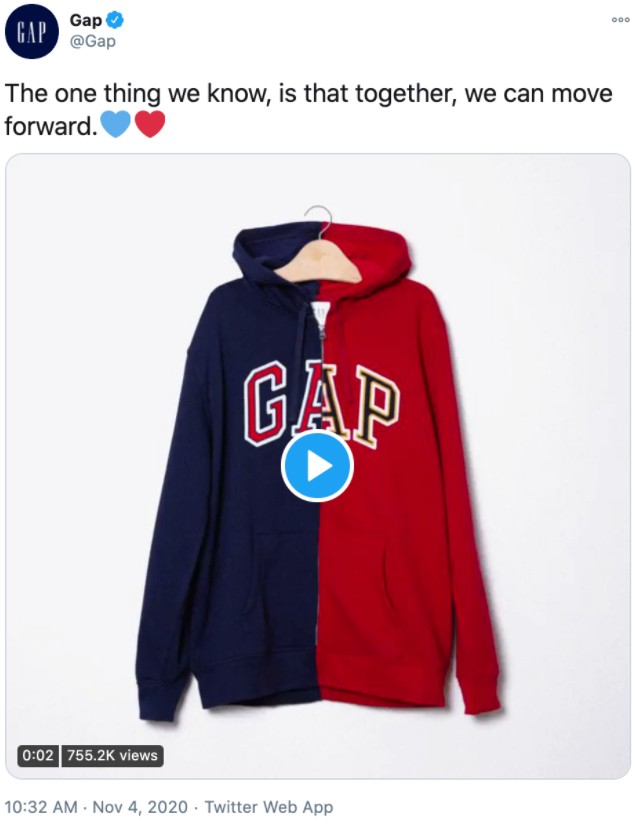 Cue instant comparisons with Pepsi's infamous advert, followed by a Chrissy Teigan retort around walking sideways depending on which city she's in, leading to the post quickly being deleted.

---
Click here to subscribe to the FREE Creative Inspiration bulletin to receive dedicated features, comment and the latest creative campaigns straight to your inbox. Make sure you register for the site to access more than one story per month.
To submit an idea for the bulletin, email John.Harrington@Haymarket.com