New data shows the UK is in the grips of a mental health crisis. There has been a 15 per cent increase in urgent and emergency NHS referrals for mental health issues while bed capacity for mental health inpatients has reduced by 30 per cent.
An analysis of NHS Digital figures found that 'urgent' and 'emergency' referrals of people in crisis with their mental health have soared since the beginning of the first national lockdown in March.
The figures for June and July were higher than ever previously recorded, and overall, there was a 15 per cent increase in these referrals from March to July – the most recent figures published. There were 2,276 more urgent and emergency referrals in July alone compared to the same month last year. In addition, there was a 19 per cent increase in the number of people detained for mental health treatment who were admitted to acute beds.
A 'mental health crisis' generally means someone's health has deterioriated to the point where they need urgent, professional help. This can involve events such as self-harming, experiencing psychosis, attempting to act on suicidal thoughts or having a manic episode. The NHS classes some mental health crises as life-threatening, and most require face-to-face support – although the availability of this sort of in-person help has plummeted in recent months. If someone poses a risk to their own or anyone else's safety, they can be detained for assessment and treatment.
Exacerbating the problem is that NHS resources are stretched due to a heavy focus on the coronavirus pandemic.
Mind said more people have experienced a mental health crisis over this period than previously recorded, and its helpline is experiencing far higher volumes of calls than usual. The charity received up to 500 calls a day to its helpline in October, which is twice the number it would normally receive at this time of year.
PR's mental health crisis
This sobering news will alarm, but not surprise, PR industry leaders, who have expressed serious concerns about the mental health of practitioners heading into a winter of lockdowns, restrictions and isolation.
The Romans senior account director Indigo Le Fèvre believes PR's problem with mental health is historic.
"Going back through decades and decades, PR has always been regarded as an industry that is based on high pressure, quick speed and agility, and the need to deliver impressive results incredibly quickly – perhaps to the detriment of those individuals," she told a recent episode of The PR Show podcast (listen to the episode below).
Le Fèvre said that although PR professionals are getting better at talking about their mental health, there is still a way to go in terms of taking action to get help or treatment.
"Just from last year, [the data shows] 60 per cent of PR professionals are diagnosed with a mental health condition; nine out of 10 PR professionals say they struggle with their mental health."
Edelman UK's managing director of advocacy and public affairs, Luciana Berger, served as shadow minister of mental health during her previous career in politics.
She has noticed increased demand and pressure from clients, particularly around public affairs and advocacy, coupled with challenges related to isolation and delivering work virtually.
"The combination of  this, when we find ourselves socially isolated and not able to connect with our networks in the same way, means the pressures are much harder," she told The PR Show. "And it's no surprise that we see in the [PRCA] survey that has just come out, all people's mental health, particularly younger members of the industry, are impacted negatively."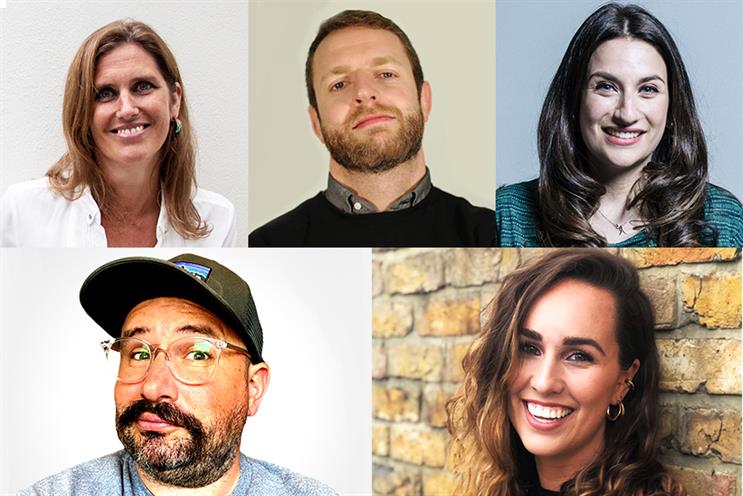 The PR Show panel (clockwise, from top left): Amy McKeown, Kev O'Sullivan, Luciana Berger, Indigo Le Fèvre and John Brown
'A poor relation to physical health'
Berger, a public policy expert on mental health, said there has never been enough public health support for people with mental ill-health, but this problem has become much more acute during lockdown.
"We saw many mental health services that were previously available move online, which has not been appropriate for everyone. And we've seen lots of face-to-face services just not able to go ahead," she said. "The very nature of having a mental health condition means you need that personal interaction. So again, it's even more disproportionately hit in the wake of the COVID pandemic. 
"Mental health has always been the poor relation to physical health, and that is even more pronounced at this moment."
Other industry leaders, including Don't Cry Wolf chief executive John Brown and FleishmanHillard Fishburn's executive creative director Kev O'Sullivan, have recently opened up about their personal battles with addiction and mental ill-health.
Everyone PRWeek has spoken to about this issue has expressed concerns about how the industry should support the mental health of its workforce over the coming months.
In November, industry leaders will come together to discuss what more can be done to better support mental health, and the establishment of a PR Mental Health and Wellbeing Charter.
It's an initiative that is being driven by Head Office Collective, including mental health expert Amy McKeown. Contact PRWeek news editor Arvind Hickman to find out more.
Running order
02.00 John Brown and Kev O'Sullivan open up about their mental health battles
11.00 How does client pressure contribute?
13.30 Luciana Berger discusses public policy on mental health: "It's been a poor relation to physical health".
15.20 The impact of the pandemic on mental health.
24.40 "An opportunity for PR industry to reset practices and culture."
28.00 What agencies are doing about it: "Strategy, monitoring moods, transparency, sympathy, inclusiveness."
37.30 What more can the industry do: "We're in favour of sector-wide approach, PR mental health charter, let's stamp out bravado and be more human."