Meridian Foods – #ProtectPongo
Environmentalist and artist Louis Masai partnered Meridian Foods' palm oil-free nut butters to highlight orangutans' imminent risk of extinction through a series of stunning murals, including small changes members of the public can make to help the cause.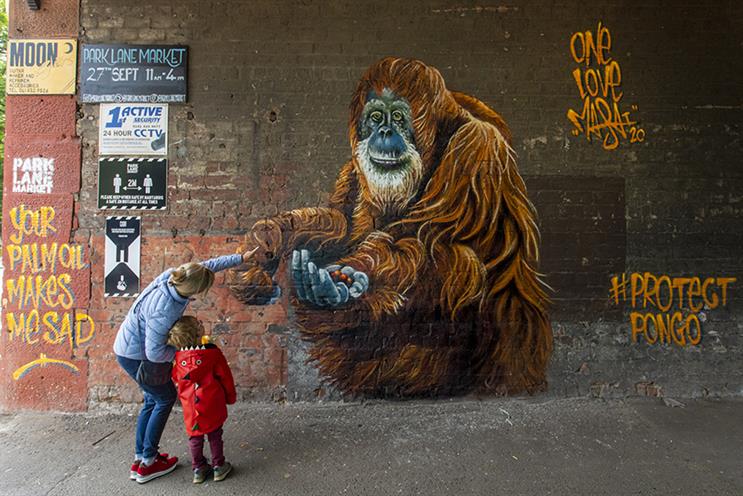 PR agency Don't Cry Wolf helped create the #ProtectPongo campaign, which is touring London, Glasgow, Manchester and Birmingham. It also included a clever stunt on Spareroom, in which Pongo the orangutan added a profile to find a new home.
Kazakh Tourism – Very Nice!
Kazakhstan – the home country of Borat Sagdiyev, has adopted the character's catchphrase "Very nice!" for a new tourism campaign. In his latest movie Borat Subsequent Moviefilm, Sasha Baron-Chone's fictional protagonist depicts the Central Asian as misogynistic, homophobic and anti-Semitic.
But instead of railing against the unflattering descriptions, as occurred after the original Borat movie launched, Kazakh Tourism has embraced catchphrase in a new tourism campaign. The news of the campaign made global headlines and the official YouTube video has been seen more than 850,000 times, which by any measure is – very nice.
Rennie – Fall Back in Love
Bayer-owned heartburn and indigestion brand Rennie has launched a Tinder campaign calling on food lovers to swipe right on their favourite foods.
The creative, by Unity, encourages users to swipe right on their favourite food that is often a source of pain for heartburn sufferers.
The aim is to drive engagement, awareness and affinity for the heartburn and indigestion tablet with "light-hearted humour to reflect the brand's personality".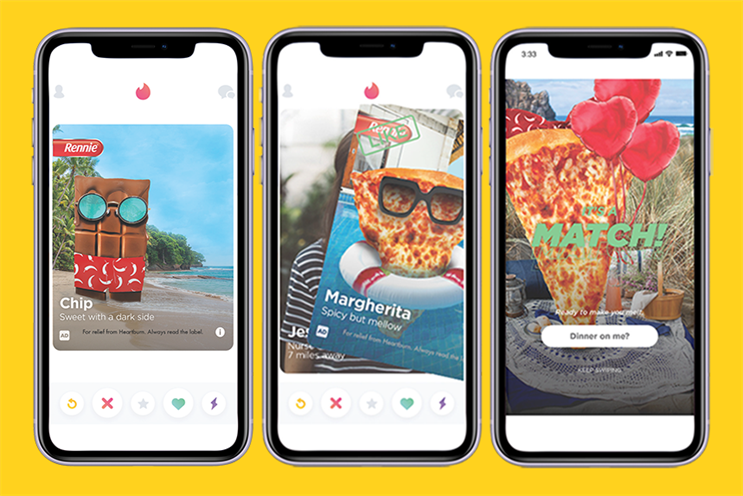 Cadbury and Age UK - The Originals
Captain Sir Tom Moore, the famed centenarian war veteran and charity fundraiser, became one of the UK's oldest podcast hosts in a partnership between Cadbury and Age UK to help tackle loneliness among older people.
The Originals podcast features Moore in conversation with older guests from across the country, each with their own story to tell - and the stories are far from mundane.
The campaign is a thoughtful way to help shift perceptions of old people from individuals in need of sympathy and help to folk with extraordinary stories and life experience. It's also a decent tie-in for Cadbury - the podcast series is part of the chocolate brand's 'Donate Your Words' campaign, which encourages people to take the time to start a conversation with an older person.
Golin devised and executed the campaign. VCCP is the creative agency behind the wider Donate Your Words initiative.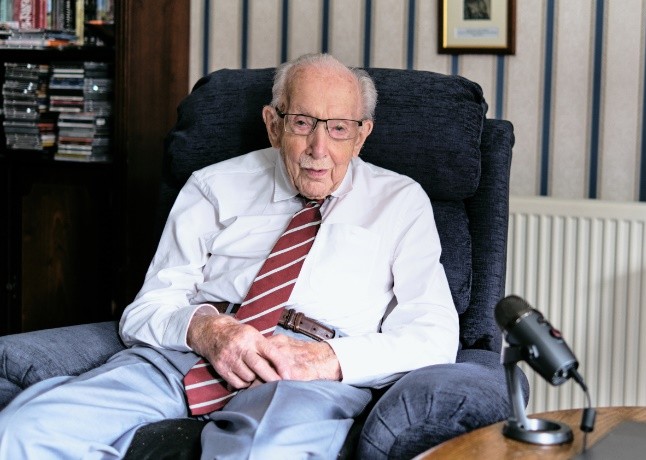 Greenpeace - 'There's a monster in my kitchen'
Greenpeace gets the nod for the Paul McCartney-backed sequel to the high-profile 'Rang-tan' film, which uses a different animal to highlight the destruction of forests for meat production.
Brazilian actor Wagner Moura, who starred in the Netflix series Narcos, narrates the animated short film. The beautiful and moving video has been made by creative agency Mother and produced by the studio Cartoon Saloon. It's a good example of an existing campaign format being adapted to make a different point on an important environmental topic in an engaging way.
In case you missed it: Five Campaigns We Liked in September: your winner revealed
---
Click here to subscribe to the FREE Creative Inspiration bulletin to receive dedicated features, comment and the latest creative campaigns straight to your inbox. Make sure you register for the site to access more than one story per month.
To submit an idea for the bulletin, email John.Harrington@Haymarket.com