An agency leader has called on the communications industry to do more outreach to primary school-aged children to help improve PR's image and attractiveness as a career.
W Communication founder Warren Johnson believes this perception problem places the industry at a disadvantage when it comes to attracting young talent from diverse backgrounds.
Speaking at Black Tech Fest with Akama Davies of Xaxis and We Are Stripes, Johnson said when he founded the social enterprise WX to improve social mobility into the industry, he thought there would be a large pool of young talent that wasn't connected but was desperate to get into PR and just didn't know how. 
"It turns out that those people that we wanted to connect with didn't know what PR was and much less cared," he admitted.
"That represented quite an interesting barrier, and actually, if part of our job was to attract different people from less privileged backgrounds, it wasn't to go out and necessarily offer jobs, but to go and inspire people about careers, even from quite a young age."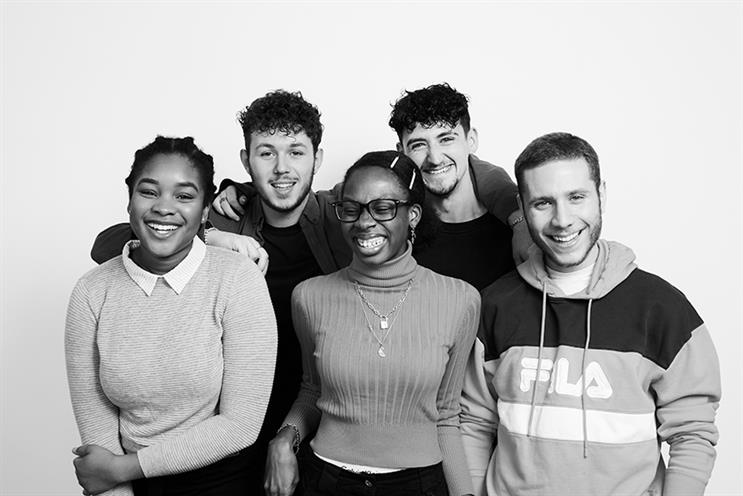 The inaugural WX cohort: Maya Egbo, Lucas Green, Caroline Akintunde, Jay Young and Adam Savva
WX launched in October 2019, offering three-month internships and long-term employment opportunities to 18- to 21-year-olds who were not at university.
To date, several intakes of talent have come through, gained experience and found opportunities in other creative sectors. However, one of the WX alumni is back at W working on "high-profile launches".
The leader of WX, Zoe Stafford, recently told PRWeek the enterprise was investing a lot more time in raising awareness of what PR is to younger audiences.
"We were doing that with outreach in schools and colleges, but now we are planning to go younger and add primary schools to the mix," she said. "We've done research that shows people as young as seven start to form ideas of what they are capable of and roles they can aspire to do. We want to unveil these hidden jobs like PR by going a little younger."
Johnson said the agency would continue its primary school outreach programme and urged the industry to do more to inspire children of that age group.
"It starts from five onwards where people start to shape their career aspirations, and it's something that you are very active in as well, in terms of fundamentally changing the pipeline of people that come into our industries," he added.
'We're losing the war on talent'
Davies, a director at GroupM's programmatic business Xaxis and co-founder of diversity consultancy We Are Stripes, said creating inroads to attract diverse talent is one area in which marcomms lags behind other sectors.
"Historically the creative industries have often relied on thinking that, because we're in a cooler dynamic space that talent would naturally come [into]," he said. "But when you compare that to some more traditional industries that actively have been engaging with schools and universities, the likes of law firms or accountants – they really are winning that war on talent."
Davies believes the understanding of what the opportunity is in the media and advertising industry is very limited, and recommended three things agencies can do to attract a wider pool of talent:
Data. Try to be data-led, whether it is a big survey or another method to create a visual representation of your organisation. This will help sharpen the focus on where you need improvements. 
Outreach. This doesn't just have to be HR; it could be a particular team running an open day to allow talent to come and see what you're about as an organisation, and what the industry is all about.
Accelerate your existing talent. Whether that is mentoring or sponsorship, or if you're a senior leader, connecting those people with your network as well.