Food redistribution charity FareShare provided one million meals every week to 11,000 frontline charities and community groups supporting vulnerable people throughout the UK.
When the crisis hit the UK, the demand for the charity network's services increased, requiring greater funding and more volunteers to help pack and deliver food to people in need. The beneficiaries include those experiencing homelessness, mental health issues, facing domestic violence, suffering from loneliness and families that could not provide adequate meals for their children.
Greenhouse PR was brought in to help FareShare with a crisis appeal to feed the nation.
It did this through a three-pronged strategy to raise the profile of FareShare's work, shape a narrative that would cut through a crowded media agenda and demonstrate how volunteers could get involved.
The campaign was carefully planned to coincide with the media's focus on an NHS volunteer recruitment drive, illustrating that healthcare was not the only frontline service in need of support.
The agency provided a press office function, co-ordinated media interviews, and spread the message through various media channels.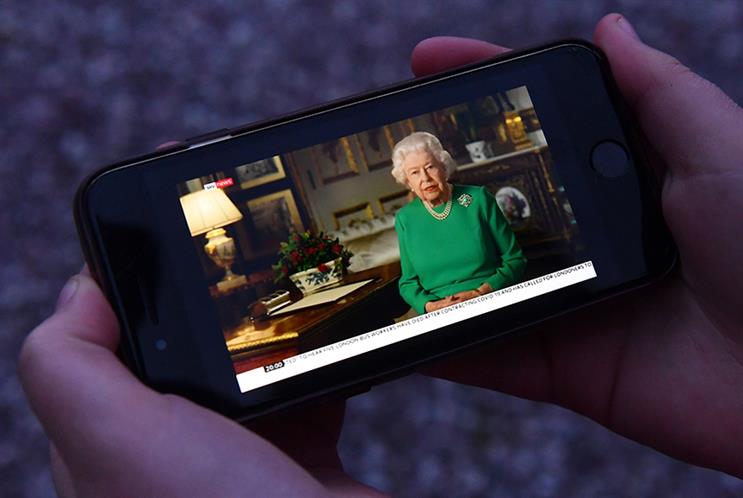 The campaign also used high-profile celebrities including Alexandra Burke, Eddie Izzard and Jamie Oliver. A highlight was when FareShare volunteers were featured on the Queen's coronavirus address to the nation on 5 April (pictured above). Separately, footballer and high-profile campaigner Marcus Rashford has been working with FareShare.
The campaign achieved widespread media coverage and influencer support, securing over 200 pieces of coverage with an estimated reach of more than two billion.
This included coverage on BBC Breakfast, BBC Radio 4, BBC News at 6, ITV News, The Guardian, The Independent, Evening Standard and more than 160 regional media articles.
The impact has been immense. Since the coronavirus crisis began, the number of charities joining FareShare's waiting list has tripled and the organisation's distribution of meals has doubled to two million every week.
Judge's comment
A well-executed campaign where the results speak for themselves. From donations to volunteer applications it moved the dial – and has a place in history, having been featured in the Queen's broadcast.
---
Highly commended
Feed NHS by Talker Tailor Trouble Maker for Leon
Leon Restaurants asked Talker Tailor Trouble Maker to help it launch a charity initiative to fundraise £1m to get hot, healthy meals to NHS teams. The campaign enlisted actors Damian Lewis, Helen McCrory, comedian Matt Lucas and Leon chief executive John Vincent. It delivered 1,200 pieces of coverage and helped raise more than £1.7m. The initiative succeeded by delivering 40,000 hot, fresh meals a day to NHS staff in more than 100 hospitals.
Shortlisted:
James and the Giant Peach, with Taika and Friends by Portland for Roald Dahl Story Company
Lloyds Banking Group: Helping Britain prosper in a time of crisis by Lloyds Banking Group
Rail to refuge by Rail Delivery Group/Women's Aid
Remember me by Newgate Communications for St Paul's Cathedral