Top: Hawksmoor's social team bites back
High-end steakhouse Hawksmoor demonstrated a mature and effective use of social media this week to take issue with comments by LBC presenter James O'Brien that restaurants were contributing to a surge in COVID-19 infections.
O'Brien took to Twitter to suggest that the chancellor's 'Eat Out To Help Out' scheme had contributed to the second wave.
In a carefully crafted thread, Hawksmoor's social team began by quoting O'Brien's own book 'How To Be Right' back to him and then explained why "so much of [his] tweet was wrong".
Morning @mrjamesob. Feeling irked by this tweet and underlying assumptions ... here's why ... https://t.co/ttSyNUok0X

— Hawksmoor (@HawksmoorLondon) October 6, 2020
Hawksmoor went on to expertly skewer the main premise of O'Brien's argument – that 'Eat Out To Help Out' was to blame for the rise in infections, pointing out that following the data was critical to understanding the problem.
Perhaps more importantly, it made the case for a wider hospitality industry that was on its knees already and is now close to being flat on its face, with three million jobs on the line.
It's a meaty issue and not only did Hawksmoor win a legion of admirers for its mature argument, it was also offered the chance to offer its opinion in a column for the Telegraph, bringing its argument to a wider audience.
In social media tussles, the usual end-game is one or both sides doubling down, becoming abusive, or just ignoring the other person.
But this time was different. It takes a brave person to admit they are wrong, particularly on Twitter, but O'Brien did just that and he also emerged with his credibility intact.
I've taken my medicine but, me aside, this really is an excellent account of why it's wrong to blame 'Eat Out To Help Out' for the surge in infection. I can't recommend it too highly. https://t.co/TNhM1xWKWl

— James O'Brien (@mrjamesob) October 6, 2020
Flop: Gunnersaurus row caught Arsenal flat-footed
Arsenal legend Paul Merson summed it up best when he said: "There will be 30-year-old and 40-year-old fans who have grown up with that dinosaur".
As part of a cost-cutting regime, the Gunners decided to sack their club mascot Gunnersauraus to the surprise and disappointment of fans and children.
Jerry Quy, who has become a fixture in the Gunnersaurus costume at Highbury and the Emirates Stadium for the past 27 years, is the latest casualty in a cost-cutting programme that made 55 backroom and office roles redundant.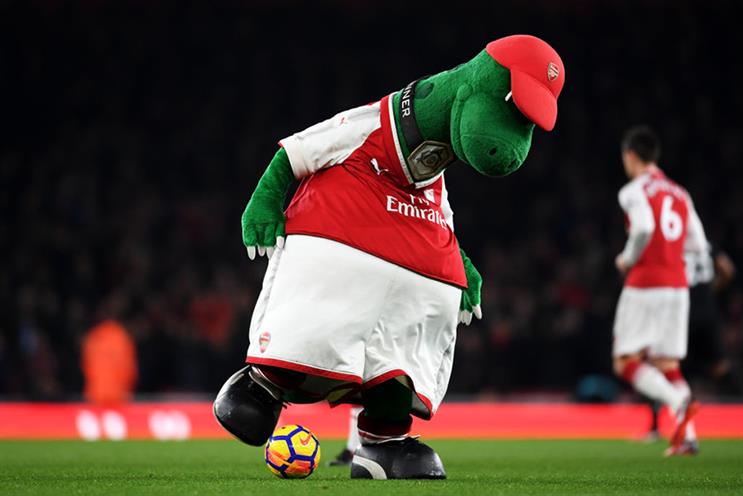 With matches behind closed doors for the foreseeable future, it appears Gunnersaurus had become the latest victim of COVID-19.
The problem, however, is that news of the mascot's demise was leaked on the day Arsenal sealed a £45m deal to buy Atletico Madrid player Thomas Partey.
One installment of Partey's £230,000 weekly wage could fund a Gunnersaurus family for a season. It's not a great look to supporters in the grips of a COVID-induced recession. 
To rub dinosaur tears into the wound, German midfielder Mesut Özil – who earns £350,000 and has been frozen out of Arsenal's first team – publicly promised to cover the mascot's salary provided the club retains both the player and mascot's services. This pledge on social media was covered extensively in the media and led to further criticism of the club.
Özil's gesture may be viewed as self-serving by a player who is at odds with the club, but from a PR perspective it caught Arsenal flat-footed.
The Gunners lost control of the narrative at a sensitive time when many supporters are scrutinising how clubs behave during the pandemic and question why low-paid staff are being cut to balance the books so that expensive players can be acquired.
Arsenal have since said Gunnersaurus could return once fans are allowed back in the stadium but for some, Arsenal's reputation has been tarnished. The club could have nipped this in the bud by assuring fans the popular dinosaur was only hibernating rather than facing extinction.