Only a quarter (26 per cent) of PR professionals who are struggling with their mental health have taken time off this year as the pressure of 'too much to do' (cited by 55 per cent), the impact of COVID-19 on business (44 per cent) and a poor work-life balance (43 per cent) plague the industry.
That's according to a new PRCA report – 'Continuing the Conversation: Mental Wellbeing in Public Relations' – that polled more than 400 PR professionals. The research was conducted by Opinium.
The study – released ahead of World Mental Health Day (10 October) – found a five percentage point decline in the proportion of PR pros willing to take time off.
Although the mental wellbeing score of the industry – measured using the Warwick-Edinburgh Mental Wellbeing Scale – was only marginally down on last year (43.5 vs 44.6), nine in 10 respondents have struggled with their mental health to some degree, a figure that is similar to last year.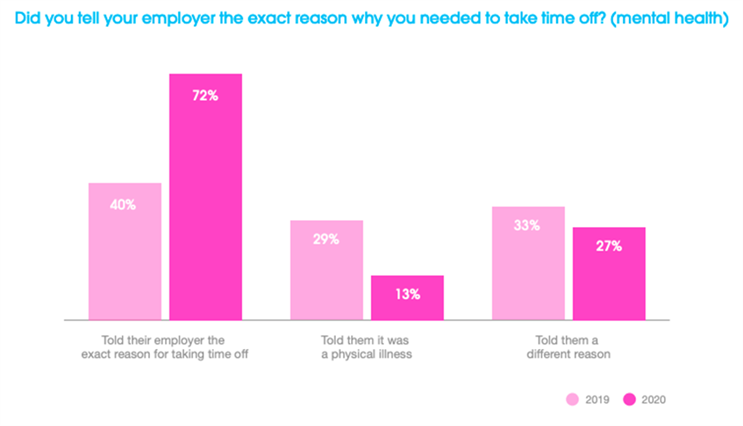 Blurred boundaries
The 'always on' nature of working from home during the pandemic has blurred the boundaries between work and home life.
The report reveals mixed opinions on working from home; 40 per cent of respondents said it improved their mental health, while 42 per cent said it didn't.
Those who struggle with working from home cite the challenge of switching off, loneliness, missing socialising with colleagues, and the stresses of looking after small children. In addition, 58 per cent struggle to draw boundaries between work and rest, and more than half (51 per cent) are working longer hours now.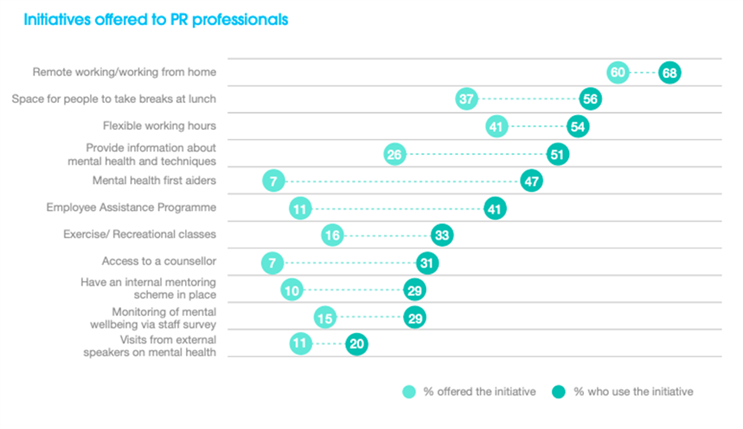 Despite the downsides, 96 per cent want to continue working from home in some capacity.
This new dynamic, coupled with a perception of mounting workloads and COVID-19-related stress, has led to people not taking the time off required to deal with mental health issues.
Those in senior-level positions were less likely to take time off for mental health reasons (only 22 per cent said they would), compared to junior staff (at 32 per cent). 
The major reasons cited were 'having too much on at work to take time off' (48 per cent, up from 43 per cent in 2019) and a 'suck-it-up mindset' of feeling that their mental health problem was not bad enough to need a day off (46 per cent, up from 33 per cent 2019). 
Those in senior-level positions, in particular, were much more likely to feel that it wasn't bad enough for them to take time off (52 per cent).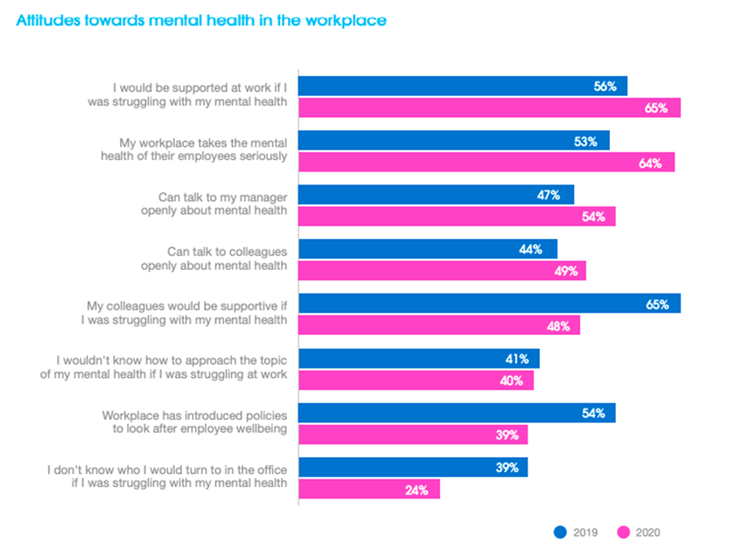 Better at talking
The good news is that PR professionals are getting better at talking about their mental health with colleagues.
Almost three-fifths of respondents (59 per cent) had told someone at work that they struggled with their mental health, compared to 43 per cent in 2019. This increase is well above the national worker benchmark of 39 per cent. 
They were most likely to tell their line manager (51 per cent). Those who were comfortable to share generally reported a positive experience. Almost three-quarters (72 per cent) said the colleagues they had told were understanding and supportive (up from 52 per cent last year) and only 10 per cent said they did not take it seriously enough (down from 22 per cent last year). 
Sixty-four per cent said their current workplace takes the health and wellbeing of its employees seriously and 59 per cent of those in PR who struggled with their mental health had told their employer. 
In other words, people in the industry are good at talking about their mental health issues but not so good at taking the steps to improve it.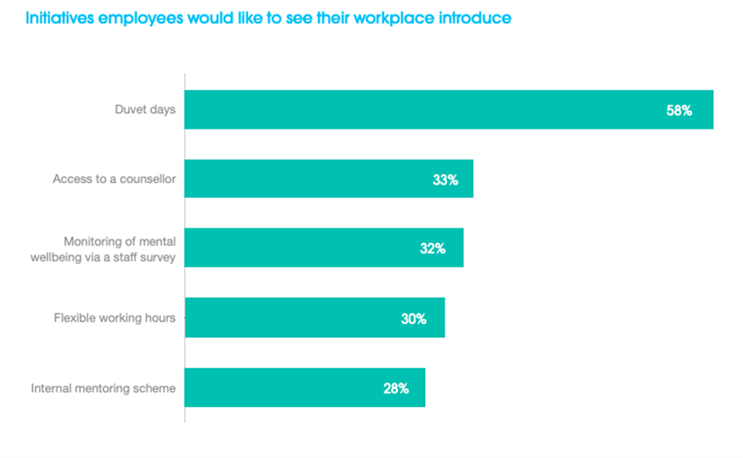 PRCA director-general Francis Ingham said it has never been more important for the industry to take action on mental health. 
"The progress made in recent years has been welcome: more employers recognise the importance of mental wellbeing by offering their staff support; they actively encourage conversations about mental health in the workplace. And employees have responded by being far more candid than was the case even five years ago," he said.
"COVID-19 has made it more important than ever that we do more than ever. From the conversations I have every day, there is enormous pressure on pretty much everybody right now."
You can download the full report at the PRCA's website.