PureGym faces an uphill battle to repair its reputation after its Luton gym was widely condemned for promoting a new workout called '12 Years of Slave' in Black History Month.
The promotion – which was hastily removed after a social media backlash – compared the workout to slavery (see below).
In a statement shared with PRWeek, PureGym said it "apologises unreservedly" for the post.
"This post is wholly unacceptable, was not approved or endorsed by the company and was removed as soon as it was brought to our attention," the statement read. 
"Each of our 271 gyms has its own social-media channels which are run locally. We take this matter extremely seriously and are urgently investigating how and why this post was made."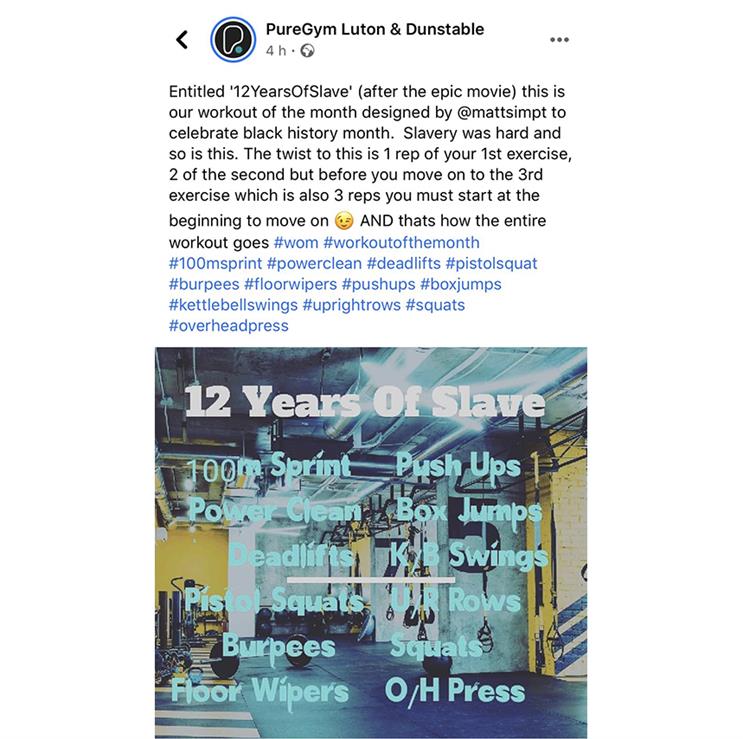 The personal trainer who came up with the promo, Matt Simpson, has apologised. In a statement posted on Instagram, he said: "There are no excuses for it. Only a place from which the post came. Which was from a proud black man wanting to bring his history together with his passion and profession,
"Unfortunately as a result have been vilified and branded racist."
Although only appearing on PureGym Luton's social media channels for a short while, the post caused an uproar on social media and was quickly picked up by the press.
It was also the subject of internet memes and parodies.
Pure Gym announce their new Black History Month facilities. ?????????@Puregym_Luton pic.twitter.com/9UP636T8H7

— Munya Chawawa (@munyachawawa) October 5, 2020
Communications professionals expressed little sympathy for PureGym. Many believe the gaffe highlights a desperate need for D&I training and a more centralised approach to managing social-media accounts.
Here is a selection of reactions from industry professionals:
Alicia Solanki
Deputy managing director of brand, Ketchum London
Just wow. There's tone-deaf, and then there's utter madness. My first reaction was: 'Is this even real?' PureGym's fallback is to say this was posted locally and was not endorsed by the company, but this deflection does more to harm their central brand as it's a damning verdict on their corporate D&I policies and protocols. 
And if something like this can go national undetected, what on earth is happening behind the scenes that never sees the light of day? The comments this has garnered on Facebook alone show that despite the apology, damage has been done.  
With over 300 locations across the UK, PureGym needs to step it up now and follow through on its apology with tangible actions that show it understands the gravity of this. This includes D&I training for its staff and firmer, more culturally attune, social media guidelines. Ironically, perhaps, I hope this isn't the last we hear from them.
Bemi Idowu
PR account director, Wimbart
This has generally been a good year for raising awareness about racial injustice and what needs to be done to right many wrongs, but this incident shows just how much work is left to be done, even among black people. The dehumanisation and enslavement of millions of men and women simply because of the colour of their skin should not be trivialised for any reason. Especially not by black people who should certainly know better. 
This is not the first ill-thought-out attempt at 'celebrating' Black History Month and it unfortunately won't be the last. I just hope that it hasn't undone any of the progress that has been made in the last few months.
It is also important to separate PureGym and its employees, and give the company credit for taking the right steps to take the post down and condemn it roundly when it was brought to its attention. There are many examples of corporate ignorance when companies deserve the severe backlash they get. This is not one of those, however. PureGym is not the villain in this story; the personal trainer is.
Joy Durrant
Account executive, The Romans
Just when you think this year couldn't throw up any more horrors, something else rears its ugly head. Enter: PureGym – 'celebrating' Black History Month with a slavery-themed workout. Oxymoronic perhaps? Nope. Just totally moronic. 
In 2020 the BLM movement has dominated the global stage, with brands rushing to make public declarations of the steps they're taking to 'do better'. Despite this, we continue to see brands demonstrate complete ignorance and blind insensitivity to racial issues. PureGym isn't the first to get this wrong and, sadly, won't be the last.   
This should serve as a stark warning for all brands that haven't started the work to address their diversity issues; it needs to be a priority. Without real understanding of the history and experiences of those outside your race, you will end up here.
It also shows the need to make sure change runs through the whole organisation. It's not good enough to get some D&I training in for the head office team and think: 'Job done'.  
A brand's approach to diversity needs to become part of its DNA, so that the office manager, CEO, sales team and even the gym team in Luton share the same beliefs, values and understanding. 
Because it took a whole team to create this. To plan, approve it and publish it. Throwing the Luton team under the bus in a pretty empty 'outraged' apology just doesn't cut it.  
They may claim their '12 Years of Slave' workout is hard, but a reputational recovery for PureGym? Harder.
Lewis Iwu
CEO and co-founder, Purpose Union
PureGym responded to the incident swiftly and that should be commended. They need to ask some critical questions. 
First, have they listened to their staff, customers and communities about their expectations of the brand on race? Have they shared those findings internally? 
Second, have they developed an easy to use set of guidelines for their brand and marketing teams? 
Third, and most importantly, does Pure Gym have a culture where staff feel comfortable challenging and debating the impact of decisions on ethnic minorities? 
I strongly believe that brands should be part of the conversation about race but you need to build the foundations internally first. 
---
When you see hashtag Black History Month trending so naturally try to use the hundreds of years of transatlantic suffering, exploitation and captivity of Black people - as a marketing tool... to get people to join your gym... This is gonna be a long month #BHM #BlackHistoryMonth https://t.co/IR3qWteIjk

— Jo Ogunleye (@J0gunleye) October 5, 2020
Franchesca Allen
Media & PR manager, Macmillan Cancer Support
It's appalling to see the lengths PureGym Luton has gone to, to show that its staff are "adversaries" of BLM.
The decision to proceed with this workout and post to social-media channels is not only tone-deaf and a wake-up call to the industry to educate itself to better communicate with BAME audiences, but a reminder to brands to actively be aware of what regional branches are doing to ensure brand reputation overall isn't tarnished.
I know personally of many people who have deactivated their memberships with PureGym across the country, because of one branch's actions – me included. It will take time and transparency for the company to gain back trust from the customers they have now lost.
To make light of something that has caused years of suffering and unease with the colour of someone's skin is simply ignorant. Actions such as these show that systematic change is dramatically needed in order to ensure change.
Rax Lakhani
Digital PR and social media consultant, chair of PRCA Diversity Network
The PureGym tweet demonstrates that we need to go a lot further to ensure the meaning of #BLM is properly understood.
The same account tweeted a message on International Women's Day earlier this year that rather patronisingly offered its support for women with a cake reference accompanied by cheeky emoji (because apparently, that's what the ladies are all about). 
Join us for a little conversation and a lot of admiration for women on INTERNATIONAL WOMENS DAY from 9:30am. P.S. there might be some ??on offer too??don't tell the personal trainers??lol #internationalwomensday… https://t.co/HwVwdSLmT0

— Pure Gym Luton & Dunstable (@Puregym_Luton) March 5, 2020
For any corporate brand that devolves its social-media presence across a multitude of local accounts, there must be a framework in place that establishes strict guidelines and some sort of approval process where required. The local social-media team responsible for the PureGym Luton account clearly wasn't bound by any overarching brand tone rules or content strategy at the moment they posted the offending (and offensive) tweet. 
From a procedural point of view, there clearly is a negligent disconnect between HQ and its individual local units. I started to count how many different Twitter accounts existed for the PureGym brand and I lost count after scrolling through 200 local Twitter handles. The various PureGym accounts are unified only in their lack of consistency in branding, tone of voice, messaging, quality of content and frequency of engagement. 
Kim Allain
Creative, MSL
If I said I was shocked I'd be lying, as this isn't the first or last brand to get it wrong. I don't believe that harm was intended, I believe it was just a careless, ignorant and uneducated move on a local level that, unfortunately, will impact the brand on a larger scale for as long as the news agenda focuses on it. 
I also believe that to really right the wrong, the brand should commit to educating and training staff around why Black History month is important and why this was offensive and unacceptable – more than just "investigating further". 
May this also be an example to all brands that it is fundamental to keep learning, reading and educating themselves on diversity and black culture – so that campaigns like this truly are the last ones to get it wrong. 
Julian Obubo
Brand strategy director and partner, Manifest 
I don't think this PureGym case reveals much about our society beyond the fact many people, white and black, do not seem to have a deep understanding of the evils of slavery.
Slavery for them is reduced to simply 'working hard in the field for no money'. It isn't the erasure of identity, the separation of families, the sadism, the molestation.
Sadly, our engagement with the history of slavery in this country mainly comes from Hollywood films, which usually tell particular stories of triumph. If we had a curriculum that provided students with a broad and thorough history of slavery and the transatlantic slave trade, we wouldn't have waited until 2020 for the statue of Edward Colston to come down, and we certainly wouldn't have had someone who'd think it fine to create a slavery-themed workout.