Environmentalist and artist Louis Masai has partnered Meridian Foods' palm oil-free nut butters to warn the public of orangutans' imminent risk of extinction through a series of murals.
The campaign is called #ProtectPongo; pongo is Latin for orangutan. It uses striking, life-sized portraits of orangutans interacting with the threats they face, from deforestation to palm oil production – and potentially, even COVID-19. 
With just 100,000 Bornean orangutans left, the species is critically endangered due to deforestation. More than 24 million hectares of rainforest – an area the size of the UK – have been destroyed in Indonesia between 1990 and 2015, primarily to make way for palm oil plantations. 
Research by Meridian revealed that 38 per cent of people in the UK do not avoid palm oil, which is used in 50 per cent of packaged products – threatening the destruction of orangutans' rainforest habitats. 
The #ProtectPongo campaign, which tours London, Glasgow, Manchester and Birmingham, highlights the small changes people can make to help protect the species. It is also raising funds for Meridian's charity partner, International Animal Rescue, which rescues, rehabilitates and releases Bornean orangutans.
The campaign has received media coverage in the Telegraph, Times, ITV and regional papers, with further broadcast and online coverage in the pipeline. 
It included a clever stunt on Spareroom in which Pongo the orangutan added a profile to find a new home.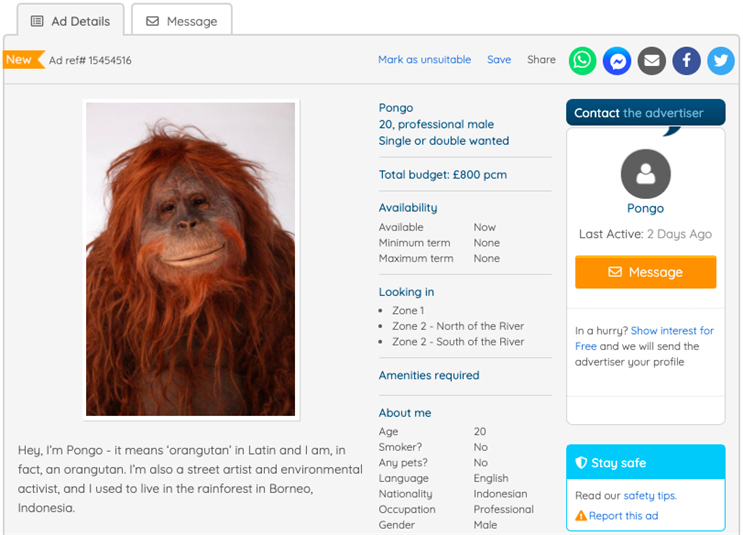 "It's difficult to make people stop, think and change habits which impact a species on the other side of the world. But #ProtectPongo is designed to challenge people to consider a world without orangutans in it," Masai said.
Meridian Foods managing director Paul Fraser added: "There are simple steps we can all take to help turn around the fate of the orangutan species. Avoiding foods with palm oil is a starting point. By choosing products that don't contain palm oil, everyone will help reduce demand and deforestation, protecting orangutans like our ambassador, Pongo, in the process. So many products contain palm oil which simply don't need it. In fact, they taste better without it."
This is the latest campaign to focus on how palm oil-driven deforestation threatens orangutans. Iceland's Rang-Tan campaign raised awareness of the issue in 2018.