HITS
Santander's Scam Sonnets
This week's FT headline '"Could rhymes prevent financial crimes?" led me to discover the latest Santander campaign, which tackles fraud targeted at those 'getting on a bit' through the medium of poetry.
Released in time for National Poetry Day (1 October), a poetry book "Scam Sonnets" has been launched and this video dropped, fronted by the inimitable, and wonderfully dry, Pam Ayres - selected no doubt for her appeal to the Radio 4 audience the campaign targets - alongside the charismatic poet Suli Breaks. A fabulous idea all-round.
Moschino sends puppets down the runway
Italian fashion brand Moschino put on a puppet show for Milan Fashion Week in front of a puppet audience at a COVID-safe event to show the fashion firm's new 2021 range. Teaming up with Jim Henson's Creature Shop to make the models for the event, marionettes of Anna Wintour and British Vogue editor-in-chief Edward Enninful also featured in the miniature crowd.
It's wry and irreverent in a category that often takes itself a tad too seriously, and a clever comms solution in the global context. Big hit.
PrettyLittleThing launches a face mask dress
The online fashion giant designed a black dress with a face mask incorporated into it for £14. And it sold out.
A twist on the traditional 'LBD', and a one-of-a-kind style, the dress has a polo neck with ear loops. A bizarre product but good timing, it got everyone talking and ordering. The timely stunt also coincided with PrettyLittleThing recently launching a range of face mask designs online.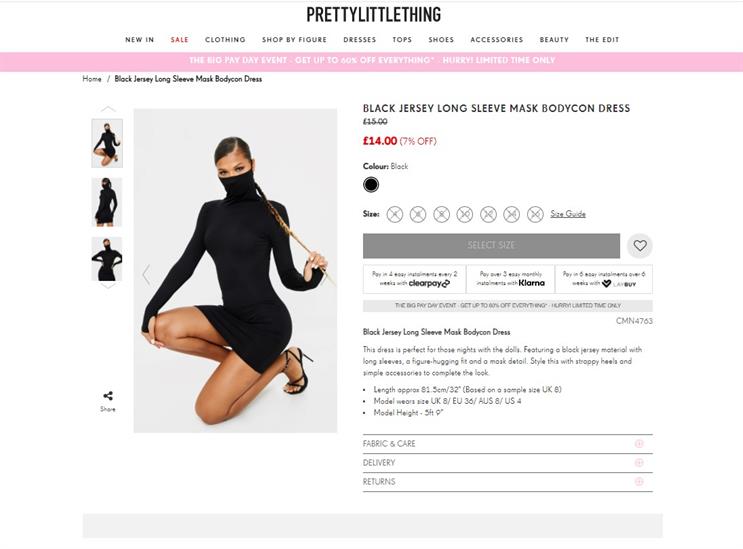 NEAR MISS
Pantone, 'Period red'
Every year designer's darling Pantone names a "colour of the year" to reflect the mood of the times; 2020 was classic blue (although that was announced before the outbreak of the coronavirus.)
To achieve another publicity burst, the company has launched Period, a new red hue created to "embolden people who menstruate to feel proud of who they are".
Now, I know a lot of "people who menstruate" who are out and proud about the fact they menstruate and equally proud of "who they are". Maisie Hill's Period Power has been a revelatory text in emboldening the conversation about periods for women, their friends, their partners and fathers of daughters like yours truly.
So I laud another contribution to the discourse. But... hasn't it already happened? This feels like a moment in the rearview mirror and a brand lagging behind. Jumping on purpose for purpose's sake? You decide.
Pantone launches new shade of red to end menstruation stigma https://t.co/ZrLJvgcQvb

— The Guardian (@guardian) September 29, 2020

---
Click here to subscribe to the FREE Creative Inspiration bulletin to receive dedicated features, comment and the latest creative campaigns straight to your inbox. Make sure you register for the site to access more than one story per month.
To submit an idea for the bulletin, email John.Harrington@Haymarket.com